Review copy was received from Publisher. This does not affect my opinion of the book or the content of my review.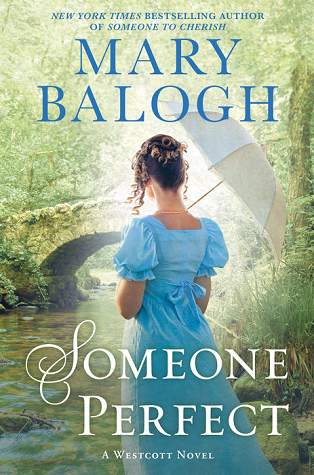 Someone Perfect
by
Mary Balogh
Series:
Westcott #9
Published by
Berkley
on November 30, 2021
Genres:
Historical Romance
Pages:
400
Format:
eARC
Source:
Publisher
Goodreads
Amazon
, 
Audible
, 
Audiobook
, 
Barnes & Noble
, 
Apple




As a young man, Justin Wiley was banished by his father for mysterious reasons, but now, his father is dead, and Justin has been Earl of Brandon for six years. A dark, dour man, he, nonetheless, takes it as his responsibility to care for his half-sister, Maria, when her mother dies. He travels to her home to fetch her back to the family seat at Everleigh Park.

Although she adored him, once, Maria now loathes Justin, and her friend, Lady Estelle Lamarr, can see, immediately, how his very name upsets her. When Justin arrives and invites Estelle and her brother to accompany Maria to Everleigh Park to help with her distress, she begrudgingly agrees, for Maria's sake.

As family secrets unravel in Maria's homecoming, Justin, too, uncovers his desire for a countess. And, while he may believe he's found an obvious candidate in the beautiful 25-year-old Lady Estelle, she is most certain that they could never make a match...
The Westcott series has been a heartwarming family saga beginning when a recently deceased head of family left some stunning surprises after he was gone.  The last of the younger generation got his romance in the previous book and I thought it might be over, but I lived in hope that there might be a few more stories to tell like the adult twins, Bertrand and Estelle who became connected to the Westcotts when their father married in.  My wish was granted and Mary Balogh gives us Estelle's story.
Someone Perfect is the ninth in the Westcott series.  It has a standalone romance and introduces a plethora of new characters as it takes a step away from the Westcott family at the center of it all.  However, it does retain all those connections and backstory so that might muddy the water for new readers.
Someone Perfect introduces Justin Wiley as the new earl who was banished at a young age and never reconciled with the father he has succeeded.  Before his banishment, he was close to his father and mourned his dead mother.  He struggled when his father remarried, but then he adored his new half-sister.
Now, years later, he is her guardian and discovers that she bitterly hates him and is reluctant to move back to the family estate after her mother passes away.  Justin is hurt and has become aloof to protect his heart from anyone hurting him like what happened when he was banished from all he had known and held dear.  He is determined to reconnect with family and particularly his sister so invites Maria's neighbor friends, Estelle and Bertrand, to come with her even though they have raged against him with their friend.  Justin brings together a host of family from his extended family and his step-mother's family.  After all the years, the family secrets begin to pour out and Justin learns the truth he has sought and much more. Meanwhile, the bright and beguiling Lady Estelle is in his thoughts and he knows she will make his perfect countess if he can convince her that he is her someone perfect, too.  Because Estelle will not get married for anyone less.
Someone Perfect, like other Mary Balogh books before it, tackles a specific issue.  In this case, it is second marriages and step-families from the child of the first marriage's perspective, and, to a lesser extent, the perspective of the child from the second marriage.  It portrays a family in which people love, but there is also betrayal, lies, and pain.  There are a plethora of surrounding family and I was hurting my head trying to keep them sorted after a time, but family has a great place in this series and now, besides the quirky, energetic Westcotts, there are Justin's blended families, too.  The book is also vastly descriptive of setting and historical backdrop.
The romance takes its time in the background of all this.  Justin is the one with the obvious personal demons.  He was basically abandoned as a youth and never knew why.  He had to rebuild his life with a circle of friends of his own making.  He is zealously protective of his heart even if he must reach out and take a wife.  He is drawn to Estelle, but must unload his baggage first- oh, and change her opinion of him after she only knows what Maria has shared and how Maria feels about her older, cast off half-brother.  But, Estelle also has high ideals and she uses that to protect her from making any mistakes.  It takes them some time to fan any flames into active interest, but they get there.
Now, I want Bertrand, Estelle's engaging twin to get his story.  Justin's friends are also interesting and I wouldn't mind seeing them again.  All in all, it was gentle mover and slow burn with family mysteries to solve.  I would recommend it to those who like it with a pinch of spice and gradual build against a well-described historical background.
Related Posts