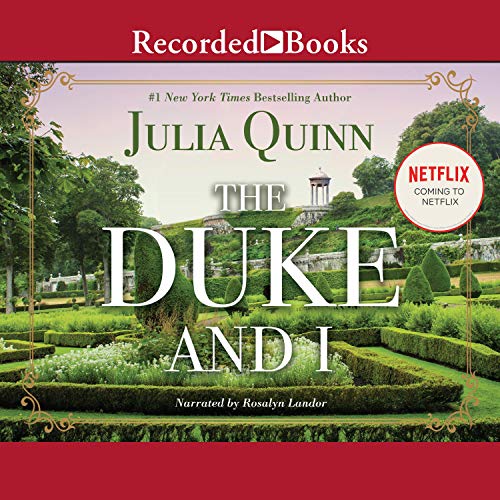 The Duke and I
by
Julia Quinn
Series:
Bridgertons #1
Published by
Recorded Books
on September 13, 2016
Genres:
Historical Romance
Length:
12 hours, 9 minutes
Format:
Audiobook
Source:
Library
Goodreads
Amazon
, 
Audible
, 
Audiobook
, 
Barnes & Noble
, 
Apple






Simon Basset, the irresistible Duke of Hastings, has hatched a plan to keep himself free from the town's marriage-minded society mothers. He pretends to be engaged to the lovely Daphne Bridgerton. After all, it isn't as if the brooding rogue has any real plans to marry - though there is something about the alluring Miss Bridgerton that sets Simon's heart beating a bit faster.

And as for Daphne, surely the clever debutante will attract some very worthy suitors now that it seems a duke has declared her desirable. But as Daphne waltzes across ballroom after ballroom with Simon, she soon forgets that their courtship is a complete sham. And now she has to do the impossible and keep herself from losing her heart and soul completely to the handsome hell-raiser who has sworn off marriage forever!
The Pandemic can be blamed for a lot of crazy behavior on our parts.  I've been spending an inordinate amount of time binge watching TV shows; and quality doesn't seem to be a factor.  There has been the good (Ted Lasso), the bad (Tiger King) and the ugly (2020 election programming).  Of course, I love period dramas and thanks to streaming services there are fantastic adaptations I can binge sans guilt and actually finish the program feeling a little smarter.
In December, Bridgerton's release and subsequent buzz inspired me to revisit The Duke and I by Julia Quinn, the first book in the Bridgerton series; on which the first season of the television program was based.  The Bridgerton series is a regency romance, and well-known and loved by those of us dedicated to that genre.  It had been a while since I'd read The Duke and I and I was excited to re-read it and compare it with the television show.
On the verge of spinsterhood, Daphne Bridgerton makes a deal with the elusive Duke of Hastings that will hopefully keep her matchmaking-mad mother from throwing her at every eligible bachelor on the market.  Simon, Duke of Hastings, returns to society after a self-imposed exile, and is taken off-guard by the onslaught of debutantes and their mammas (because a single man in possession of a fortune…).  His agreement with Daphne will help keep some of the hounds at bay, and guard his heart from any entanglement.  Daphne is, after all, the sister of his best friend, and completely uninterested in marrying him. Neither one expects the plan to backfire, transforming their fabricated love affair into something very real.
I have to say, first off, that the TV show doesn't do justice to the characters.  There is so much more depth to both Simon and Daphne in the The Duke and I; where with the third person omniscient narration we get direct insight into the characters' feelings and mindsets.  Simon is a wicked and flirtatious rogue whose inner dialogue reveals his feelings of inadequacy in addition to the deep hatred for his father.  Daphne is a practical, pleasant, and resourceful woman.  She is a happy participant in the social whirl, but not because she wants to command attention or to be considered a diamond of the first water.  Her motivation is to find a love match, to have the type of marriage her parents had.  She seems to know how to handle her brothers and there is a constant barrage of antics and banter amongst the Bridgerton siblings.  There is sweetness and humor as love develops out of friendship between Simon and Daphne.  Of course, there is a fair amount of angst and self-sabotage that might leave you pulling your hair out while you wait for the two main characters to finally get their HEA.
I suppose the most controversial event in the book is a sex scene after Daphne and Simon are married.  Whether or not Daphne takes advantage of Simon when he is intoxicated, and not able to consent, is a hot topic of discussion for the book and show both.  When I first read this book several years ago, I never even remotely considered this a rape scene.  In addition to having slept off his intoxication, Simon never objects during or after the interlude.  He blames himself as much as Daphne for end results, saying "If he'd been on top, he might have found the strength to pull away…He was helpless against the raging force of his own need."  I don't believe it is as much about consent as it is about Daphne making a selfish decision.  In much the same way Simon behaved selfishly towards her, taking advantage of her ignorance, Daphne takes advantage of Simon's lowered inhibitions and increased amorousness.  I completely understand that some might still be triggered by this scene and encourage anyone concerned to skip chapter 18.  I don't think much will be missed that couldn't be construed by the discussion in subsequent chapters.
The Duke and I is the first book in one of my favorite regency series.  Every fan has a favorite Bridgerton and it is fun to see how the siblings all find love as the series progresses.  A word to the wise, the second epilogue to The Duke and I, which was originally published after the completion of the Bridgerton series, is now included with The Duke and I.  There are significant spoilers in Daphne and Simon's second epilogue, as pertains to the other Bridgertons.  So if you are reading this series for the first time and are a purest, then skip the second epilogue until you've finished the other books in the series.
Narration:
Rosalyn Landor has one of those voices made to narrate regency romance.  I enjoyed her performance and find her voice and accent soothing and enjoyable.  She does a great job in keeping the voices of the many characters separate and manages to add a little something to the primary characters to make them stand out just a little more.  I listened to this book at 1.25x speed and did not feel it was rushed.  If time had allowed, I would have happily kept this at normal speed.
Listen to a clip: HERE
Rating Breakdown
Plot
Writing
Characters
Dialogue
Narration (Audio)
Overall:
Related Posts