Review copy was received from Publicity team. This does not affect my opinion of the book or the content of my review.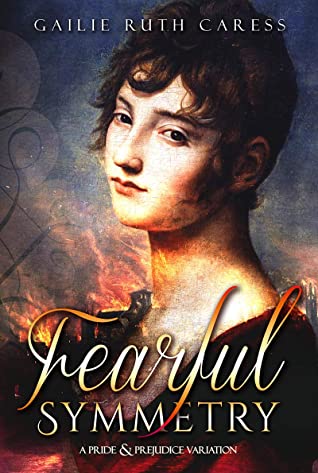 Fearful Symmetry
by
Gailie Ruth Caress
Published by
Quills & Quartos Publishing
on March 8, 2021
Genres:
Historical Romance
Pages:
382
Format:
eARC
Source:
Publicity team
Goodreads
Amazon
, 
Audible




Darcy had never known such a woman, one who could rush into an inferno and emerge as bold and brilliant as burnished brass, bright as any mirror.

FITZWILLIAM DARCY HAD PLANNED TO LEAVE NETHERFIELD PARK and all thoughts of the enchanting Miss Elizabeth Bennet behind him—until one night when he saw smoke rising from Longbourn and realised she was in peril.

ELIZABETH BENNET FOUND MR DARCY ARROGANT AND INSUFERABLE right up until he became her hero, pulling her and her sister from the fire that devastated their home, and could have claimed both of their lives. Seeing how he put his own life at risk to pull her from the fire, how could she help but change her opinion of him?

THROWN TOGETHER AGAIN in the refuge offered at Netherfield, Darcy and Elizabeth's unexpected bond gains strength. But disapproval, debts, and doubts all arise when the costs in time and expense involved in rebuilding Longbourn threaten to widen the gulf in standing between Elizabeth and Darcy in the eyes of society. Amidst these perplexities of destruction and decorum, can love's courage overcome calamity?
A big, suspenseful opening scene, full of danger and dark repercussions, captured my attention from the start and made me eager to see how this altered those first damaging impressions this pair formed of each other and how they would overcome this new devastating conflict.
As a lover of Jane Austen's novels and other writings, as well as Regency era romance in general, I am always keen to come across intriguing situations to vary a classic story through new to me authors.  In this case, the author jumps in with a horrendous fire burning down Elizabeth Bennet's family home, Longbourn.  She gets to see Fitzwilliam Darcy come down off his high horse and save lives, take on menial tasks, and give of his own time and effort to people he wasn't connected to in the slightest.  Her early impression of an entitled and arrogant man of wealth seems to be well off the mark.
Meanwhile, Darcy was prepared to leave the area to avoid the attraction he had for Elizabeth, whose family was beneath his in status, when he discovers a lot of what he thought was important simply didn't matter once he was helping and protecting this needing family.
Fearful Symmetry began with a suspenseful first scene and the scenes following were about the aftermath of the fire and the moments of starting over with impressions and feelings for many of those involved.  Without spoiling the book, I found that from that moment on, the book tended toward a more gentler pacing and tone.  It had character-driven development and internal conflict, but it was fairly low-angst.
There are some milestone Pride and Prejudice famous moments, but the author cleverly placed them in different scenes or among different characters.  Lady Catherine's grand, blistering argument with Lizzy, Wickham's insidious lies, and Caroline's snobbish sneers kept things lively.  What leaped out as fresh and engaging was a new side to the fluttering, silly Mrs. Bennet, a less stuffy Mary who stepped up when needed, and a bold correspondent in Georgiana Darcy who might have saved her brother's love life from crashing before it barely got started.
As a result of the gentler pacing, it did take its time getting to where it was going, and lord, did Elizabeth and Darcy get me impatient for them to come to the point.  But, eventually it got there for a sweet, heartwarming finish.  I don't think this book will be for everyone.  The reader should probably have a love for classic variations, sweet historical romances, and a pace that is somewhat laid back.
Related Posts