Review copy was received from Publisher. This does not affect my opinion of the book or the content of my review.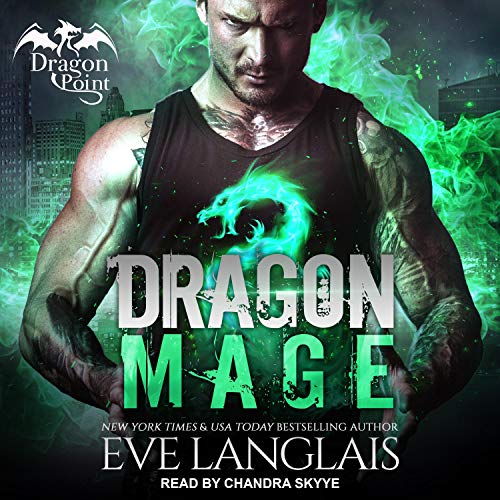 Dragon Mage
by
Eve Langlais
Narrator:
Chandra Skyye
Series:
Dragon Point #7
Published by
Tantor Audio
on February 16, 2021
Genres:
Fantasy
Length:
5 hours, 46 minutes
Format:
Audiobook
Source:
Publisher
Goodreads
Amazon
, 
Audible
, 
Audiobook
, 
Barnes & Noble
, 
Apple




"The end is nigh!" according to the media, which is fascinated by the four cloaked figures riding out of the desert. A headline that's about as believable as the existence of dragons.

Truth or hoax? Daphne isn't paying much attention because she's busy geeking out over the awesome relics that just came into her museum. She's giddy at the prospect of getting to see them up close, until she drops one.

In her defense, she was attacked...by a guy made of smoke. Things might have turned out really bad if she'd not been rescued by a stranger.

A man who is also a dragon.

Yup. Dragon. It turns out they are real and super hot. Azrael is also domineering and dangerous with the most toe-curling embrace.

But passion will have to wait. Azrael needs Daphne to help him save the world. With two of the seven seals broken, they will have to work fast before a monster is released from its prison.
An amphora is broken, four ominous riders appear in the desert and the dragons are convinced the end of the world is nigh.  A new chapter in the Dragon Point series opens and I was excited to see where it would lead.
Dragon Mage is the seventh book in the series that works best in order, though this book could be considered standalone since it starts a new series arc with all new leads and conflict.
Daphne is a museum curator who is a little lonely and something of a happy go lucky geek.  She stumbles into and out of trouble mostly by chance.  She easily slips into lust and then deeper attraction to the mysterious magic-wielding tough guy Azrael.
Azrael is the one with the big backstory and is suspected by the dragons as being one of the Four Horsemen of the Apocalypse when he and others of his kind suddenly appear and ride out of the desert, only to disappear into the world once again.  Azrael is on a mission that has been a few thousand years in the making.  He is out to stop a djinn-like race from being the real instigators of the apocalypse and he has sacrificed much to stop them.  Now, he's as anachronistic as the amphora and needs help navigating the modern world and he has chosen Daphne as his guide.
The Silvergrace dragons are never far away and don't know exactly what is going on, but they know enough to support Daphne and Azrael- wanted or not.  Where they appear, mayhem and hijinks seem to follow.  I love that Elsie and Babbette are back.
Dragon Mage has some exciting moments, some snappy dialogue, and some searing hot sexy times, but it still had a sluggish feeling since it is starting a new series plot and has to introduce the newcomers and the new danger to the world.  I like where it seems to be going, but did get distracted.  Perhaps it was the romance element that only moderately interested me.  I liked learning about Azrael's type and the new enemy, but felt the romance was just there.  The dragons in a scene livened things up nicely.  I'll watch to see where it goes from here after those tantalizing hints were left at the end.
All in all, it was an entertaining, quick listen and the humor was a great add to the action and spicy romance.  Those who enjoy lighter paranormal romance should give this series a go.
Narration:
Chandra Skye continues to narrate well and engaged me as a listener.  A few of her male voices were very similar which was tough since they were all new to me and I had trouble sorting them at times.
Listen to a clip:   HERE
Rating Breakdown
Plot
Writing
Narration (Audio)
Overall:
Related Posts