Review copy was received from Publisher. This does not affect my opinion of the book or the content of my review.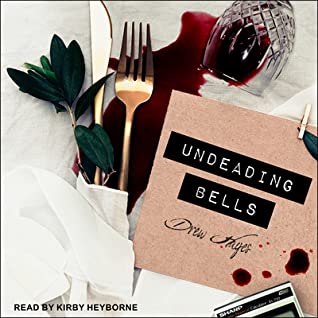 Undeading Bells
by
Drew Hayes
Narrator:
Kirby Heyborne
Series:
Fred The Vampire Accountant
,
#6
Published by
Tantor Audio
on February 28, 2020
Genres:
Urban Fantasy
Length:
11 hours and 34 minutes
Format:
Audiobook
Source:
Publisher
Goodreads
Amazon
, 
Audible
, 
Audiobook
, 
Barnes & Noble
, 
Apple






After surviving countless perils and dangers, including an examination by the Blood Council, Fred is preparing to take on his most important adventure to date: marrying Krystal. That is, if he can get everything handled in time. Visiting Boarback, hiring new staff, clearing out his schedule for a honeymoon; there's no shortage of tasks to check off before the big day arrives. But not everyone views the occasion in such a happy light. With new dangers looming, old debts raised, and grudges rekindled, it'll take everything Fred has to finally make it down the aisle.



The Fred stories are told from a first person point of view as Fred writes down the story of his life. Nothing is ever easy when Fred and the gang are involved and even something, like Fred and Krystal's wedding, is no different.
Somewhere Old
The story start with Fred and Krystal going to Boarback to find what they need for their wedding. With the number of paranormal guests, what better than a city dedicated entirely to paranormals. Fred also has a meeting with the Blood Council as they do some testing on Fred's peculiar reactions to certain things (which you know from previous books, if you've read them).
Someone New
Fred has promised Krystal that he will walk away from his business for a full two weeks while on their honeymoon. So, he needs to find and hire another employee for his accounting business. Lillian is doing a great job as an accountant. Fred is hoping to find someone that can be trained like she was. Many more people sign up to interview than were expected.
A Partner Borrowed
So Fred is looking at a mage that Amy wants to help out by investing in their business. The team is quickly separated and put into a maze. If I say much more, it will spoil this part of the story.
A Place of Blue
June, the half fae maid of honor is called home to deal with an issue that she is not allowed to decline. Fred and Krystal go to assist so that June will finish faster and be back in time for the wedding.
Trust, Friendship, and Love That's True
Everyone travels back to Boarback for the wedding. But again, things get dicey for Fred and Krystal.
I really love this Fred, The Vampire Accountant series. Fred and the gang are a lot of fun. While I think you could probably pick up what is going on if you started with this story, I would highly recommend starting with book one, The Utterly Uninteresting and Unadventurous Tales of Fred, the Vampire Accountant. I love how Fred brings together a wide array of paranormals who are each completely different, but complement the entire team to make for a great group of friends. I'm not sure if this will be the last book in the series, but I hope not. I always enjoy my time with the gang. I also enjoy how each book is told in shorter stories that come together into a great full novel.
Narration:
Kirby Heyborne has done a great job with the narration of this series. I've only ever listened to him in this series, but I would gladly listen to more. He does a wonderful job with the ever growing list of characters and the voices always fit the personality of the character. He has no issues with men or women's voices, even children or dragons who look like children. I highly recommend this series on audio.
Listen to a clip:  HERE
Rating Breakdown
Plot
Writing
Characters
Dialogue
Narration (Audio)
Overall:
Related Posts