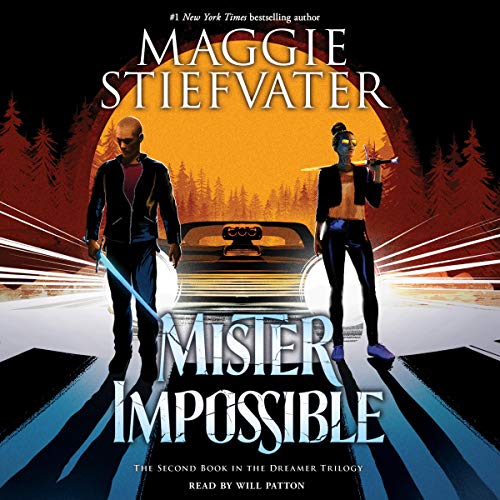 Mister Impossible
by
Maggie Stiefvater
Narrator:
Will Patton
Series:
Dreamer Trilogy #2
Published by
Scholastic Audio
on May 18, 2021
Genres:
Fantasy
,
Young Adult
Length:
10 hours, 44 minutes
Format:
Audiobook
Source:
Purchased
Goodreads
Amazon
, 
Audible
, 
Audiobook
, 
Barnes & Noble
, 
Apple






Something is happening to the source of the dreamers' power. It is blocked. Diminished. Weak. If it goes away entirely, what will happen to the dreamers and those who depend on them?

Ronan Lynch isn't planning to wait and find out. Backed by his mentor, Bryde, he is ready to do what needs to be done to save the dreamers and the dreamed...even if it takes him far from his family and the boy he loves.

Jordan Hennessy knows she will not survive if the dreaming fails. So she plunges into a dark underworld in order to find an object that may sustain her.

Carmen Farooq-Lane is afraid of the dreamers - which is why she's agreed to hunt them down. The closer she gets, though, the more complicated her feelings become. Will the dreamers destroy the world...or will the world be destroyed trying to eliminate the dreamers?

In the remarkable second book of the Dreamer Trilogy, Maggie Stiefvater pushes her characters to their limits - and shows what happens when they start to break.
Mr. Impossible is the second book in the Dreamer Trilogy a spin off series to The Raven Cycle.  This is a series I would recommend reading the parent series first to really have an idea of what is going on.  Ronan and his gift are such a complex idea that having all of the backstory is really helpful to understand dreamers and dreaming.  It doesn't mean everything will be clear, when you can literally pull your dreams into the real world some stuff isn't going to make sense, but it will make dream sense.
This is another fantastic Maggie Steifvater book, full of interesting prose and lyrical writing.  She has told a complex and strange story that keeps you guessing with some great twists at the end.  I was so surprised by the revelations in this book that I can't wait to see where the story goes after this.
Where to start?  Ronan, Hennessy and Bryde are on the run from the group of people trying to kill them for being dreamers.  Bryde has a lot of skills and has been a whisper when dreaming for so long that in the flesh he has a lot to live up to.  He is trying to Mr. Miyagi both Ronan and Hennessy to be able to control their dreaming better.  This on the surface seems like a great idea since Hennessy only dreams about something that wants to kill her and Ronan has pulled out some crazy things like murder crabs.  But Bryde has a bigger plan on how to fix the Ley lines and I have some mixed feelings about what he is pulling them into.
Jordan, Declan and Matthew have been separated from Ronan and Hennessy.  They have stumbled onto something which could change everything for dreams that have been pulled into the world.  Matthew might be having a little breakdown after finding out what he really is and Jordan is figuring out who she is without the sister who has always been there.  I really enjoyed her interactions with both Lynch boys and see how she and Declan are really perfect for each other.
Farooq-Lane and Liliana are the last strange couple in the strange dance.  Liliana jumps through time almost.  Sometimes she is a young woman, sometimes she is old.  She sees the future or possible futures in these shifts.  She is leading Farooq-Lane to where she needs to be in regard to the dreamers.  The reader, along with Farooq-Lane, will just need to trust it will all be okay.  But I'm left questioning okay for who?
For those of you like me who love Ronan and Adam, you may be a little disappointed that Adam isn't in this very much.  He is a bit afraid Ronan has joined a cult and it might destroy the world, but what is that in the face of true love?  Still Adam is Ronan's touchstone and I hope he, more that anyone, will be able to help Ronan out of this mess he has made.
Everything is set up to head into the final book with a bang and I for one lament reading this now and needing to wait about a year for the final book.  I guess that just means I'll reread the series going into the last book as there are so many details to pick up, especially after the revelations made.
There are so many great quotes and descriptions of characters in this book I'll leave you with a few.
"Adam seemed to only think about the future. He thought about what he wanted to happen days or weeks or years down the road, and then he backfilled actions to make it happen. He was good at depriving himself in the now in order to have something better in the later."
"Declan didn't even know why he lied about it. The fib was like bubblewrap, the truth carefully kept pristine and untouched for his collection."
"Self-hatred is an expensive hobby paid for by other people."
Narration:
Will Patton has narrated all of the audiobooks in this world.  His cool southern drawl tones really embody all of the characters so well.  He is a narrator who adds to my enjoyment of the series so much.  He always gives a great performance in this series.
Listen to a clip:

Rating Breakdown
Plot
Writing
Characters
Dialogue
Narration (Audio)
Overall:
Related Posts