Review copy was received from Publisher. This does not affect my opinion of the book or the content of my review.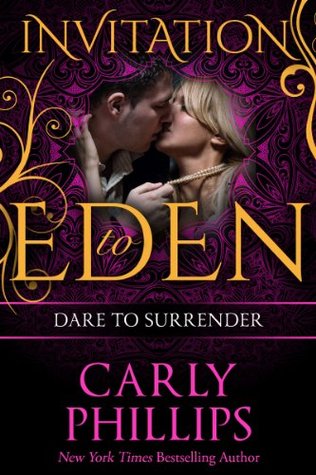 Dare to Surrender
by
Carly Phillips
Series:
NY Dares #1
Published by
Self-Published
on July 15, 2014
Genres:
Contemporary Romance
Pages:
232
Format:
eARC
Source:
Publisher
Goodreads
Amazon
, 
Audible
, 
Libro.fm
, 
Barnes & Noble
, 
Apple




He can't wait to leave...

Mac Draper finally has everything he's always wanted: An amazing career. A New York City apartment. He's this close to being free of his past forever. But a mind-blowing encounter with the sexy yet tough-as-nails Lily St. Clare has him delaying his plans to put Crystal Lake in his rearview mirror for good.

She's finally found a place to stay...

For Lily St. Clare the charming small town of Crystal Lake is her haven - a place she can hide from her famous, back-stabbing family. It's as close to happy as she's ever been. Until an unforgettable night with tall, dark and tortured Mac Draper gives her a glimpse of what true happiness feels like.

Lily can't help but melt a little under the sizzling heat of Mac's touch. But Mac's scars run deep, and Lily's afraid she may be falling for the one man who can never return her feelings.
ICYMI is a post from my early days of blogging at Yummy Men & KickAss Chicks.   You can see the original joint review here.
Yummy Man – Gabriel Dare
Kick Ass Chick – Isabelle Masters
---
Dare to Surrender is the third book in the multi-author Invitation to Eden series. It also sits at number three in Carly's Dare to Love series. I have read other books by Carly Phillips and enjoyed them. I really loved her Serendipity series, which has some similarities to this series. I enjoyed this book; I'm not sorry I read it. However, it did hit on some of my prejudices.
The first being the man, Gabe, is rich and Isabelle walks out on a relationship with virtually nothing. And does every book have to have the parents dead or horrible? Here we have one of each. We also have some cliché characters being the gold digger ex-girlfriend, the bastard ex-boyfriend, etc.
But there is more to this book than cliché and hitting my bias buttons. It is a fun, sexy read. There is only sexual tension in the first half which builds up our desire to see them together. The sex is nicely portrayed, arousing but not too graphic or weird.
Gabe is exciting. He is taken with Izzy and makes that clear. He raised his two younger siblings and ran a business. He is strong, smart and has issues leftover from his wife, as well as being a parent at a very young age for his brother and sister. The siblings are wonderful and fun; their relationship is great. He is a caretaker and has watched Izzy with the boyfriend, Lance, who didn't deserve her.
Isabelle has parents who didn't want her and don't care about her. She thinks she finds a good man and gives up her own choices to be with him. He turns out to be a liar and cheater who isolated her from her friends. Gabe wants to take care of her, but she needs to stand on her own. They have always been friendly and felt connected in Lance's social circle. Lance was a bit unbelievable, not for the cheating but for how mean he was. It seemed like a little bit too much.
I liked Gabe and Isabelle for their strength and honesty with each other but I wish we would have had a bit more of dialog and intimate conversations between them. I wanted to see more growth of their trust and caring for each other. They obviously trusted each other and cared but we didn't get to see quite enough of why they did.
Dare to Surrender is a great escape and I like its connection to the rest of the series. I don't think it's necessary to have read any of the other books. This one stands on its own. It is relatively low angst and you may love it, if you don't share my partialities. If you already a fan,Dare to Touch, book four, will tell Olivia's story and is due out Fall 2014. And if you need a family tree to keep everyone straight, Carly has one on her site. Thank goodness.
3.5 stars
Giggle-worthy quote –
"Lucy rose to her feet, going toe-to-toe with Gabe, although she only came up to the middle of his chest. 'At least something's out in the open now. You have no choice but to explain everything.'
'And you didn't think I was coming down to handle things myself?'
'I just didn't want you to be able to chicken out.'
Gabe gritted his teeth and shook his head, but I couldn't help but laugh. 'I knew I was missing something by not having siblings.'"
Excerpt:
Gabe silently thanked God his houseguest escaped into the shower as soon as she possibly could. The tour of the house had just about done him in. Isabelle's oohs and aahs had been genuine, as had her love of his favorite room in the place. Unlike Naomi, who had taken one look at his apartment and immediately begun calculating how she could move in permanently, Isabelle, who he had invited, not only wanted to pay her way but she planned to leave as soon as possible.
Not if he had his way.
Back at the police station, outside in the rain, it'd been all he could do not to reach out and swipe his hands over her responsive nipples, feel her tremble beneath his touch, and get rid of the ridiculous distance between them. He might not know her well, but he'd always felt they'd connected. The physical attraction was obvious. She was all woman, supple curves, her breasts full and lush, and she possessed one hell of an ass. His cock twitched with the desire he'd felt from the moment he'd first seen her on Daltry's arm.
But things ran deeper. They'd shared banter and flirting during opportune moments when he'd caught her alone. He'd had glimpses of the intelligent, witty woman she was when not with that pompous ass. But not until today had he really seen beyond the exterior beauty to the depth beneath. Those sexy blonde curls that bounced wildly around her face were a proud testament to the fiercely independent woman she desperately wanted to be.
The woman he intended to help her find.
It wouldn't be easy. Isabelle needed gentling. Understanding. Patience. Not his best traits, but when it came to her, he'd already exercised plenty. He'd bided his time, knowing Daltry would fuck up sooner or later. The balls that made him a crack financial investor also imbued an arrogance that would be his downfall. And it had been.
It was Gabe's good fortune that Daltry's screw-up had landed Isabelle at his brother's police station. Seeing her there had given him insight he wouldn't have had otherwise. In Isabelle, he saw an intriguing combination of weary life experience and innocent ingenue. It was the innocence the most primitive part of him wanted to conquer, to possess. Since he'd begun running his father's empire at the age of twenty-one, the same age he'd been drafted into surrogate parenthood to his sister, he had always gotten what he wanted.
And Gabe wanted Isabelle.
Latest posts by Anne - Books of My Heart
(see all)
Related Posts