Review copy was received from NetGalley. This does not affect my opinion of the book or the content of my review.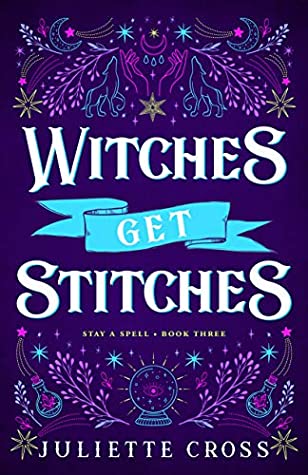 Witches Get Stitches
by
Juliette Cross
Series:
Stay a Spell #3
Published by
Self-Published
on July 20, 2021
Genres:
Fantasy Romance
Pages:
317
Format:
eARC
Source:
NetGalley
Goodreads
Amazon
, 
Barnes & Noble





Violet Savoie has a plan. A dream, rather. To open her own tattoo shop, which caters to supernaturals in need of permanent charms. As a powerful Seer, she has the potent magic to cast every kind of spell. Except the kind to give werewolves control over their beastly side. And her business partner Nico needs help in the worst kind of way.

Nico Cruz has a secret. A motive, rather. To subtly stalk and seduce Violet until she finally recognizes they are fated to be together. Ever since their heated encounter in Austin on New Year's Eve two years earlier, he's been dying to get his hands—and his tongue—back on her body. He knows a woman like Violet can't be courted in the usual way. Luckily, Nico has no scruples about misbehaving to get what he wants.

But when his former pack roams into town, and an old friend is far too interested in Violet, his focus shifts to the threat venturing into his territory. Nico may come across as the quiet, broody one, but the intruders are about to regret stepping foot in New Orleans. And when Violet goes missing, no charm or spell can keep Nico's wolf at bay.
Witches Get Stitches is the third book in the Stay A Spell series, following the romantic entanglements of a family of witches in New Orleans.  You don't have to have read the other two books in the series to really enjoy Violet and Nico's story, it could be read as a standalone.  Personally, I liked having the background of the other two sisters' love stories and family dynamics going into this one.
Evie is a foreseer and sure she'd love to find love, but she has lived a very free-spirited love them and leave them kind of life since she has 'seen' none of those men were the one.  Better not to get too invested or too attached.
Nico on the other hand is a werewolf who knew Evie was the one the first night they met, fooled around a little and she took off thinking she'd never see him again.  He tracked her down only to be friend zoned.  But Nico is a patient hunter and he has played it cool for a few years to get his life together, but now it is time to turn up the heat on the woman he knows is his.
Evie and Nico have great banter, a love of limericks, a very cool friendship and new business venture.  The sexual tension and chemistry between them is intense and everyone around them knows they need to just hook up and get it over with.  Evie on the other hand, might be a seer but she is absolutely blind to what is in front of her.  It would be a bad idea to hook up with her business partner…right?  She can't seem to remember why she is trying to keep them apart.
There are a few other things happening in the background.  Evie is working out how to put spells into her tattoo work and one might just be able to help Nico get better control on his wolf.  The only problem, word has gotten out and there are some other wolves in town from Nico's past who want Evie for themselves.
This has been a really fun series so far.  Each witch sister is blessed with different powers and all of them work to help rule the paranormals of New Orleans.  They have a few interesting pets, including a chicken who likes to wear bowties and a cat that should have died years ago.  There is also a different paranormal player I can't wait to get more details on.  Grims seem to have some pretty interesting abilities and I'm hoping the next book gives us a little more insight into their capabilities.
This is an interesting world with some very fun love stories and a family of witches I love hanging out with.
"Because you two have been circling each other for forever.  The amount of pheromones you've both been putting off could impregnate a nunnery."

"Should I be worried that you think people can get pregnant from pheromones?"
"There once was a werewolf from Kent, whose cock was so long it bent.  So he found him a witch, to scratch his big itch, and with a great howl, he spent."/blockquote>
Rating Breakdown
Plot
Writing
Characters
Dialogue
Overall:
Related Posts