Review copy was received from Publisher. This does not affect my opinion of the book or the content of my review.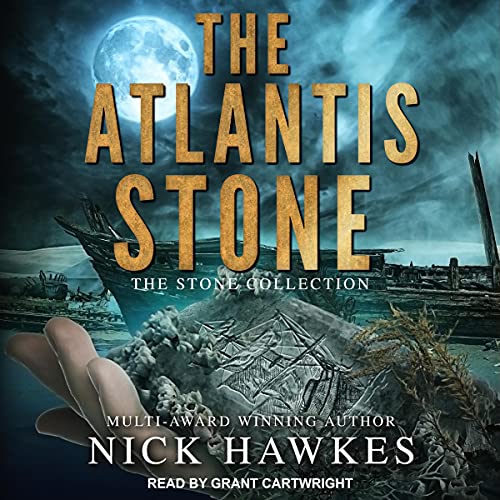 The Atlantis Stone
by
Nick Hawkes
Narrator:
Grant Cartwright
Series:
The Stone Collection #1
Published by
Tantor Audio
on June 22, 2021
Genres:
Mystery
Length:
9 hours, 14 minutes
Format:
Audiobook
Source:
Publisher
Goodreads
Amazon
, 
Audible
, 
Audiobook




Benjamin is part Aborigine, but nightmares from the past cause him to disown his heritage. Unfortunately, he feels no more at home in the Western world and so struggles to know his identity. Benjamin seeks to hide from both worlds in his workshop where he ekes out a living as a wood-turner. However, an attempt on his life propels him into a mysterious affair surrounding the fabled "mahogany ship" sighted by early white settlers near Warrnambool in Australia.

Felicity, a historian, is seeking to rebuild her life in the nearby town of Port Fairy after a messy divorce. The discovery of the "Atlantis stone" whilst scuba diving results in her joining Benjamin in an adventure that takes them overseas to the ancient city of Cagliari in Sardinia.

An anthropologist dying of cancer and an ex-SAS soldier with post-traumatic stress, join Benjamin and Felicity in an adventure that centres on a medieval treaty, a hunger for gold… and, of course, the Atlantis stone.
An underwater archeological find, a secret treaty, a ruthless mining corporation, and an Aboriginal connection made for a sizzling romantic thriller by a new to me author.  I love true life historical mysteries like the fabled Mahogany Ship and the time of Portuguese naval dominance and conquest tied to Australia so I was happy to discover this Stone Collection series.
The Atlantis Stone introduces Benjamin, a gifted artisan with woodwork who is half-Aboriginal and feels lost because he is not racially connected to any group as a result.  Then there is the recently divorced Felicity, who had a rough divorce and must pick up the pieces of her life and hopes her secret theory and recent underwater discovery will lead to a book contract and work as a historian.  An ex-SAS military man with PTSD, and an old woman at the end of her life, who has done extensive anthropology work, complete the team working to solve the reason behind the attack on Benjamin's life and someone wanting Felicity's research enough to steal and kill.
While this is probably technically a thriller and has exciting moments, it felt on the gentler end of the spectrum of that genre.  I felt it explored the characters, particularly Benjamin and Felicity, and their blooming relationship just as much as the action and suspense.  I enjoyed how a historical secret about the Portuguese arriving in Australia first is at the heart of the trouble in the present.
The bad guys were brutal and seemed to hold all the cards for a while.  Particularly, when Felicity pulled a stupid and went off by herself and the others let her, knowing they were all potential targets at this point.  But, I couldn't stay upset at her because of course, her stunt led to the big exciting moments in the series.  I do love seeing a spec ops man in action and Benjamin was no slouch.
All in all, I thoroughly enjoyed this one and am glad to see there are more exotic, global romantic suspenses in the series, though they seem to be all standalones and only have a stone and a mystery in common.  This might be a selling point for those who don't want a series-long commitment and want to pick and choose the focus and locales.  I can definitely recommend the series for those who enjoy romantic suspense, adventure romance, and moderate thrillers.
Narration:
Grant Cartwright was a new to me narrator, but I enjoyed his voice work from the start.  He had many voices and a variety at that from gender, age, accent, and personality to distinguish.  He was a good match for the pace and tone of the book, too.





Listen to a clip: HERE
Related Posts