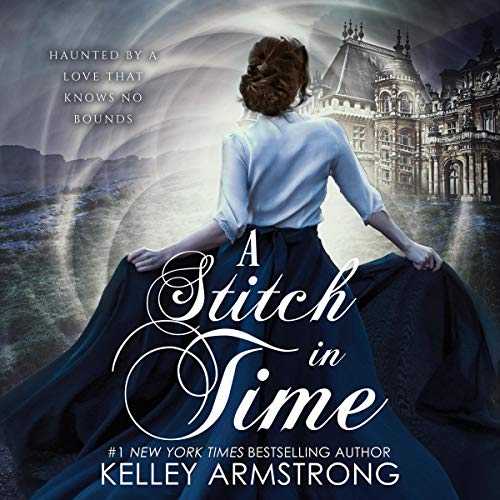 A Stitch in Time
by
Kelley Armstrong
Narrator:
Samantha Brentmoor
Series:
Stitch in Time #1
on October 13, 2020
Genres:
Science Fiction Fantasy
Length:
10 hours, 39 minutes
Format:
Audiobook
Source:
Purchased
Goodreads
Amazon
, 
Audible
, 
Barnes & Noble
, 
Apple






Thorne Manor has always been haunted...and it has always haunted Bronwyn Dale. As a young girl, Bronwyn could pass through a time slip in her great-aunt's house, where she visited William Thorne, a boy her own age, born two centuries earlier. After a family tragedy, the house was shuttered and Bronwyn was convinced that William existed only in her imagination.

Now, twenty years later Bronwyn inherits Thorne Manor. And when she returns, William is waiting.

William Thorne is no longer the boy she remembers. He's a difficult and tempestuous man, his own life marred by tragedy and a scandal that had him retreating to self-imposed exile in his beloved moors. He's also none too pleased with Bronwyn for abandoning him all those years ago.

As their friendship rekindles and sparks into something more, Bronwyn must also deal with ghosts in the present version of the house. Soon she realizes they are linked to William and the secret scandal that drove him back to Thorne Manor. To build a future, Bronwyn must confront the past.
A Stitch in Time is the first book of the series.  It is a gothic romance set in the Thorne Manor house in present day and a time 200 years ago.  There are murders to be solved and ghosts whose motivations are not quite known.  It isn't often a time travel book works for me, but in this context it really does.  The mystery, the romance and even the time shifting add to the entire experience.
Bronwyn hasn't been back to Thorne Manor since the summer she was fifteen.  That was the summer she fell in love with a boy from the past and lost her Uncle to a tragic accident.  Now she is a widow and has just returned to a house she has inherited almost twenty years later.  There are ghosts in the house and they are trying to speak to Bronwyn or maybe they are trying to hurt her.  She also thought it was maybe a dream in the past, the boy she fell in love with, but he is there 200 years ago and she has just fallen back into the past to see the man he has become.
I had a great time in this story.  It is almost a blend of the gothic feel of Withering Heights and the mystery So I Married an Ax Murderer.  But it totally works.  There are some rumors surrounding William, Bronwyn must decipher for herself if the boy she knew so long ago is capable of murder.  With a mystery to solve and a love to rebuild, I was engaged in this story the entire time.  I also love it when I don't figure out the mystery until the end and I will have to say I was kept in suspense the entire time.  A fun read for both romantics and suspense buffs.
Narration:
Samantha Brentmoor is a new to me narrator.  She did a good job at capturing the gothic feel of the novel and adding a feeling of suspense when needed.  I was able to listen at my usual 1.5x speed.
Listen to a clip:

Rating Breakdown
Plot
Writing
Characters
Dialogue
Narration (Audio)
Overall:
Related Posts