Review copy was received from NetGalley. This does not affect my opinion of the book or the content of my review.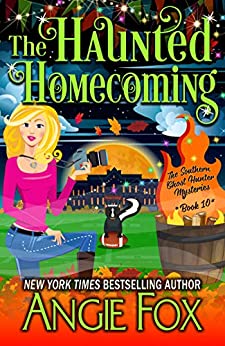 The Haunted Homecoming
by
Angie Fox
Series:
Southern Ghost Hunter Mysteries #10
on August 17, 2021
Genres:
Urban Fantasy
Pages:
320
Format:
eARC
Source:
NetGalley
Goodreads
Amazon
, 
Barnes & Noble
, 
Apple




It's homecoming weekend in Sugarland, Tennessee and ghost hunter Verity Long is tickled to see so many souls—living and dead—back in town to celebrate. But not all reunions are happy ones, and when Verity stumbles upon a dead body by the football field, it appears someone has already evened the score.
Sugarland is bursting with hometown pride as it hosts a festive week leading up to Homecoming.  This year is extra special because due to a need to move the flagpole so the football field can be expanded, they must dig up the time capsule buried back in 1985.  And, oh the secrets that time vault is hiding.
As the tenth entry in the Southern Ghost Hunter series, The Haunted Homecoming is not the best place to start.  In fact, it feels like matters are getting closer to the end as it is Verity's turn to come to terms with family like Frankie had to do in the previous book.
It was interesting meeting Verity's mom, Tilly, and seeing Verity so consternated when her flitting, gossipy butterfly of a mom seems impervious to her hints to be circumspect and careful about Verity's ghostly detecting.  It is easy to feel for Verity as she tries to rein her in, but also funny because it is obvious that what frustrates Verity about her mom are traits they share.  Her sheriff's deputy boyfriend and her ghostly gangster partner are always telling her not to rush into situations without due caution or talk so much when investigating.  Verity is in a tiff for much of the book because of mom issues and finally has to analyze why and settle it with her mom.  Additionally, I had to laugh at her reaction to the unexpected romance her sweet and smart librarian sister Melody gets up to with one of Verity's town archenemies.
Frankie is having his own existential crisis because Molly, his ghostly gal, wants commitment and Frankie doesn't see himself as the type to keep or deserve a steady relationship.  His method of coping with his relationship woes are straight out of a gangster wise guy handbook if there were one and he is not above roping Verity into his schemes in exchange for his help on her latest murder case and the chance to interview the victim's ghost if she can only find her.  Frankie cracks me up each time and he is a good dash of tart pragmatism to Verity's sometimes overly sweet naivete.
The murder victim died at her 1985 Homecoming dance as the queen, so there was plenty of 80's nostalgia present as well as the bittersweet atmosphere of the reunion group that were potential witnesses and suspects.  Verity ends up immersed in her mom's own past as Tilly was the best friend to the dead Ashley.  It was not a clear path of evidence to the reveal especially since there is all the festival activities, family dynamics, and Frankie's antics that overshadow the mystery for much of the book (and I'm not complaining to have it that way).
To summarize, it was full of all sorts of family and Homecoming, ghostly fun and a mystery tucked in there to get things exciting in the end.  There is a mild cliffhanger at the very end meant to lead directly into the next book and I can't wait.  I can see that the series is coming to a culmination soon.  This is a favorite paranormal cozy mystery series that I heartily recommend.
Related Posts