The Sunday Post is a weekly meme hosted by Kimberly  @ Caffeinated Reviewer. It's a chance to share news~ A post to recap the past week, and showcase books and things we have received.
---
Don't forget to look at my giveaways on the right sidebar.
Sunday,  I started out pretty well with blog visiting and getting 2 reviews written.  Then it was time for the Read-along facebook chat.   I'm always surprised how much it furthers my knowledge and enjoyment.   I'm always trying to figure out the best weather for outdoor projects.  The humidity isn't too bad today but it's hot.  Tomorrow is cooler but more likely to rain. I can't get over how quickly it gets dark now, which means it gets buggy earlier too.  So spot watering, dog walking or grilling are less pleasant if it is too late. I paid my October bills. Then I started packing in the kitchen and it went better than I expected but I'm going to need more boxes. I still have plenty to do.
Monday, I feel better because I got some kitchen packing done. It's still hot but less humid today.  I took the time to finish my last ARC for this week before breakfast.  Then I did some computer work until later in the day I will attempt some yard work. It gets dark at 7pm now and it's so buggy right before dark!  I was trying to work out my problems with the COYER rafflecopter so I cleared all my browsing history and caches.  Then I had to login to things again.  My Feedly was majorly wonky.  When I moved over to this new computer in April, I copied the Feedly settings file but it didn't keep my read laters but they are on the old computer.  Today when I logged in again, it was at the April read laters and had 597 posts to read!  I read todays and then deleted all the older ones as I was caught up.  But I also had to add back a bunch of blogs I follow now. So if I don't comment, it's because I have to get you back on Feedly.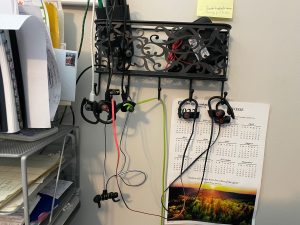 Tuesday,  another night where I didn't read much so I read in the morning.  It's raining finally, so it's computer work and packing today. I mostly did setups for new ARCs.  I did manage to get flat boxes out of the garage but not much packing happened.
Here's my earbud charging station. My daughter liked it and wanted one,  too. lol
Wednesday,  another wonderful day with rain.  I swear the broccoli has grown 6 inches in the last 2 days.  I'm getting some stuff out through the Buy Nothing Group to others who might use it.  I wrote some reviews, juggled some review dates.  I have now submitted 400 reviews to Netgalley!  That's something considering how many audio books I review which aren't from Netgalley. While my daughter had her Zoom chronic pain group,  I made chicken pot pie and chocolate chip cookies.  I FINALLY got the quarterly Library Love email ready.
Thursday,  I had a pickup order at Sam's Club mostly for paper product staples.  I hadn't used their curbside before and it's pretty good, but you can't get the rotisserie chicken that way.  Then I went home to do a bit of computer work and yard work.  I cleaned out 2 large totes to use for kitchen packing. I mowed the front yard.  Then I planted the hydrangea in the east side planter. My grandma had hydrangea in her front yard. I moved the blocks around on the west side as I'm trying to get it right.  Next up was our chiro/ massage appts.  I got a pickup order at Home Depot, then got my daughter's RX at Walgreens,  and shopped for a few items at Aldis.   I thought I lost my dad's tape measure when I was at the chiro yesterday so I set my alarm to call them.  They are only there 8-10am on Friday.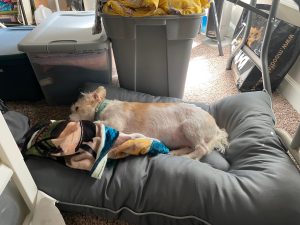 Friday,  I didn't sleep well worrying about the tape measure and woke up 3 hours before the alarm was set.  I had an idea and went upstairs.  The tape measure was on my desk!  I went back to sleep for another 2 hours.  The weather is perfect and there is so much I want to do indoors and outdoors now!  The cabinets will be here in 2 weeks.  I stuck with indoor chores today other than watering and plan an outdoor day tomorrow.  Apparently I never got to Feedly yesterday so I had that to bring up to date today.  I got a lot more ARCs.  I got some posts scheduled and now I have setups to create for the new ARCs.  I made another batch of food for Lulu.
Saturday,  it's actually chilly.  I've been working at giving away odds & ends in the neighborhood Buy Nothing group and that's going well.  My daughter didn't get to bed until after 10:30am so my schedule today is flexible since she won't be awake.  So Lulu is very tired.  I went out to do a bit of watering.  Then I spent some hours getting the planter in better shape.  I used adhesive to put around the first row.  Maybe tomorrow I can start doing more of the back rows.
---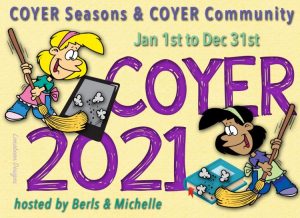 Of course, I am excited about COYER Fall.   It's a bit different since every item needs to be on a scavenger hunt list of 50 items.  Items can be used more than once.  This season goes until the end of the year.  I made a spreadsheet with the hunt list where I can add my books.  I don't think I will do any planning. I will just try to place each item into the list after I've read it.
---

Stacking the Shelves is hosted by Reading Reality.  These are the exciting ARCs I received this week (If you click on the cover, it will take you to the Goodreads entry):
Thanks so much to Berkley,  Amazon Publishing UK,  Berkley Publishing Group, St. Martin's Press – Minotaur Books, Penguin Audio  and Tantor Audio.  
(If you click on the cover, it will take you to the Goodreads entry)
I picked this one up for $1.99 for the upcoming Read-along.

Now the really scary one. This is all the Kindle and Audible freebies I grabbed this past week. You can see why I need to do Thrifty Thursday to be sure I read a few at least one each month.
I really meant to cut back on freebies BUT  they are free so I guess that won't be happening.

I'm not including things like reviews posted or upcoming as they are always in the right sidebar. And, my challenge status is also there.
Anne
Latest posts by Anne - Books of My Heart
(see all)