Review copy was received from Publisher. This does not affect my opinion of the book or the content of my review.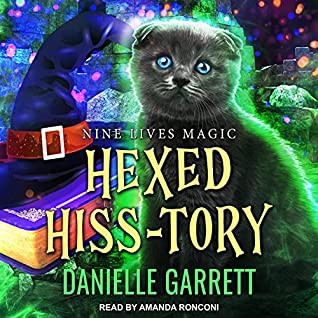 Hexed Hiss-Tory
by
Danielle Garrett
Narrator:
Amanda Ronconi
Series:
Nine Lives Magic #2
Published by
Tantor Audio
on October 26, 2021
Genres:
Cozy Mystery
,
Paranormal
Length:
5 hours, 54 minutes
Format:
Audiobook
Source:
Publisher
Goodreads
Amazon
, 
Audible
, 
Audiobook





La Rochelle France, 1661. Fierce Protestant Isabelle is desperate to escape persecution by the Catholic King. Isabelle is tortured and harassed, her people forced to convert to the religion that rules the land. She risks her life by helping her fellow Protestants, which is forbidden by the powers of France. She accepts her fate - until she meets a handsome Catholic soldier who makes her question everything.

She fights off an attack by a nobleman, and the only way to save herself is to flee to the colony of Canada as a Daughter of the King. She can have money, protection, and a new life - if she adopts the religion she's spent a lifetime fighting. She must leave her homeland and the promises of her past. In the wild land of Canada, Isabelle finds that her search for love and faith has just begun.
Cora, the Air Magic Illusion witch, and Selene, her cat familiar, are back and on the trail of the vanished odd Aunt Lavender in this second of the Nine Lives Magic tales.  More cute, sassy, magical, and a little murder mystery-ish splendidly told by Amanda Ronconi in the must-listen audiobook version.
Hexed Hiss-tory follows right on the heels of the events in the earlier book and assumes the reader is up to speed on Cora's history personally and with Selene, her potential love interests, her family, and the magical small town backdrop.  That said, it probably wouldn't be too much of a stretch to jump in out of order.
I liked Cora from the start and her laid back outlook on life.  She has had a few upheavals like her divorce and the loss of her aunt, but she processes and doesn't get worked up.  This is good because Selene, her cat familiar, is an uptight, dramatic, and bothersome individual who gets a kick out of trying to push Cora to the limit and make those around her nuts.  For all their Odd Couple vibes, this pair do have the joint need to find Aunt Lavender and to solve local murders they come across in common.
It has a slow start and pace, but builds to a few exciting moments at the end.  There are also a few tension moments when they work the case and 'interview' aka call everyone murderers ala Selene.  Cora is into Clint, but is scared to open up to a relationship because she is afraid of being hurt if he leaves when he is done taking care of his dying mother.  She is also confused by her feelings for her ex, Roger, who has blown back into town after discovering the big city and the big city job aren't for him.  At first, I was worried about the triangle, but I think Cora got some closure with one and a tenuous new start with the other one by the time the book finished.
I loved how Cora's mom got in on the investigating with her and Selene and think Aunt Lavender must be a real hoot.  I hope they find her, yes that is still unresolved though the murder mystery was solved, just so I can see her live.  Her house is insanely full of junk and curiosities and she has whimsical research projects.
When the book wrapped up, I was left eager to keep going into the new installment and see more Cora and Selene detection work while on the trail of clues to discover Lavender's fate.  Paranormal cozy mystery fans will probably get a kick out of this series.
Narration:
As I said, Amanda Ronconi is the series narrator and she is abso-fab with Cora, Selene and the rest of the cast, the tone, and the pace of these books.
Listen to a clip: HERE
Rating Breakdown
Writing
Narration (Audio)
Overall:
Related Posts