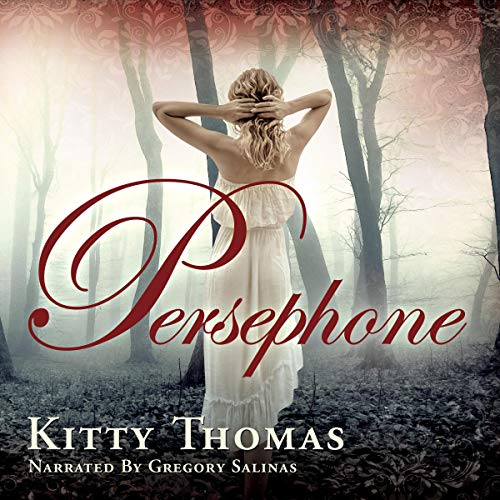 Persephone
by
Kitty Thomas
Narrator:
Gregory Salinas
Published by
Burlesque Press
on July 1, 2019
Genres:
Paranormal
Pages:
192
Length:
4 hours and 53 minutes
Format:
Audiobook
Source:
Author
Goodreads
Amazon
, 
Audible
, 
Audiobook
, 
Barnes & Noble






When Persephone was born, Zeus received a troubling prophecy. Some day his beautiful innocent daughter would be taken captive by Hades, the dark god of the underworld. Determined to protect her, her father hid her away in the human world where she would be shielded from her fate.

Hades learned of this betrayal nine centuries ago. He's been searching for his destined queen ever since. And when he finds her, no power on earth or below it will stop him.

He will take her. He will corrupt her. And Zeus will suffer for daring to keep her from him.
This is my second time with Persephone. I read it when it came out in ebook and print back in 2017. I was excited to get back into Persephone's world, now available on audio.
So, this story is a BDSM retelling of Hades and Persephone's story. It starts out with Persephone working at a flower shop in New York City. That is until Hades finally finds her, kidnaps her and takes her to the Underworld.
Persephone doesn't realize she's a goddess with her powers stripped from her. Her father Zeus, also took away any sexual desire that she had. Hades works to bring back her desire. But how can a goddess of spring and growing things live in a world of the dead?
Narration:
This is my first time listening to Gregory Salinas. I thought he did a really great job with the voice of Hades. His voice of Persephone was done really well as well. I have to say I enjoyed this story better the second time around and I can't help but think that the narration has something to do with that.
Rating Breakdown
Plot
Writing
Characters
Dialogue
Narration (Audio)
Overall:
Related Posts