Review copy was received from NetGalley. This does not affect my opinion of the book or the content of my review.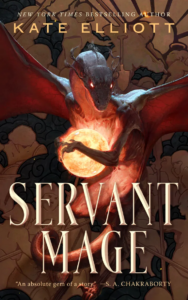 Servant Mage
by
Kate Elliott
Published by
Tor
on January 18, 2022
Genres:
Science Fiction Fantasy
Pages:
176
Format:
eARC
Source:
NetGalley
Goodreads
Amazon
, 
Barnes & Noble





Fellion is a Lamplighter, able to provide illumination through magic. A group of rebel Monarchists free her from indentured servitude and take her on a journey to rescue trapped compatriots from an underground complex of mines.

Along the way they get caught up in a conspiracy to kill the latest royal child and wipe out the Monarchist movement for good.

But Fellian has more than just her Lamplighting skills up her sleeve…
Kate Elliot has a lot of works available.  I read my first Kate Elliot book a few years ago and it was an epic tale spanning 50 years.  To go from that to a novella length book from her to the Servant Mage was a huge shift.  I think novellas are one of the hardest things an author can do in a fantasy world unless there is also a series in that world to go along with it.  Fantasy usually has enough worldbuilding that you need more pages to really develop the story for the normal fantasy reader.  While I think Servant Mage should have been a longer story, I like what the author was trying to accomplish with this story.
Fellion is a slave, she is considered a danger because she is able to do some magic.  She has basically been sold into indentured servitude because her parents were considered dangerous people.  When someone shows up and offers her a choice to leave with them and possibly make it back to the home she was taken from, when their task is complete, it is an offer she can't refuse.
Fellion and a set of four other mages are headed on a mission to save some people, along the way they are diverted by a rare occurrence of of a royal baby being found.  If they don't get there first, the child will be found and killed by those who do not want the Monarchists to return to power.  All in the group volunteer to divert the mission to try and save the child.
Servant Mage has an interesting magic system and world set up.  Kate Elliot toyed with a few fantasy tropes and had an unexpected ending to the story.  That said, I honestly wished it was fleshed out just a little more as a full length novel to really dig deeper into the history, politics and characters.  There just seemed like there was so much potential for the story and this world, I was surprised this was a stand alone.  I usually feel this way with fantasy novellas though, it is really hard to get all the information and character development I like in stories in under 200 pages.
Rating Breakdown
Plot
Writing
Characters
Dialogue
Overall:
Related Posts