Review copy was received from NetGalley. This does not affect my opinion of the book or the content of my review.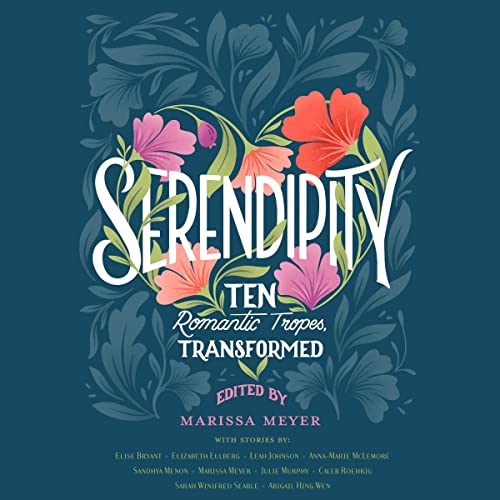 Serendipity
by
Marissa Meyer
Published by
MacMillan Audio
on January 4, 2022
Genres:
Fantasy Romance
,
Young Adult
Length:
7 hours, 57 minutes
Format:
Audiobook
Source:
NetGalley
Goodreads
Amazon
, 
Audible
, 
Libro.fm
, 
Apple




The secret admirer.
The fake relationship.
The matchmaker.

From stories of first love, unrequited love, love that surprises, love that's been there all along, ten of the brightest and award-winning authors writing YA have taken on some of your favorite romantic tropes, embracing them and turning them on their heads. Readers will swoon for this collection of stories that celebrate love at its most humorous, inclusive, heart-expanding, and serendipitous.

Contributors include Elise Bryant, Elizabeth Eulberg, Leah Johnson, Anna-Marie McLemore, Marissa Meyer, Sandhya Menon, Julie Murphy, Caleb Roehrig, Sarah Winifred Searle, and Abigail Hing Wen.

Narrated by: Aida Reluzco, Alaska Jackson, Ewan Chung, Gary Tiedemann, James Fouhey, Jeanette Illidge, Natalie Naudus & Reena Dutt
Like most compilations I liked some of the stories and then others just weren't really for me.  I love romantic tropes, like most readers I totally have my favorites like friends to lovers, marrying a stranger and then falling in love, enemies to lovers…and the list goes on.  I was hoping for ten different romantics tropes told in a unique fashion to really bring this together.  I will say the the big twist to many of the tropes were they were LGBTQ+ stories instead of more traditional M/F.  In fact I would say half of the stories fell into that category.
Marissa Meyer is one of my favorite authors ever, and a cute romantic trope story told by her was exactly what I read the compilation for.  I will say her story was by far my favorite, probably due to personal bias but Shooting Stars was a cute story where on a class field trip two people keep getting thrown together.  One has had a secret crush on the other for years and every time she is around him she drops something on her shirt or has cotton candy in her hair.  Maybe on this trip the fates will help her out and throw them together enough they both get out of their own way.
Of all the other stories only a few stand out.  I didn't know any of the other authors and while a few of the stories were cute a few just felt agenda driven and weren't really my cup o tea.
Auld Acquaintance I completely enjoyed as it was a friends to lovers story where two bffs finally figure out they are mad for each other when at a school New Years Eve lock in.  It was one of the most believable of all the stories and I loved how everyone else knew they would be great together, they just hadn't figured it out yet.  This was a M/M romance done so well that I'd look into reading something else this author wrote.
I wish more of the stories stuck with me.  They are all pretty quick and honestly most had either characters that I didn't really enjoy or the trope felt like it was really missing for the heart of the story.  Partially that is the fault of the short story format.  It is just hard to really build a lasting bond with characters you are only with for 20-100 pages.  I did like Liberty for its message of love yourself for who you are, but the love story felt second to that and I'm not sure what romantic trope was trying to be expressed.
If you would like to read some stories with a diversity cast and don't mind some agenda driven parts then this probably exactly what you are looking for.  The stories were full of racial and gender diversity along with one economic diversity story.  Marissa Meyer put in a great short story and there are probably a few winners in this for everyone.  But like most compilations not every story is going to resonate with everyone.
Narration:
There are a number of narrators based on the stories.  All were really good at conveying the characters in the stories.  Liberty's narrator stands out a bit because of the Latin accent but all seemed appropriate for YA narrations.  I was able to listen at my usual 1.5x speed.
Listen to a clip:

Rating Breakdown
Plot
Writing
Characters
Dialogue
Narration (Audio)
Overall:
Related Posts