Review copy was received from Amazon Vine. This does not affect my opinion of the book or the content of my review.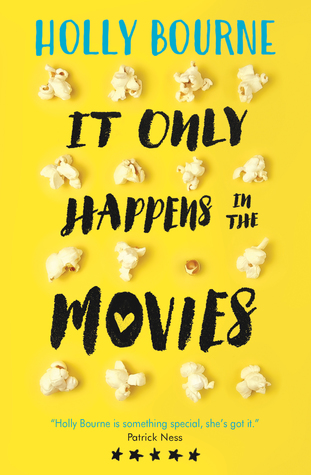 It Only Happens in the Movies
by
Holly Bourne
on October 1, 2017
Genres:
Young Adult
,
Romance
,
Romantic Comedy
Pages:
410
Format:
Paperback
Source:
Amazon Vine
Goodreads
Audible
, 
Audiobook
, 
Barnes & Noble
, 
Apple





Audrey is over romance. Since her parents' relationship imploded her mother's been catatonic, so she takes a cinema job to get out of the house. But there she meets wannabe film-maker Harry. Nobody expects Audrey and Harry to fall in love as hard and fast as they do. But that doesn't mean things are easy. Because real love isn't like the movies...

The greatest love story ever told doesn't feature kissing in the snow or racing to airports. It features pain and confusion and hope and wonder and a ban on cheesy clichés. Oh, and zombies...
I've read a lot of romances and usually there is that area where you have to suspend your disbelief for the story to work.  They all follow a pattern of sorts and most of us know that pattern like the back of our hand.  It Only Happens in the Movies is a standalone novel which pokes a little bit of fun at all of those tropes and really tackles some of the more serious issues that can come up in relationships.
"I bit my lip. "I just think they're dangerous, that's all."
"Dangerous? Like antibiotic resistance? And…umm… SHARKS?"
I kicked him softly. "You know what I mean, I think they're dangerous for, like, society."
Audrey is in her last year at school and she has pretty much withdrawn from most of her friends, her first experience with sex was not good, her home life is a mess and for an escape she started working at the local movie theater.  After the divorce of her parents, her mom is just not doing well.  She is drinking too much and struggling mentally with highs and lows.  It is a lot for Audrey, who loves her mom but has no idea how to even deal with her own feelings of betrayal her dad left her with, when he up and left and made a new family with someone else.
Harry has T R O U B L E written all over him.  He is flirty, fun and has been a little bit of a man whore in his youth.  He drinks too much, smokes too much and gets a little too high.  But he is also brilliant in a lot of ways and sometimes is so clued into Audrey it is amazing.  He is also a great director and is putting together a zombie bride film that he talks Audrey into being a part of.  I really liked the wayt they got to know each other and Audrey pushed most of his boundaries and made Harry really work for a relationship for once in his life.
This book does a few things:
It calls out some of the classic romance films for the cheesiness they have in them.
It follows a girl on her journey through a relationship and the discoveries she make about herself along the way
It touches on the impact of divorce, substance abuse and mental health
I loved Audrey's friends.  Even though she withdrew from them, they are all still trying so hard to be a part of her life and stay friends.  I really liked how when she was ready to talk, they were there and listened to the stuff she had to say.
I was a bit surprised by the ending even though I think it was fitting.  I was a little put off by it initially but then as I thought about it, I came to think that it was an ending that should be told more.  Love is a feeling but it is also a choice and choices have consequences.
At the end I was proud of Audrey and excited for her and the possibilities she had ahead of her.
"You know that bit in the first Lord of the Rings film? Where Gandalf stands up to that fire demon on the bridge and yells, 'YOU SHALL NOT PASS'? Well…" I paused, feeling so ashamed. "Essentially my vagina had a Gandalf standing at the entrance, and he thought Milo's dick was a fire demon."
Rating Breakdown
Plot
Writing
Characters
Dialogue
Overall:
Related Posts