Review copy was received from Publisher. This does not affect my opinion of the book or the content of my review.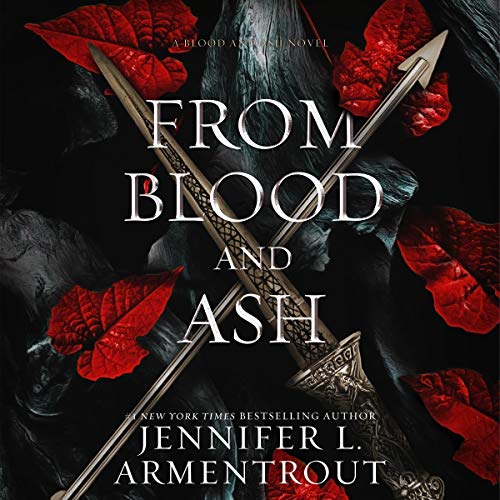 From Blood and Ash
by
Jennifer L. Armentrout
Narrator:
Stina Nielsen
Series:
Blood and Ash #1
Published by
Brilliance Audio
on September 8, 2020
Genres:
Young Adult
,
Fantasy
Length:
19 hours, 46 minutes
Format:
Audiobook
Source:
Publisher
Goodreads
Amazon
, 
Audible
, 
Barnes & Noble
, 
Apple





A Maiden…

Chosen from birth to usher in a new era, Poppy's life has never been her own. The life of the Maiden is solitary. Never to be touched. Never to be looked upon. Never to be spoken to. Never to experience pleasure. Waiting for the day of her Ascension, she would rather be with the guards, fighting back the evil that took her family, than preparing to be found worthy by the gods. But the choice has never been hers.

A Duty…

The entire kingdom's future rests on Poppy's shoulders, something she's not even quite sure she wants for herself. Because a Maiden has a heart. And a soul. And longing. And when Hawke, a golden-eyed guard honor bound to ensure her Ascension, enters her life, destiny and duty become tangled with desire and need. He incites her anger, makes her question everything she believes in, and tempts her with the forbidden.

A Kingdom…

Forsaken by the gods and feared by mortals, a fallen kingdom is rising once more, determined to take back what they believe is theirs through violence and vengeance. And as the shadow of those cursed draws closer, the line between what is forbidden and what is right becomes blurred. Poppy is not only on the verge of losing her heart and being found unworthy by the gods, but also her life when every blood-soaked thread that holds her world together begins to unravel.
Poppy is the Maiden, it has been known for almost as long as she can remember that she will become one of the Ascended.  She has been treated as holy and only a few are even allowed to see her face or speak with her.  She is an icon more than a person, separated from everyone.  Her gift is not to be used, to be secreted away.  But she can feel the emotions of those around her and she can help lift some of their pain.  It shouldn't be bad to use that, should it?
Hawke is an up and coming soldier in the palace.  Poppy watches him, he is beautiful, but never dreamed he would see her.  Still, when they are thrown together and she has someone else in her life that treats her as a person and not an station, it is intoxicating.
There is danger all around as the Forsaken and Fallen Kingdom start to rise again and Poppy seems to be in the middle of it all.  When she finds out the truth of who and what she is, it will shake her.  When she finds out what Hawke really wants her for, she will have to decide which side she wants to be on and what path forward is for her.
This definitely reads like YA fantasy but it is probably more New Adult than YA.  Poppy is around 19ish and Hawke, well let's just say he looks like he is in his early 20s.  The world is a little creepy since you know something more is going on with the people who have already Ascended but it is hard to tell what it might be until the reveal.  At times, it was a little long winded as I was waiting to get to some more action or learn more about either the Forsaken or the Ascended.  Still, if you are willing to put in a little time to the book, it has a lot to offer the fantasy/romantasy reader.
From Blood and Ash is the first book in a new series,  Blood and Ash, that should be read in order.  This is my first book by Jennifer L. Armentrout.  I enjoyed her writing style overall and will be continuing on with the series.
Narration:
Stina Nielson is a new to me narrator.  She was a good fit for this story and conveyed the characters well.  I was able to listen to this at my usual 1.5x speed.
Listen to a clip:

Rating Breakdown
Plot
Writing
Characters
Dialogue
Narration (Audio)
Overall:
Reading this book contributed to these challenges:
Related Posts