Review copy was received from Purchased. This does not affect my opinion of the book or the content of my review.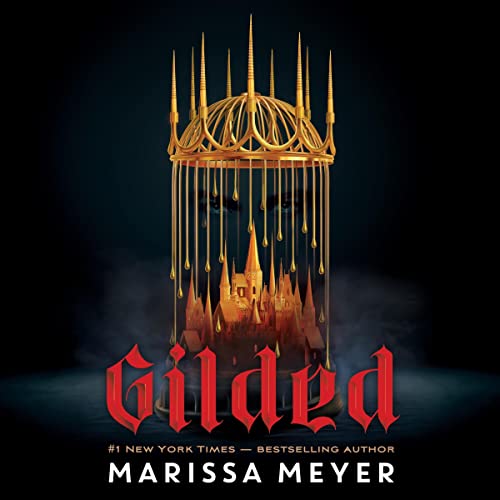 Gilded
by
Marissa Meyer
Narrator:
Rebecca Soler
Series:
Gilded #1
Published by
MacMillan Audio
on November 2, 2021
Genres:
Fantasy Romance
,
Young Adult
Length:
15 hours, 33 minutes
Format:
Audiobook
Source:
Purchased
Goodreads
Amazon
, 
Audible
, 
Audiobook
, 
Barnes & Noble
, 
Apple






Long ago cursed by the god of lies, a poor miller's daughter has developed a talent for spinning stories that are fantastical and spellbinding and entirely untrue.

Or so everyone believes.

When one of Serilda's outlandish tales draws the attention of the sinister Erlking and his undead hunters, she finds herself swept away into a grim world where ghouls and phantoms prowl the earth and hollow-eyed ravens track her every move. The king orders Serilda to complete the impossible task of spinning straw into gold, or be killed for telling falsehoods. In her desperation, Serilda unwittingly summons a mysterious boy to her aid. He agrees to help her . . . for a price.

Soon Serilda realizes that there is more than one secret hidden in the castle walls, including an ancient curse that must be broken if she hopes to end the tyranny of the king and his wild hunt forever.
Marissa Meyer is the Queen of fairytale re-imaginings and I have loved her since first picking up the Lunar Chronicles years ago.  Gilded is the first book in The Gilded series which is currently set to be a duology completely re-imagining the lore for the Rumpelstiltskin tale.  I wasn't as excited for this book as Rumpelstiltskin is one of my least favorite of all the well knows fairytales but Marissa Meyer has worked her magic and given this well known story a huge revamp.
The story is told from the view of the miller's daughter, Serilda.  She is somewhat of an oddity in her town, blessed by the god of stories, better known as the god of lies, her eyes shine with the wheels of fate in them.  Apparently, very disconcerting for the townsfolk of her village, but the children love her.  Stories and tales roll right out of her mouth.  It is easier for Serilda to spin a tale than to make small talk.
And that is what got her into trouble you see, she spun a tale to save some forest folk on the night of the hunt and the Erlking lost his pray when he got wrapped up in her story.  The night of the next full moon and the wild hunt, he is back to make her prove her tale true, that she can spin straw into gold.  She has until morning to do it or she will die in his strange castle surrounded by dark ones and the ghosts that haunt this place.
Serilda is at a loss, it was just a story, how was she supposed to know that it would put her in such dire straights.  When a boy shows up and says he can spin it for her, well that is where our tale is the same.  What is different?  It will be the two of them against the Erlking and as Serilda spins tales while Gild spins gold something special forms between them.
This is really an exceptional re-imagining in my opinion.  I love how it is a semi mash up between the lore of the Wild Hunt where the fae come to steal your children in the night and Rumpelstiltskin.  The world with gods and magic bestowed to mortals touched by them is interesting and the deeper story of what the Erlking is really trying to get with the gold horrifying.
This is a darker re-imagining.  The Erlking is brutal and uncaring of mere mortals, he will use them however he sees fit.  Especially if it will get him closer to his real goal.  He is an easy villain to hate, especially when it is discovered what he did to Gild and his family.  While not a cliff hanger, this ended in a place full of tension and worry.  How will Serilda, the girl blessed by the god of stories, get herself and hopefully the others she has come to love out of this mess?  Better yet, how will she make the Erlking pay for the horror he has brought to her life?  I do not know but I'm excited to find out to be sure.
"So. The Erlking brought a mortal to the castle and locked her up. A bunch of straw, a spinning wheel. Easy enough to guess what he wants."
"Indeed. He wants some straw baskets for storing all the yarn that's going to be spun on this wheel. I think he means to take up knitting."
"He does need a hobby," said the boy. "One can only go around kidnapping people and butchering magical creatures for so many centuries before it gets tiresome."

"But there are two sides to every story. The hero and the villain. The dark and the light. The blessing and the curse. And what the miller had not understood is that the god of stories is also the god of lies.
A trickster god."
Narration:
Rebecca Soler is one of my favorite narrators of YA.  She has done all of Marissa Meyer's re-imaginings and every time she does a fantastic job of bringing the story to life.  I was able to listen to this at my usual 1.5x speed.
Listen to a clip:

Rating Breakdown
Plot
Writing
Characters
Dialogue
Narration (Audio)
Overall:
Related Posts