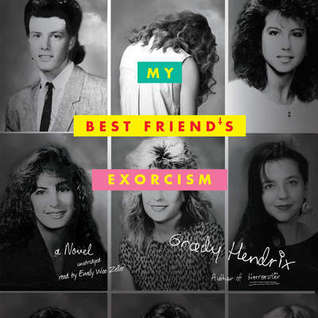 My Best Friend's Exorcism
by
Grady Hendrix
Narrator:
Emily Woo Zeller
Published by
Blackstone Audiobooks
on May 17, 2016
Genres:
Fantasy
,
Young Adult
Length:
10 hours, 11 minutes
Format:
Audiobook
Source:
Library
Goodreads
Amazon
, 
Audible
, 
Audiobook
, 
Barnes & Noble




Abby and Gretchen have been best friends since fifth grade, when they bonded over a shared love of E.T., roller-skating parties, and scratch-and-sniff stickers. But when they arrive at high school, things change. Gretchen begins to act…different. And as the strange coincidences and bizarre behavior start to pile up, Abby realizes there's only one possible explanation: Gretchen, her favorite person in the world, has a demon living inside her. And Abby is not about to let anyone or anything come between her and her best friend. With help from some unlikely allies, Abby embarks on a quest to save Gretchen. But is their friendship powerful enough to beat the devil?
'All skate, change directions.'  'Just Say No.'  'Gag me with a spoon.'  If you know what these sayings mean, or better yet, if you've actually heard them used not-ironically, I invite you to flash back to the eighties by reading My Best Friend's Exorcism by Grady Hendrix.  This is a nostalgia-filled horror novel, which sounds odd, but actually really works.  I mean, consider the success of Stranger Things.  This could be the tale of Nancy and Barb, if Barb…well, that's another story.  Like other books from Grady Hendrix, the text is peppered with clever news clippings and articles to illustrate and enhance the text.  The chapters are titled with eighties pop hits, which you can listen to on the Spotify playlist.  Yes, you too can be singing, "My girl likes to party all the time," on repeat while simultaneously thanking the universe that Eddie Murphy stuck to acting.
Waiting on a Friend
"I won't let anything bad happen." It's an ominous quote from Abby in the opening chapter of the book.  Abby and Gretchen meet in middle school and despite family drama and peer pressure, they remain best friends.  The summer before their senior year, a mysterious event changes Gretchen, not in a good way.  Abby watches in helpless confusion as Gretchen morphs into a completely different person.  Is it drugs?  The influence of Heavy Metal music?  It's up to Abby to figure what is going on and how to save her friend.
Thriller
This is a horror story.  I know that should be obvious, but given all the urban fantasy and paranormal books we review, I felt it was important to make that distinction.  Rather than the slasher-style horror story that takes place in a deserted insane asylum, My Best Friend's Exorcism is the insidious kind of horror; no less terrifying for taking place in a distinguished suburb of Charleston.   The actual horror in the story is somewhat overshadowed by the interpersonal relationships.  I was hard pressed to decide if this was actually a book about demonic possession or if this was just a coming-of-age allegory; that is until about two thirds of the way through.  At that point, one of the most disturbing urban legends of my preteens is brought to life in vivid, disgusting detail.  From then on, I was more invested in the horror aspect of the novel; I realized there was no way of wrapping up the story so that Abby and Gretchen could just go back to how it was 'before.'
With or Without You
Grady Hendrix doesn't let the heart of the story get lost in the mélange of eighties kitsch and demonic hoopla.  He methodically plots the story of Gretchen and Abby's friendship, the realistic portrayal of which shines above the fantastic setting.  While some of the challenges Gretchen and Abby face are particular to growing up in the eighties, I think there are universal aspects of the girls' relationship that will appeal to all readers.
Once in a Lifetime
"By the sacred strength of My Sweet Audrina and Forever," reading My Best Friend's Excorcism is a little bit of a walk down memory lane.  It is written in a straight-forward manner with relatable themes that don't get bogged down in too much social commentary.  While I think this book would appeal to anyone who has had a best friend or knows someone who's been demonically possessed, it is really the rad eighties references that make it worth the read.
Narration:
The narration was well done and easy to follow.  The pacing was right where it should be, and I was easily able to distinguish between the different characters.  Because of the articles and media pieces in the text, I encourage you to check out the print or electronic copy if you are trying to decide on whether to read to listen to the book.
Listen to a clip:

Rating Breakdown
Plot
Writing
Characters
Dialogue
Narration (Audio)
Overall:
Related Posts