Review copy was received from Publisher. This does not affect my opinion of the book or the content of my review.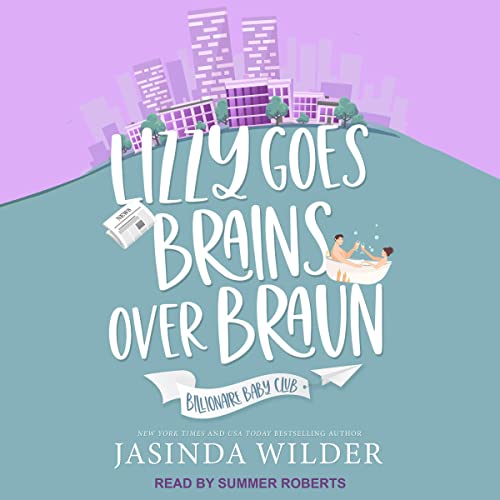 Lizzy Goes Brains Over Braun
by
Jasinda Wilder
Narrator:
Summer Roberts
Series:
Billionaire Baby Club #1
Published by
Tantor Audio
on February 22, 2022
Genres:
Romantic Comedy
Length:
9 hours, 40 minutes
Format:
Audiobook
Source:
Publisher
Goodreads
Amazon
, 
Audible
, 
Audiobook
, 
Barnes & Noble
, 
Apple




It was just supposed to be just a 40th birthday prank for our boss after a wild night of girlfriends, laughter, and a LOT of margaritas.

When we placed the ad in the newspaper, we never thought anyone would actually answer it.

We also didn't think that Laurel would be so brainless as to put Lizzy's actual phone number in the ad…

Beautiful, successful single woman, 40, seeks attractive male billionaire to impregnate her the old fashioned way. No strings. NOT seeking sugar daddy. Validation required. Serious inquiries only, please.
I don't think I've ever read a billionaire book before but they are all the rage it seems so I thought I'd give Lizzy Goes Brains Over Braun the first book in the Billionaire Baby Club a try, because there are totally just billionaires out there looking to knock up a woman.
Lizzy owns a real-estate company and is doing very well in her life but one her drunken night out with the girls she makes a few confessions.  She really wants a baby; she wants all the fun times that come with making a baby but nothing after that.  How do you make that happen?  Well, you put an ad in the paper and spell it out.  You must be rich, we make a baby the old-fashioned fun way, then hasta buddy I'm done with you.
I'm not sure where I want to begin.  I've read my fair share of housewife smut, every woman should have a few steamy scenes to draw a little inspiration from every now and again.  I can say the sexy times were pretty hot and will probably do the trick.  They are a bit long and drawn out when they are happening and a few times I got a little bored since I'd been through about seven female orgasms', not mine, Lizzy's' and I'm like aren't they tired yet, because I am.  But since they are nestled together you could skim if needed.
Braun is great, he makes money in the tech world and is a bit of a workaholic but is just nerdy enough to be adorable.  He seems too good to be true.  He answered the ad because he was a bit curious and was tired of not knowing if someone just wanted to be with him for his money.  Lizzy is an emotional mess really.  She has some pretty big baggage going on that she has been toting around since childhood.  She is so afraid of relationships and love that she has really never had more than what one might consider a string of booty calls as a relationship.  What will she do with this guy that really is perfect?
There were a few cons for me in this book.  The women are crass, a bit too crass for my tastes.  Some of the conversations were all about big Ds and getting their groove on in detail.  It seemed more like guy locker room talk than female conversations.  The beginning was a little off putting because of how raunchy they talked at the bar while coming up with this stellar billionaires and babies scheme.  Lizzy drove me a bit crazy in her run away from feelings and don't have a real conversations about them with the man you are clearly in love with.
All of the women seem to have something big holding them back from getting on the relationship/marriage/baby train so I'm sure the future books will explore that.  Part of this reminded me of the bachelor with all the extra romantic gestures you can only do when you have all the money, but at least there wasn't a bevy of women vying for Braun's attention.
I don't know if Billionaire books are for me.  Just a little too much focus on fancy things and places.  Still this book did have its moments and I really did want Lizzy and Braun to get their Happily Ever After in the end.
Narration:
Summer Roberts did a decent job portraying this book.  I did like her voice for Braun and Lizzy and her sexy times narration is pretty top notch.  I was able to listen to this at my usual 1.5x speed
Listen to a clip:  HERE
Rating Breakdown
Plot
Writing
Characters
Dialogue
Narration (Audio)
Overall:
Related Posts