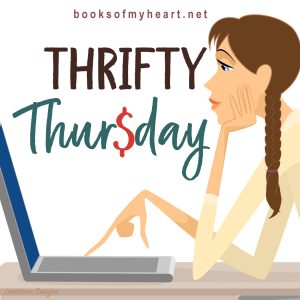 The purpose of Thrifty Thursday is to read a book which was free (at some point).
I always pick my Thrifty Thursday books on a variety of criteria. I look to find something in the genre I am wanting and the overall ratings. Sometimes, I try to find one to fit a reading challenge. This time of year, I am reading a holiday or winter theme.  These are mostly books I read for the #HoHoHoRAT challenge.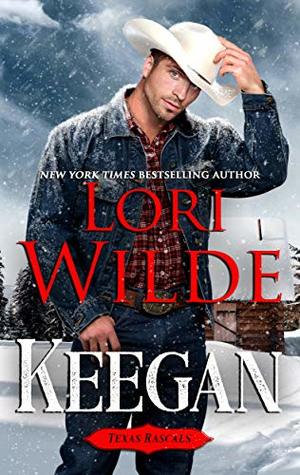 Keegan
by
Lori Wilde
on November 13, 2018
Genres:
Contemporary Romance
Pages:
187
Format:
eBook
Source:
Purchased
Goodreads
Amazon
, 
Audible
, 
Libro.fm
, 
Barnes & Noble
, 
Apple




Snowbound at Christmas

The tall, dark stranger needed Wren Matthew's help--and the shy schoolmarm couldn't turn away a man in distress. She didn't know why Keegan Winslow was out in the middle of an ice storm, but the spirit of the holidays compelled her to open her home to him. And although she'd sworn off men, she couldn't deny the sparks that crackled between them.

Keegan was a cop on a mission when sweet, lovely Wren rescued him from the storm. But the haven--and the love--he found in her arms was a happiness he couldn't last. Especially when he couldn't offer her the one thing she wanted: his heart.
Kindle freebie on February 10, 2019 
(currently 99¢ at Amazon and Barnes & Noble as of writing this post)
Overall rating 3.93 with 1,223 ratings and 124 reviews
Keegan had a little bit of everything and the start of the Texas Rascals series.  It's a Christmas time story set in a western setting.  Wren is a teacher trying to run her family's dairy farm by herself.  She's been badly hurt by a man in the past so she has been keeping to herself.  Keegan is a widower who lost his wife and daughter and is now lost himself.  They get snowed in at Christmas, in Texas!
There is some suspense with Wren not being very trusting of a man when she is alone and from Keegan's past.  Both of them have growth on their issues.  They are a good fit in personality for each other.  Keegan has experience from his grandparent's dairy farm in Wisconsin.
I had some small issues with realism, but this is fiction. View Spoiler »I've been knitting since I was 9 and nobody knits a sweater and scarf in two nights! Although having the yarn stash available is totally believable. « Hide Spoiler  I've enjoyed this author and she won a RITA for this story. It feels old school and was published originally in 1998.
---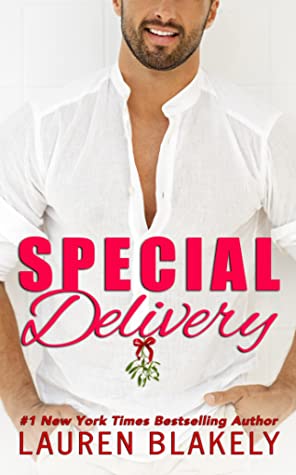 Special Delivery
by
Lauren Blakely
on November 11, 2019
Genres:
Contemporary Romance
Pages:
150
Format:
eBook
Source:
Purchased
Goodreads
Amazon
, 
Audible
, 
Libro.fm
, 
Barnes & Noble




All I want for the holidays is the willpower to resist my brother's sexy, charming, easy-on-the-eyes new business partner. Instead, I'm stuck planning all the holiday parties with the one guy who makes me want to break my dating diet. Who thought that was a good idea? Oh, me. Yep, brilliant, strategic me who raised her hand and said yes I'd love to hang mistletoe with that hot former sports star. (Note to self: Mistletoe leads to toe-curling, knee-weakening kisses.)

And I'd love to get snowed in with the one guy I shouldn't fall for. (Addendum to the note to self: You know exactly where eight inches of snow leads to. Ahem, eight inches.) As long as I can make it through the holidays I'll be on my merry way, fa la la la la. But the holidays have a surprise for me.
Kindle freebie November 22, 2020 as part of The Special Delivery Holiday Edition
(currently free at Amazon and Barnes & Noble as of writing this post)
Overall rating  4.05 with 1,837 ratings and 340 reviews
Special Delivery  was just too sweet, fluffy and unrealistic. By sweet, I don't mean no sex. There was plenty of sex. This was rich people who had everything, where everything went perfectly, there was no drama and everybody was so happy. It was insta-lust (believable) and almost insta-love (not quite believable). I gave an extra 0.5 heart because there were adults who talked honestly to each in the relationship.
---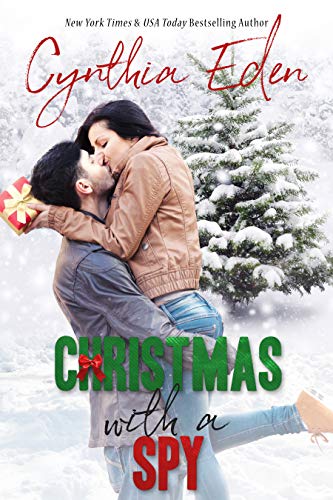 Christmas with a Spy
by
Cynthia Eden
on December 27, 2016
Genres:
Romantic Suspense
Pages:
93
Format:
eBook
Source:
Purchased
Goodreads
Amazon
, 
Barnes & Noble
, 
Apple





Heat up your holiday with some sexy suspense...Everyone in town thinks that Jemma White is as sweet as the delicious treats she makes at her chocolate shop—but they're wrong. Jemma is ready to let her wild side out, and she's just found the perfect man to make all of her fantasies come true. Grayson Cole is a too-sexy-to-be-true stranger who has escaped to Holly for the holidays. He is her perfect temptation, and Jemma can't wait to steam up the cold winter nights with him. But when danger from Grayson's past follows him to town, she realizes that the man she is falling for has been keeping some very dark secrets…secrets that may just get them both killed.
Kindle freebie November 4, 2019
 (currently $2.99 at Amazon and Barnes & Noble as of writing this post.)
Overall rating 3.97 with 331 ratings and 58 reviews
I could have had some of the same unrealistic issues I have with other titles but I really enjoyed Christmas with a Spy.  It's only natural a lot of shorter reads have more insta-lust and insta-love.  This couple did have a lot more issues though.  Jemma had other men who had dated her briefly and an overprotective friend.  Grayson had his past career to leave and start a new life. Some big secrets hid in these issues.  I didn't feel like they kept secrets; it just took a few days to know and feel at ease enough to share them.
As with other romantic suspense, they were together enough, as Grayson protected Jemma, they got to know each other well.  We do see them talk and learn about each other.  Gradually, they share the parts of their pasts they most fear will bring judgement.  But there are some hot, sexy times regularly.
The setting of Holly NC is the title of the series.  I have not read the other books and didn't feel like I was lost.  Several authors have contributed to the series.  It looks like I have read other books in the series, all out of order.
---
Studmuffin Santa
by
Tawna Fenske
Published by
Self-Published
on November 27, 2017
Genres:
Romantic Comedy
Pages:
184
Format:
eBook
Source:
Purchased
Goodreads
Amazon
, 
Audible
, 
Libro.fm
, 
Barnes & Noble
, 
Apple





Brandon Brown is the unlikeliest Santa ever to don a red velvet suit.

His abs are more cheese grater than bowl full of jelly, and deploying to Syria is the closest he's come to the North Pole. But family drama sends the jaded Marine home for the holidays, and lands him an unexpected gig as a part-time Santa.

Jade King is hustling to get Jingle Bell Reindeer Ranch off the ground, and she's not thrilled her sister hired a Santa with sex-appeal. The last thing Jade wants is a beefcake circus, and guys like Brandon bring sleigh-loads of trouble. But Studmuffin Santa proves more popular than anyone dreamed, drawing hordes of happy kids, lusty moms, and a mystery foe hell-bent on wrecking it all.

The threat has Brandon playing protector for the reindeer and their sexy keeper, which is risky for a guy who's sworn off happy endings and the whole Christmas mess. But as Jade and Brandon bond over Santa suit malfunctions and risqué Christmas cookies, they find they have more in common than a craving for gingerbread. Can they find a way to mesh their wish lists, or will ghosts of Christmas past bring things crashing down like a fat man in a cast iron sleigh?
Kindle freebie on December 10, 2018  (currently $0.99 at Amazon and Barnes & Noble as of writing this post. )
Overall rating 4.25 with 1,426 ratings and 262 reviews
Studmuffin Santa is the start of the Ponderosa Resort series, and as a romantic comedy, it is a winner. somehow I managed to get a lot of these free and I want to read more.  The book is about half the size of a regular book, so it is a little fast, but not as much as a novella.  Jade and Brandon grew up in the same town. Brandon was popular; Jade, a few years younger, was bullied.
Now many years later, Brandon returns to town after a decade in the Marines. He is considering his options. Jade has grown into a swan, but internally bears her high school self.  They aren't really enemies, but they were barely acquaintances in high school. They both begin to realize things are not always as they seem.
"We didn't know each other in high school," she says at last. "I knew of you, but didn't everyone?"

"Because of the sports stuff," I ask, "or because I was an asshole?"
Jade and Brandon become friends and share an attraction.  The development of their romance is sweet because neither one has much experience with an actual relationship.  They have some bumps but it's a good story. I appreciate getting both of their points of view.
She looks up and smiles as I walk into the room, and I seize the chance to steal a cookie.

"Ooh, they're reindeer," I say, pausing to admire the cutout shape before biting off the head. "Pretty tasty, " I mumble around a mouthful of crumbs.

"You goober, those are for the reindeer."  She snatches the cookie out of my hand and sets it back on the tray, where I get a closer look at the cookies. "They're made with high-cellulose orchard hay meal for fiber," Jade informs me. "Plus rehydrated beet pulp pellets for protein and minerals."

I study the reindeer shapes, wavering between curiosity and nausea. "What's on top?"

"Little bits of lichen," she says, "Their favorite treat."
---
These are only Kindle freebies I get, or ones through author newsletters which anyone can sign up and get for free. I don't include things like Kindle Unlimited or Prime Free Reading (I do have it). Both Tantor and Audible have occasional free audios (to anyone) and I do include those.  Since I one-click on 1-2 freebies a day or probably at least 5 a week, I came up with this feature to make sure I start reading them.
Latest posts by Anne - Books of My Heart
(see all)
Reading this book contributed to these challenges:
Related Posts