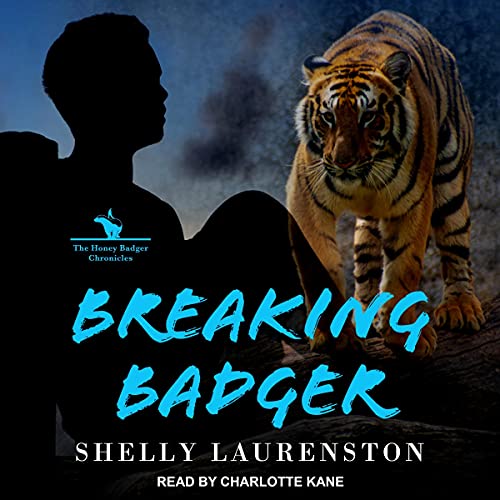 Breaking Badger
by
Shelly Laurenston
Narrator:
Charlotte Kane
Series:
Honey Badger Chronicles #4
Published by
Tantor Audio
on August 31, 2021
Genres:
Paranormal Romance
Length:
11 hours, 25 minutes
Format:
Audiobook
Source:
Purchased
Goodreads
Amazon
, 
Audible
, 
Audiobook
, 
Barnes & Noble
, 
Apple




Back with more sexy shape-shifting antics, New York Times bestselling author Shelly Laurenston's outstandingly witty, snarky, steamy, world-building Honey Badger Chronicles continue . . .

It's instinct that drives Finn Malone to rescue a bunch of hard battling honey badgers. The Siberian tiger shifter just can't bear to see his fellow shifters harmed. But no way can Finn have a houseful of honey badgers when he also has two brothers with no patience. Things just go from bad to worse when the badgers rudely ejected from his home turn out to be the only ones who can help him solve a family tragedy. He's just not sure he can even get back into the badgers' good graces. Since badgers lack graces of any kind . . .

Mads knows her teammates aren't about to forgive the cats that were so rude to them, but moody Finn isn't so bad. And he's cute! The badger part of her understands Finn's burning need to avenge his father's death—after all, vengeance is her favorite pastime. So Mads sets about helping Finn settle his family's score, which has its perks, since she gets to avoid her own family drama. Besides, fighting side by side with Finn is her kind of fun—especially when she can get in a hot and heavy snuggle with her very own growling, eye-rolling, and utterly irresistible kitty-cat . . .

Breaking Badger is the first book in the Honey Badger Chronicles that doesn't follow one of the McGilligan sisters. This book is about Mads who is part honey badger and part hyena. She's also one of Max McGilligan's basketball teammates.
Finn Malone is a Siberian tiger. He and his brothers want to find out who killed his father and needs the honey badger's help. The honey badgers have tons of contacts and family all over the world. They can find out who killed their father.
This is a really fun series (as is the Pride series in which this is a spinoff). The characters are always so much fun. I read this series pretty much entirely for the characters. They give me such great joy with their snarky lines and fun attitudes.
While this series can be read as a stand-alone, there are a lot of appearances from the characters from the Pride series (and even some from the Magnus Pack). I do think knowing the background of those characters helps to understand them in this series (especially Dee-Ann Smith, she's a wolf who's story is told in Big Bad Beast (Pride, #6), though she is introduced in The Mane Attraction (Pride, #3). She's quite an iconic character.).
I do love this series, even if this wasn't my favorite story in this world. Shelly Laurenston is a go-to author for me when I need a laugh (I also recommend her other pen name, G.A. Aiken and her Dragon Kin series).
Narration:
This series is read by Charlotte Kane. If you listen to her and think she sounds like Johanna Parker, you are correct. She goes by both names. I think I read somewhere why, but I can't remember why she reads under both names. Anyway, I love her narration. She really brings out the humor in the characters. I highly recommend her audiobooks, no matter which name.
Listen to a clip: HERE
Related Posts