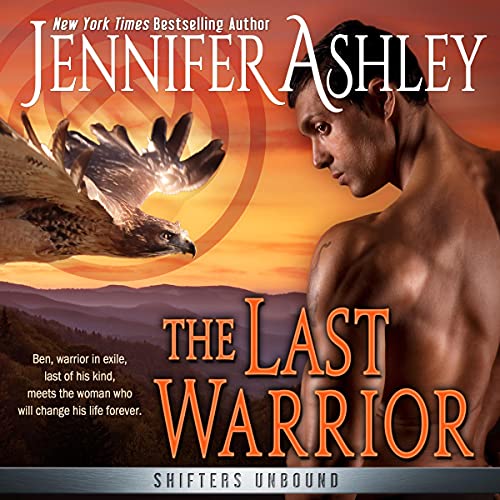 The Last Warrior
by
Jennifer Ashley
Narrator:
Cris Dukehart
Series:
Shifters Unbound #13
Published by
Self-Published
on June 28, 2021
Genres:
Paranormal Romance
Length:
9 hrs and 12 mins
Format:
Audiobook
Source:
Purchased
Goodreads
Amazon
, 
Audible
, 
Libro.fm
, 
Barnes & Noble
, 
Apple




Ben, the last of a warrior race destroyed by the Fae, has lived a thousand years in exile and now has found a place among the Shifters. He's the caretaker of a sentient house outside New Orleans, and the Shifters turn to him when they're in dire trouble. Even so, Ben is aware of his aloneness, his people gone forever.

Rianne, daughter of the powerful Lady Aisling, is in a jam. She's pursued by an ambitious and ruthless Fae lord--marriage to her will help him become emperor. Rianne sees only one escape, to flee her home for the world of humans and Shifters.

But for that, she'll need a guide and a protector.

Ben just happens to be handy, using his skills to help other enemies of the Fae. Lady Aisling asks him for the favor of his life—to take Rianne to a Shiftertown and look out for her, even if it means putting him in the most danger he's faced since his final battle with the Fae.

Rianne is reluctant to trust her fate to the unknown Ben, but she soon finds the human world, the Shifters, and most of all Ben, have captured her fascination, and possibly her heart.

This is a series I really love. It started out just about shifters and has added several different types of fae over the years. The Last Warrior follows two fae. Ben calls himself a goblin. He is the last of his race, when he was banished from Faire. He is friends with the shifters and is the caretaker of a sentient house.
Rianne is the daughter of the powerful Lady Aisling. While this is Rianne's introduction to the series, her mother has been in several stories. She has quite the reputation in both the shifter world and Faire.
The story starts with Rianne being held hostage. Lady Aisling asks Ben and another fae to rescue her, which they do. Rianne is then taken to our world to protect her until things in Faire are safe for her again.
I really love this Shifters Unbound series. It is an interesting dynamic in the human/shifter relationship. In this world, shifters are out and kept mostly segregated in Shifter Towns. Shifters also have to wear a magic collar that shocks them if they show signs of aggression. The collars are used as a way for weaker humans to control the more powerful shifter race.
I also love the characters in this series. I always look forward to my time with the characters in this series. Every character is very unique. It is a large cast and for the author's ability to create so many different personalities. I highly recommend this series. And while you could probably follow along with this story without reading the previous stories, I think you will get more enjoyment out of the series by reading the stories in order.
I look forward to when the next book comes out (it is foreshadowed in this story).
Narration:
Cris Dukehart performs this entire series. She does an amazing job with the large cast of characters, both male and female. There are also several children in the series. I've really enjoyed her narration from book one. I've listened to her narrate a few other stories which were done really well, too.
Listen to a clip: HERE
Rating Breakdown
Narration (Audio)
Overall:
Related Posts