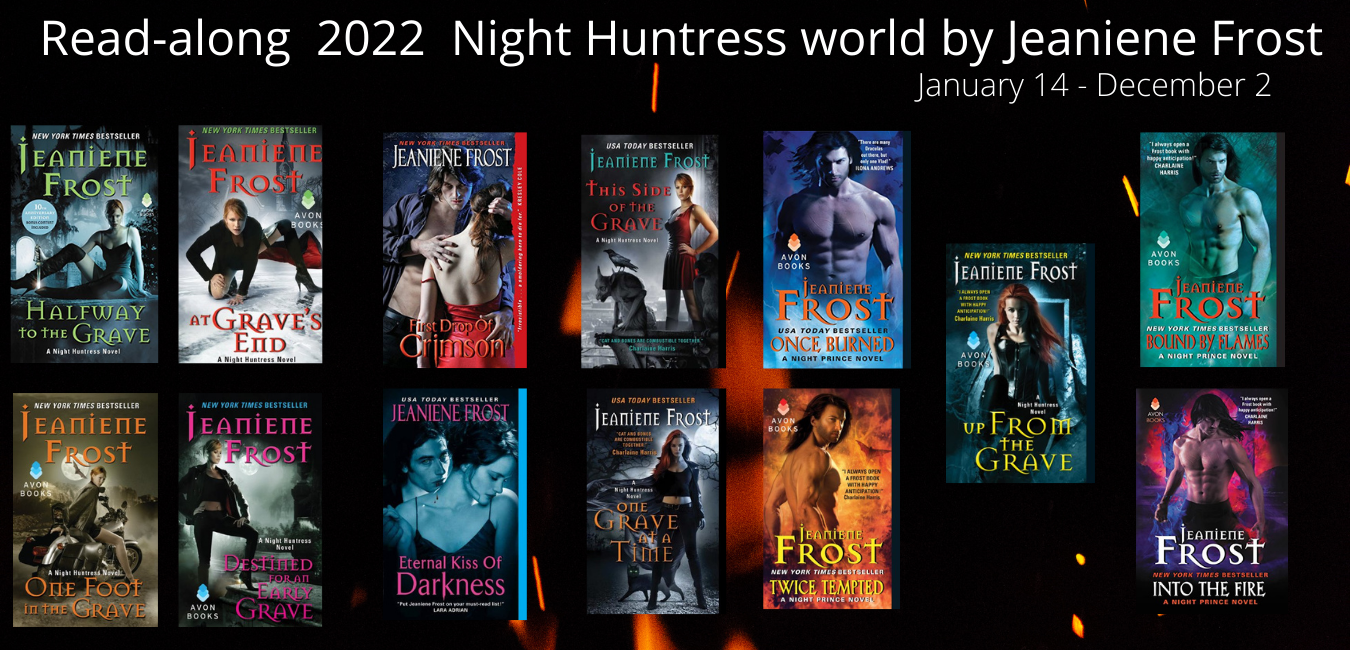 I chose this series after a poll and discussions with my team and several friends.  These are mostly available at both of my libraries, in both ebook and audio formats.  I read about half of this series, about 10 years ago. I loved it and want to reread plus finish up.
You will have a 3-4 weeks to read each book. There will be games, discussion, prizes, reviews and fun with each book. The prizes will include some paperbooks, digital books and paperbacks through Book Depository. Jeaniene Frost has graciously offered a number of digital copies (US only) but they can be from Amazon, Barnes & Noble or Kobo.  Each giveaway will have both US and Intl prizes, though.
Here's your to-do list:
Find your copies of these books, borrow them from a friend, get them at the library or buy them.
Read Book 1, Halfway to the Grave, by January 14.
Make note of a favorite quote or two as you read the book.
If you haven't read the books before, make a list of questions you have for the discussion. If you have read them, please don't spoil new readers.
Comment here and let me know if you have read them before or if you are starting on a new adventure with me.
Enter the giveaways!
Schedule:   
We are doing one book every 3-4 weeks, posting on Fridays. We will have a review for most of the books with the team here at Books of My Heart plus some of our friends.
Jan 14:    Halfway to the Grave               – Melissa @ Tea & Books
Feb 11:    One Foot in the Grave              –  Rachel @ Waves of Fiction
Mar 11:   At Grave's End                            –  Kimberly @Caffeinated Reviewer
Apr  1:     Destined for an Early Grave   –  Stephanie @ Once Upon a Chapter  
Apr 29:   First Drop of Crimson               – Kai @ Fiction State of Mind
May 20:  Eternal Kiss of Darkness         – Jen @ That's What I'm Talkin About
Jun 10:    This Side of the Grave              – Brandee @Unconventional Bookworms
Jul 8:       One Grave at a Time                  –  Lorna 
Aug 5:      Once Burned                                –  Lexxie @Unconventional Bookworms
Sep 9:     Twice Tempted                             –  Angela @ Angel's Guilty Pleasures
Oct 7:      Up from the Grave                      –  Melanie
Nov 4:     Bound by Flames                        –  Sophia
Dec 2:    Into the Fire                                   – Berls @ Because Reading
Q & A with Jeaniene Frost
---
Jeaniene Frost has also been kind enough to commit to a Q & A post.   I will collect questions for her through September 19th.  I will send your questions to her and she will pick 3-5 questions and send me the response.  I will post her answers in the December 2 post.  So think up some great questions for her!
---
COYER Challenge is adopting our Read-along.  You can read about COYER and join that challenge or just the Facebook community chat HERE.   On the Sunday after the review posts, they will host a FB room (like we do for COYER book club) at 12 PT, 2 CT, 3 ET and 9pm Europe, for a one hour chat.  So the first one will be January 16.  You do not have to join the COYER challenge to participate, only the Facebook group.
---
Bonus round – Read a Series in a Month  January 2023:
Jan 8:    Shades of Wicked              –  Carole @ Carol's Random Life in Books
Jan 22:    Wicked Bite                        –  Robin
Feb 5:       Wicked All Night             –   Anne
These are Sunday noon posts.      There will be one COYER FB Chat at the end of the series on Feb 5th.
---
Be sure to enter the giveaways!!!
Get started Giveaway: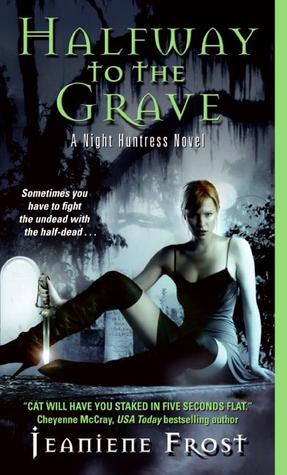 For US paperback copy of Halfway to the Grave (read once),and for Intl a paperback from Book depository.
Grand-Prize Giveaway:
For a US winner, this will be 12 digital copies ( your choice of her books) generously provided by Jeaniene Frost  (US only) but they can be from Amazon, Barnes & Noble or Kobo.
For an Intl winner,  it will be $50 of books from Book Depository.
Latest posts by Anne - Books of My Heart
(see all)
Related Posts