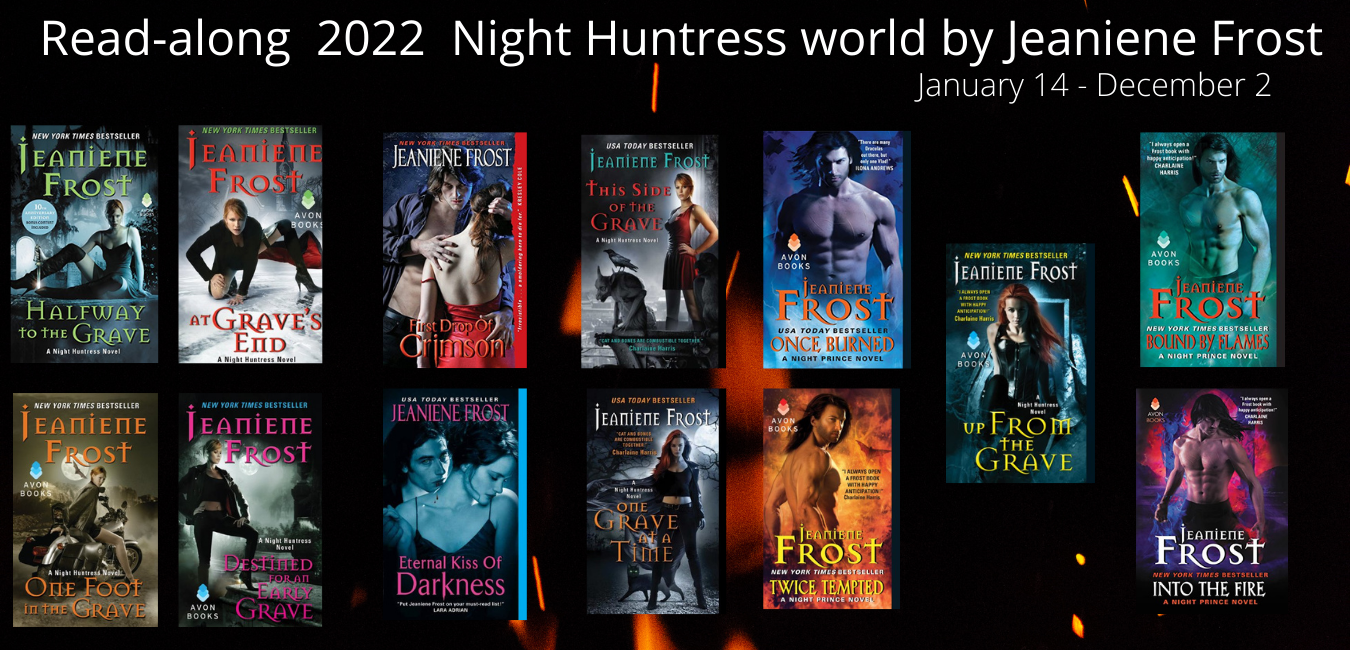 This book may be unsuitable for people under 17 years of age due to its use of sexual content, drug and alcohol use, and/or violence.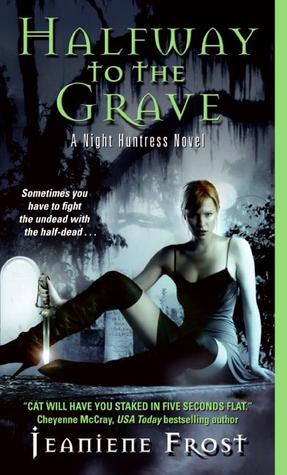 Halfway to the Grave
by
Jeaniene Frost
Series:
Night Huntress #1
Published by
Avon
,
Blackstone Audiobooks
on October 13, 2009
Genres:
Paranormal Romance
,
Urban Fantasy
Pages:
384
Format:
Paperback
Source:
Library
Goodreads
Amazon
, 
Audible
, 
Libro.fm
, 
Barnes & Noble
, 
Apple





Half-vampire Catherine Crawfield is going after the undead with a vengeance, hoping that one of these deadbeats is her father – the one responsible for ruining her mother's life. Then she's captured by Bones, a vampire bounty hunter, and is forced into an unlikely partnership.

In exchange for help finding her father, Cat agrees to train with the sexy night stalker until her battle reflexes are as sharp as his fangs. She's amazed she doesn't end up as his dinner – are there actually good vampires? Pretty soon Bones will have her convinced that being half-dead doesn't have to be all bad. But before she can enjoy her status as kick-ass demon hunter, Cat and Bones are pursued by a group of killers. Now Cat will have to choose a side … and Bones is turning out to be as tempting as any man with a heartbeat.
Meet our heroine, Catherine Kathleen Crawfield – she's 22, a college student, lives with her mom and grandparents in Licking Falls, Ohio (that town's name you guys) – oh and she is a half-vampire, half-human. Her mom was date raped by a "young" vampire and Cat was the result. When she was sixteen, her mother told her the truth; then Cat began hunting and killing random vampires – by using her body as bait and opportunity when it presents itself. She developed a nice set of skills in the six years since learning her truth.
Bones is in town, on a mission to stop a white slavery/sex trafficking ring headed by a powerful Master vampire. He meets Cat at a night club when she asks him to go home with her, he turns her down, then follows her when another vampire decides to leave the club with her. She kills the vampire and Bones knocks her out and takes her back to his cave. Once she is awake, Bones violently interrogates her, thinking she is one of the Master vampire's human minions. Then he discovers that Cat has vampire powers all her own and they make a deal to work together. This is where I am glad I read the prequel first; the amount of violence Bones inflicted on Cat would have turned me off if I didn't know Bones from the short story. And the violence continues during Cat's "training". The violence was a bit intertwined with their growing feelings for each other, although by that part the violence was against the bad guys, not each other.
As for the plot, I loved it – non-stop action and beating up bad guys. I like the twist at the end of the criminal ring, having the vampire and human world mirror each other's politics. Small towns can have big secrets. But the plot really helped to deepen Bones' and Cat's characters, both as individuals and as a couple. Breaking up the gang would go to making the world safer for the innocent vampires in Bones' worldview; saving women from sex trafficking and sexual violence comes from Cat's understanding of her mom's rape. Their character motivations and the plot really meld well together and made their partnership in and out of the bedroom stronger. The plotline is resolved, but the relationship is left on a cliffhanger that has me eager to read the next book.
Side characters really helped to shape the characters of Bones and Cat as individuals. Cat's mom was a pathological bitch and honestly Cat should have left her to fend for herself at the hospital at the end of the book. To have your daughter risk her and her lover's lives to rescue your sorry ass and then you spit on them when it was all over and you are still alive is just the height of hypocrisy and cruelty. I hope Timmie shows up in the other books, as I hope Tara and Spade do too. I don't trust Agent Don Williams one iota and yet I think Tate is going to make a great team member for Cat (the guy learns fast not to fuck around when it comes to Cat and her abilities).
---
Games:
Who said (enter the answer in the Rafflecopter, don't put in the comments)
Who said                              "Well, strike me pink!".
There are other options in the rafflecopter for you to enter discussion questions and quotes to share.
---
Share your review/ thoughts on  Halfway to the Grave:
I thought it might be fun to link up reviews so we can find them all easily.  It can be a link to Goodreads or a blog, or wherever you have a review (short or long).
Mister Linky's Magical Widgets — Easy-Linky widget will appear right here!
This preview will disappear when the widget is displayed on your site.
If this widget does not appear,
click here
to display it.
---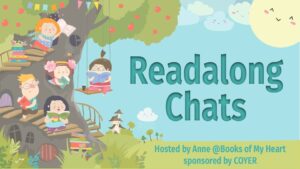 COYER FB Chat – Sunday January 16
Challenge is adopting our Read-along.  You can read about COYER and join that challenge or just the Facebook community chat HERE.   On the Sunday after the review posts, they will host a FB room (like we do for COYER book club) at 12 PT, 2 CT, 3 ET and 9pm Europe, for a one hour chat.  You do not have to join the COYER challenge to participate, only the Facebook group.
---
Here's your to-do list:
Find your copies of these books, borrow them from a friend, get them at the library or buy them.
Read book 1.5, Happily Never After.
Read Book 2, One Foot in the Grave, by February 11.
Make note of a favorite quote or two as you read the book.
If you haven't read the books before, make a list of questions you have for the discussion. If you have read them, please don't spoil new readers.
Think of some great questions for Jeaniene Frost for the Q & A post!
Link up your review on Goodreads, FB or other site to the post.
Join the COYER book chat on the Sunday following the post.
Enter the giveaways!
---
Schedule:   
We are doing one book every 3-4 weeks, posting on Fridays. We will have a review for the books with the team here at Books of My Heart plus some of our friends.  We are following the author recommended reading order.
Jan 14:    Halfway to the Grave               – Melissa @ Tea & Books
Feb 11:    One Foot in the Grave              –  Victoria @ First of All
Mar 11:   At Grave's End                            –  Kimberly @Caffeinated Reviewer
Apr  1:     Destined for an Early Grave   –  Stephanie @ Once Upon a Chapter  
Apr 29:   First Drop of Crimson               – Kai @ Fiction State of Mind
May 20:  Eternal Kiss of Darkness         – Jen @ That's What I'm Talkin About
Jun 10:    This Side of the Grave              – Brandee @Unconventional Bookworms
Jul 8:       One Grave at a Time                  –  Lorna 
Aug 5:      Once Burned                                –  Lexxie @Unconventional Bookworms
Sep 9:     Twice Tempted                             –  Angela @ Angel's Guilty Pleasures
Oct 7:      Up from the Grave                      –  Melanie
Nov 4:     Bound by Flames                        –  Sophia
Dec 2:    Into the Fire                                   – Berls @ Because Reading
Q & A with Jeaniene Frost
---
Jeaniene Frost has also been kind enough to commit to a Q & A post.   I will collect questions for her through September 19th.  I will send your questions to her and she will pick 3-5 questions and send me the response.  I will post her answers in the December 2 post.  So think up some great questions for her!
---
Bonus round – Read a Series in a Month  January 2023:
Jan 8:    Shades of Wicked              –  Carole @ Carol's Random Life in Books
Jan 22:    Wicked Bite                        –  Robin
Feb 5:       Wicked All Night             –   Anne
These are Sunday noon posts.      There will be one COYER FB Chat at the end of the series on Feb 5th.
---
Be sure to enter the giveaways!!!
Giveaway: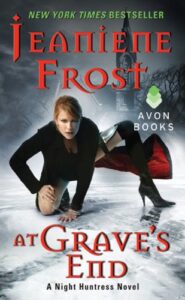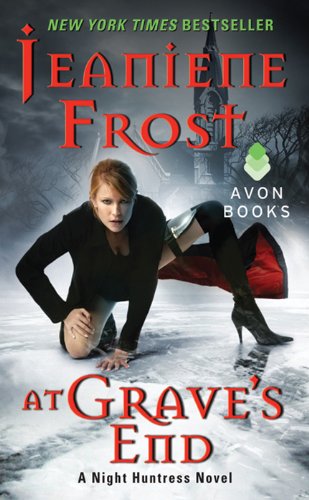 For US paperback copy of At Grave's End (read once),and for Intl a paperback from Book depository.
Grand-Prize Giveaway:
For a US winner, this will be 12 digital copies ( your choice of her books) generously provided by Jeaniene Frost  (US only) but they can be from Amazon, Barnes & Noble or Kobo.
For an Intl winner,  it will be $50 at Book Depository.
Latest posts by Anne - Books of My Heart
(see all)
Reading this book contributed to these challenges:
Related Posts