Review copy was received from NetGalley. This does not affect my opinion of the book or the content of my review.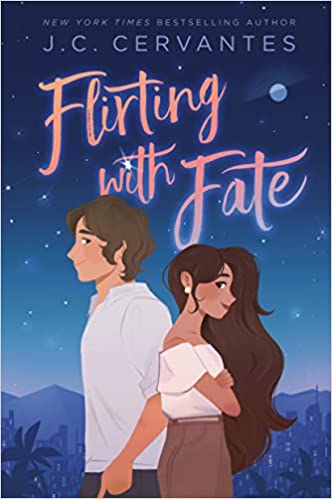 Flirting of Fate
by
JC Cervantes
Series:
Flirting with Fate #1
on April 19, 2022
Genres:
Fantasy Romance
,
Young Adult
Pages:
384
Format:
eARC
Source:
NetGalley
Goodreads
Amazon
, 
Audible
, 
Audiobook
, 
Barnes & Noble
, 
Apple




Ava Granados will never forgive herself for being late to her beloved nana's deathbed. But due to a flash flood that left Ava in a fender bender with a mysterious boy, she missed her grandmother's mystical blessing--one that has been passed between the women of her family upon death for generations.

Then Nana's ghost appears with a challenge from beyond the grave. As it turns out, Nana did give Ava a blessing, but it missed its target, landing with the boy from the night of the storm instead. Was it fate? Ava refuses to believe so. With the help of her sisters and Nana's rather bumbling spiritual guide, she's determined to reclaim her share of the family magic and set Nana free.

For guarded Ava, befriending some random boy is the last thing she wants to do. She's gotten along just fine protecting her heart--keeping people at a distance is a great way to ensure no one ever hurts you. But as Ava embarks on her mission to retrieve the lost blessing, she starts to wonder if getting close to thunderstorm boy is worth the risk.
What if there is more riding on Ava reaching her dying grandmother's side before she passes than a chance to tell her good-bye?  A bright high school journalist intern is about to go on a quest of sorts to save the family's magical blessing and allow her Nana to rest in peace, discover the hidden places in her own heart and family, and perhaps have time for friendship and more.
I caught sight of the blurb and it hooked me so I wanted to give the new to me author and this YA Magical Realism story a go.  I'm enchanted by large doses of family.  I was particularly taken with Ava's interactions with her Nana's ghost and that of another, St Medardus.  Then, her older sisters come together and support her in her hour of need though they are all at odds in general.  Ava learns to open herself to other possibilities beyond her focus on her internship including a friendship with Orion, the brother of the guy, Achilles, who she blames for causing all this when she follows her Nana and Meda's direction to get to know him as part of retrieving the legendary family blessing.  But, her own family secrets, which begin when she comes across an old photo, might be the biggest stumbling block to both fulfilling her quest and a romance with Orion.
I enjoyed the family historical mystery that allowed Ava to use her journalism skills to research and track down answers and her interactions with Orion, who is the opposite of his annoying self-centered brother, were fun.  The book caught my attention right away and I enjoyed the set up.  It paced out well for me and read quickly especially when it really took off after the beginning.
But… yes, there's a pesky 'but'.  I found bits hard to swallow.  There were big coincidences which I'll avoid detailing for spoilers and Ava herself seemed to act and behave older than she was at times.  Not that I wanted her to turn into a bratty teen to prove her age, but I was always startled that I wasn't reading about an older person.
These niggles aside, this was a fun one and I like that this begins a series.  No cliffhanger just opening for more in the world.  The light touch of magic paired with a girl working out her own issues, family, and first romance was a delightful combo and I can recommend it especially to those who enjoy YA, but also magical realism in stories.
Related Posts