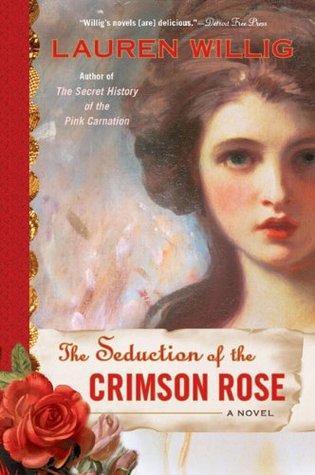 Seduction of the Crimson Rose
by
Lauren Willig
Series:
Pink Carnation #4
Published by
NAL
on December 30, 2008
Genres:
Historical Romance
,
Mystery
Pages:
480
Format:
Paperback
Source:
Purchased
Goodreads
Amazon
, 
Audible
, 
Audiobook
, 
Barnes & Noble
, 
Apple





Determined to secure another London season without assistance from her new brother-in-law, Mary Alsworthy accepts a secret assignment from Lord Vaughn on behalf of the Pink Carnation. She must infiltrate the ranks of the dreaded French spy, the Black Tulip, before he and his master can stage their planned invasion of England. Every spy has a weakness and for the Black Tulip that weakness is beautiful black-haired women?his ?petals? of the Tulip. A natural at the art of seduction, Mary easily catches the attention of the French spy, but Lord Vaughn never anticipated that his own heart would be caught as well. Fighting their growing attraction, impediments from their past, and, of course, the French, Mary and Vaughn find themselves lost in a treacherous garden of lies.
Advancing into the next spy venture of the Pink Carnation and her associates, I was more than ready to get the enigmatic Lord's Vaughn's story and a little wary of the social climbing Mary Alsworthy starring beside him.  However, stranger pairings have happened in this lively romp of a series so I plunged right back in with the Seduction of the Crimson Rose.
This is the fourth installment of Pink Carnation series and, while this could be taken out of order in a pinch, it works decidedly much better in order as the characters have history in earlier books.
In the present day plot thread, grad student historian, Eloise Kelly, is still up against her dissertation deadline and needs to gain the documented proofs of who the Pink Carnation is and the great British spy's exploits during the Napoleonic Period.  Meanwhile, her recent dating relationship with Colin is starting out well.
In the historical timeline, the devilishly cunning and witty Lord Vaughn and the cold, calculating beauty of the London social scene end up working to discover the real identity of the elusive French operative, The Black Tulip.  No more unlikely pair or assignment could be made, but The Pink Carnation puts the pair in the field and oh the sparks do fly.
The Seduction of the Crimson Rose was a big, luscious surprise.  Such a tricky matter to take two shades of gray figures whose compasses don't point precisely due North and turn them into heroic material while still retaining the people they essentially are.  Needless to say, it wasn't long before I was riveted to this pair.  Mary slowly won me over in spite of her sharp, calculating dealings and her attitude toward others, but she was just the fiercesome-natured woman to get the jaded Lord Vaughn's attention.  He actually was attracted to her, but knew better than to let her know until the time was right particularly since he was caught up in a bad situation involving operatives in the Black Tulip's circles.  Now, there is the pesky issue of his estranged wife, but this was not a secret and he hadn't seen her in years when she took off.  Never did I feel it was a loathsome cheating situation though I did wonder how he would become unencumbered especially as his past was connected to the mission.
And, oh yes, the series arc about the Black Tulip does seem to have come to a head in this installment.  It was a solid suspense thread and I loved the surprise twist tie-in to the person's true identity and the reason they were involved in working against England.  There were some good suspense scenes and Vaughn and Mary suited this cloak and dagger action situations well.  They were ruthless and that was what was needed against formidable enemies.  The big climax was good stuff.
So, I seem to wax warm and hot with this series and have decided it depends a great deal on the main characters.  With Mary and Vaughn I was all in for them so, therefore, I was more into their story.  And, now that Eloise and Colin are making a go at dating, I was more settled about that storyline.  Looking forward to who and what comes next for the series.
Related Posts