Review copy was received from Publisher. This does not affect my opinion of the book or the content of my review.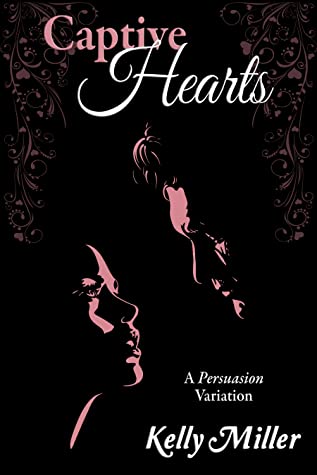 Captive Hearts
by
Kelly Miller
on January 24, 2022
Genres:
Historical Romance
Pages:
363
Format:
eARC
Source:
Publisher
Goodreads
Amazon





Will Captain Wentworth realize too late that he has a second chance at love?
With a successful naval career and a fortune to his name, Frederick Wentworth receives a hero's welcome from his sister's neighbours.

One person, though, presents a source of vexation. Years earlier, Miss Anne Elliot had reneged on her promise to marry Wentworth, revealing a significant character flaw. Yet Anne's unmarried state at the age of seven and twenty, her altered demeanour, and her resolute avoidance of Wentworth raise questions that gnaw at his composure.
A classic second chance romance is given a poignant, fresh look in this variation that tells Jane Austen's Persuasion from Captain Wentworth's point of view and puts a few new twists for reader to enjoy.
Captive Hearts opens with a sweet and romantic prologue full of young lovers and hope.  Eight years later, the story continues when youth and hope are no longer to be had between the handsome naval officer and the gentle woman who ended their courtship.  However, Captain Frederick Wentworth finds his bitterness about the past is tested by his curiosity and reluctant interest, when he visits his sister and her husband in Somersetshire, and encounters Anne Elliot once again.  Each new encounter breaks down his walls and a near-death experience might prove the catalyst to bring them a second chance, if a capricious enemy and her family don't separate them for good.
Paced out easy and covering bittersweet memories and moments with a lightness that I appreciated.  I was rooting for this pair to get over the past pain and uncertainty because they really are perfect for one another.  There are aspirers toward both Frederick and Anne, but I never felt they had serious rivals.  The suspense caused by the villain built nicely and the climax part of the story was exciting though yes, this is a sweet and gentle historical romance for the most part.
I felt the author captured the tone of Austen's story and was true to the time period, but still infused the tale with her own writing and plot elements.  Frederick's disappointment and bitterness as well as Anne's regrets were not overblown and moved at a natural pace toward a new understanding, respect, and rekindled love.
I liked what she did to expand some characters and storylines from the original like with Louisa and Bennick and especially the surprising alteration to Anne's father, Sir Walter.  I loved that surprise toward the end.  The Bow Street runner was a good side character and I have the urge to see him in his own book now.
And so, it was a grand story for a comfy coze, a solid tribute to Austen's Persuasion, and most of all, a heartwarming swoony romance.  I recommend it to those in the mood for a sweet historical romantic variation on a classic.  No familiarity with the classic required though it does enhance the experience.
Related Posts