The Sunday Post is a weekly meme hosted by Kimberly  @ Caffeinated Reviewer. It's a chance to share news~ A post to recap the past week, and showcase books and things we have received.
---
Don't forget to look at my giveaways on the right sidebar.
Sunday, I didn't get going too fast, but then it was on to blog visiting.  I really enjoy finding out what has been going on with everyone during the past week.  The temperature's dropped about 30 degrees in the last 2 days and it's about 45F/ 7C following a week of 88F/ 32C.  So it feels cold.  I'm putting off the yard work until tomorrow with a 68F / 20C which is near perfect especially with a north wind all week, it's going to be nice until the rain at the end of the week.  My daughter and I had a Facetime call with my brother and Mom (Grandma).  Now I'm making roast chicken, broccoli, green beans, roasted root veggies, and apple pie for dinner.
Monday, I tried to get going faster because I had so much I wanted to do. It's warmer but quite windy. I wrote a review, did my blog visiting and went thru emails. Then I made some phone calls to get ready for a day trip on Wednesday.  Lulu and I did our walk and saw the swans.
Tuesday, I got going faster today.  I watered the lawn,  pulled weeds,  spread weed n feed on 80% of the yard. I vacuumed the entire main floor of the house. Then I ordered some RX for my daughter, got it set up so I can manage her refills through my account.  I did some blog visiting, placed a Walmart curbside order because I ran out of weed n feed.  Then after the sun moved, went to weed on the other side of the house where there was now shade.  I finally got the soil and compost out of the back of the car and put it into the beds where it was needed.  I ran around with the weed n feed sprayer to spray the cracks on the driveway and places on the pine straw where weeds were coming through.  Then I picked chard for dinner.   All these chores make for lots of audio listening time.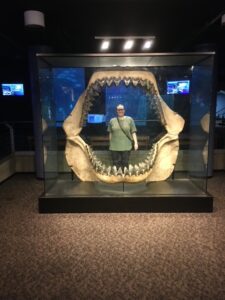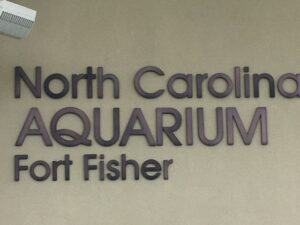 Wednesday was our day trip. It was a combination of Mother's Day, my birthday and my daughter's week between school sessions. I got going early. I went right out to weed n feed the rest of the yard after letting Lulu out.  We packed up and headed for Wilmington.  After the drive, we ate lunch at a gluten free place with outside seating.  Everyone came by to pet Lulu.  Then we went to the NC Aquarium. My daughter went in and I walked Lulu on the path.  Then I went in and she rested with Lulu in the car.   Next we went to the beach at Fort Fisher. Lulu seemed ok with sand but ran in the other direction when she saw the ocean (as expected).  She did enjoy lots of people and other dogs on the beach.  I was excited to go to a Mexican place with a dedicated fryer and outdoor seating which even has dog meals.  We had seafood tacos. Lulu had her favorite chicken.  We headed home, making it by 10 with plans to do all those things again.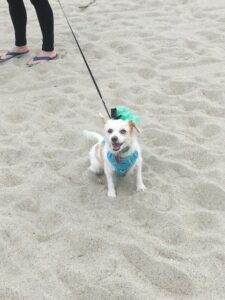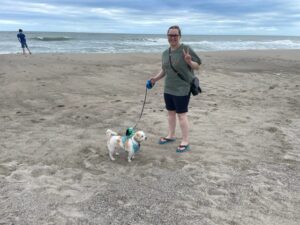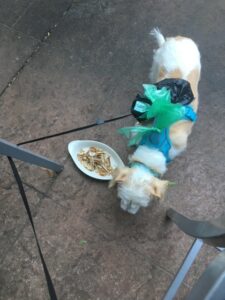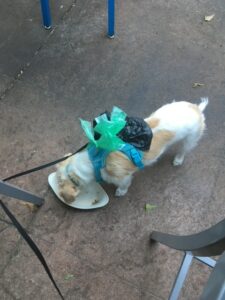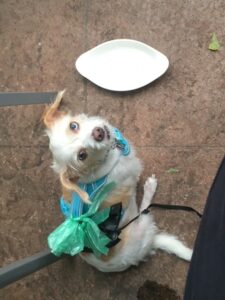 Thursday,  I slept until I woke but it wasn't too late.  I did some reading and lots of catching up on blog comments and visiting and emails with 2 days of stuff.  My back was a bit sore for some reason.  We watched 2 episodes of Hell's Kitchen and had some of my current favorite foods, along with a gluten free blueberry pie for my birthday.
Friday,  I wanted to get going quickly.  I decided to take Lulu with me, even though she would have to stay in the car at the Farmer's market.  I got tomato and basil plants, fresh strawberries and raspberries. I did a curbside pickup at Wegmans.  I did some of my computer stuff. Lulu and I walked the long route by the swans, still no babies but it should be soon. It was really nice even with rain projected for late afternoon.   I planted the tomato and basil plants mixing in some extra cow manure compost.
Saturday,   I am happy to report that I've not had any of the issues with Goodreads or Facebook this week so whatever it was, hopefully it's over now.  It's been rainy today which is great for the new plants. I had a headache so I took it easy for the morning but I did get some visiting and wrote some reviews, until I got over it.   I was on ta chat with Amazon about a return issue and they said it is solved but it looks the same on the order and they didn't send me an email so I am skeptical.  When my daughter got up, we took Lulu for her walk.   My daughter got an A for each of her classes this spring!
---
Things I Learned This Week:
OK  if I'm asking for help, I'm also going to share the cool things I learn. You may already know them but hopefully it will help someone.
I ordered some sandals on Amazon and returned them in April. I got an email that they issued my refund.  So I thought it was over and normally I would throw away the receipt of the return.  Luckily, I did not because they emailed me to say I needed to return the item by May 22nd or I would be charged.  I put the tracking number into UPS and sure enough it is not delivered. I did a chat where they said it is fixed but the return status looks the same and they didn't send me an email, so I am skeptical.   Anyway, save the receipts and / or check the tracking.
---

Stacking the Shelves is hosted by Reading Reality.  These are the exciting ARCs I received this week (If you click on the cover, it will take you to the Goodreads entry):
I'm very thankful to Canelo, and Sourcebooks Casablanca .                      
(If you click on the cover, it will take you to the Goodreads entry)
NOTHING.

Now the really scary one. This is all the Kindle and Audible freebies I grabbed this past week. You can see why I need to do Thrifty Thursday to be sure I read a few at least one each month.
I really meant to cut back on freebies BUT  they are free so I guess that won't be happening.

I'm not including things like reviews posted or upcoming as they are always in the right sidebar. And, my challenge status is also there.
Anne
Latest posts by Anne - Books of My Heart
(see all)