Review copy was received from NetGalley. This does not affect my opinion of the book or the content of my review.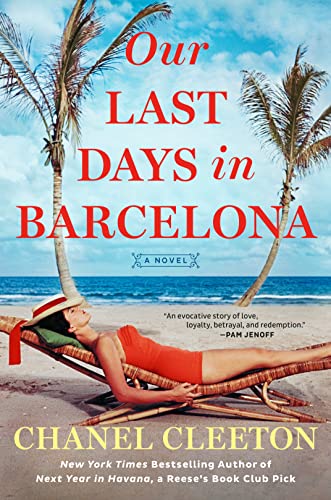 Our Last Days in Barcelona
by
Chanel Cleeton
Published by
Berkley
on May 24, 2022
Genres:
Historical Fiction
Pages:
336
Format:
eARC
Source:
NetGalley
Goodreads
Amazon
, 
Audible
, 
Libro.fm
, 
Barnes & Noble
, 
Apple





Barcelona, 1964. Exiled from Cuba after the revolution, Isabel Perez has learned to guard her heart and protect her family at all costs. After Isabel's sister Beatriz disappears in Barcelona, Isabel goes to Spain in search of her. Joining forces with an unlikely ally thrusts Isabel into her sister's dangerous world of espionage, but it's an unearthed piece of family history that transforms Isabel's life.

Barcelona, 1936. Alicia Perez arrives in Barcelona after a difficult voyage from Cuba, her marriage in jeopardy and her young daughter Isabel in tow. Violence brews in Spain, the country on the brink of civil war, the rise of fascism threatening the world. When Cubans journey to Spain to join the International Brigades, Alicia's past comes back to haunt her as she is unexpectedly reunited with the man who once held her heart.

Alicia and Isabel's lives intertwine, and the past and present collide, as a mother and daughter are forced to choose between their family's expectations and following their hearts.
The history and culture of Cuba and Spain are brought to vivid life against the backdrop of the ongoing Perez family saga.  Chanel Cleeton has been a long-time familiar author, but with the books focused on the Perez family, she captivated me with her lush depictions of characters, relationship, plotting, and historical background.  I was pulled into the Perez family world.
Our Last Days in Barcelona is the fifth book in the ongoing Perez family saga as told through the eyes of the women of each generation.  These are standalone books, but are connected.  This one is particularly connected to Next Year in Havana and When We Left Cuba as those are the stories of this younger heroine's sisters.
In 1960's Barcelona, young bride Isabel has come to find her fiery younger sister, Beatriz, who is determined to bring the new Cuban government to its knees and free her people.  Isabel and Beatriz had a falling out over Beatriz's love life and other life choices, but she wants to find her and reconcile.  They do this, but end up on a quest to learn a family secret their mother has been keeping for decades.
In 1930's Barcelona, another young bride and her young daughter arrives after fleeing a cheating husband.  Alicia isn't sure of anything at this point, but Spain is in tumult and so is her heart when she runs into a past love.  Meanwhile back in Cuba, Rosa, cousin to Alicia's husband, is struggling to fit in with her high society in-laws after her new husband rushes off to fight in Spain.
Our Last Days in Barcelona brings the story of four incredible women and is charged with emotion, vitality, and a bittersweet tone.  The writing is superb and drew me in immediately and those final stunning pages left me feeling bereft.  The pace is gentle and the suspense is subtle, but I still found it a riveting story I didn't want to put down.
I love how the author writes of so many women, but they each feel distinct and the generations that separate them felt distinct as well, though the locale was the same.  I loved feeling I was inside their minds getting their feelings and motivations as well as seeing their actions.  There is romance throughout this book and yet I felt it was the women's stories that shone brightest.  Isabel is not as dynamic as Beatriz and yet I enjoyed seeing this oldest of the three sisters have a surprising story.  I found the look back at their mother in the early days of her marriage was even more compelling as a character.  These female protagonists make the books alongside the other great protagonist, Cuban and Spanish culture.
All in all, it was another incredible read from the author and dive into her Cuban American world.  Those who enjoy historical fiction focused on women protagonists should definitely slip this book and the rest of the Perez books onto their pile.
Related Posts