Review copy was received from NetGalley. This does not affect my opinion of the book or the content of my review.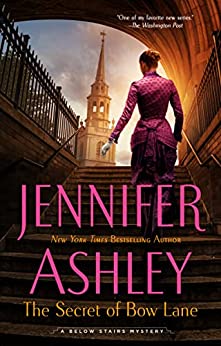 The Secret at Bow Lane
by
Jennifer Ashley
Series:
Kat Holloway Mysteries #6
Published by
Berkley
on August 2, 2022
Genres:
Historical Fiction
,
Mystery
Pages:
304
Format:
eARC
Source:
NetGalley
Goodreads
Amazon
, 
Audible
, 
Audiobook
, 
Barnes & Noble
, 
Apple






A stranger who appears on Kat's doorstep turns out to be one Charlotte Bristow, legal wife of Joe Bristow, the man Kat once believed herself married to—who she thought died at sea twelve years ago. Kat is jolted by Charlotte's claims that not only was Joe murdered, but he had amassed a small fortune before he died. Charlotte makes the cook an offer she cannot refuse—if Kat can discover the identity of Joe's murderer, Charlotte will give her a share of the fortune Joe left behind.

With the help of Daniel McAdam, her attractive and charismatic confidante, Kat plunges into her own past to investigate. When it becomes apparent that the case of Joe's death goes far deeper than simple, opportunistic theft, Kat and Daniel's relationship is put to the test, and Kat herself comes under scrutiny as her connection to Joe is uncovered. She must race to catch the real killer before she loses her job and possibly her life.
It is such a comfort to read a series like the Kat Holloway mysteries, where you know and love the characters. Of course, in a series, at least a good one, the characters continue to grow and progress.  I love learning more about them, especially mysterious ones like Daniel.   In a historical world, the options for women are few and their lives are precarious.
In The Secret of Bow Lane, we really get to some questions I have wondered about for the whole series. Finally, we along with Kat, get some answers.  Who is Daniel?  What really happened to her "husband" Joe?  I really enjoyed learning so much more.
Things start off with Charlotte, Joe's legal wife, coming to see her.  She thinks Joe had a big score and wants Kat to help her find it and what happened to Joe.   Daniel and all her friends help her as usual.  It was fascinating to watch her follow the clues and actually solve the mystery from 12 years ago.  Kat had to deal with Grace being old enough to understand more about her father though.
Personally, Daniel indicates to Kat he wants more from their relationship.  Kat is disrupted by this and isn't sure she sees a way from the status quo.  Plus she doesn't even know who Daniel is or what he does for a living, really.  In this, her friends agree she should also research Daniel.  She feels uncomfortable with it, but she was deceived by Joe so she isn't willing to have it happen again.
So there are two mysteries and all the personal relationships to enjoy.  I really loved the further development and some closure with Kat's history.  I recommend this series and The Secret of Bow Lane is one of my favorites in the series.
Excerpt:
Murdered him?" I repeated the words in amazement. "For a powerful lot of money? What are you talking about? Joe died at sea. So said the solicitor who came to me after his death." To explain I was not truly Joe's wife and that none of his things belonged to me.
"Joe did die. But not from his ship going down, like they told me, and like they told you."
I made myself release the railing and move closer to her. The rumbling of wheels on cobblestones would ensure we weren't overheard, but I did not want to shout this business on the street.
"How do you know?" I demanded. "Anyone can feed you a rigmarole."
Charlotte was about the same height as me. She stared straight at me, her chin at a stubborn tilt.
"A friend of Joe's has visited me now and then over the years. He's always said something weren't right with Joe's death."
Charlotte spoke the words as though reciting a speech, jaw stiff, hands clenched. She had a haunted look about her, I thought, as though she was unhappy but determined not to reveal any misery to the world.
"What friend?" I asked.
"I'm getting to that. Joe had a man who worked for him, apparently. Fellow doted on Joe, would do anything for him, so this other friend says. After Joe died, the man disappeared, and so did the cash Joe's friend knows Joe had. The solicitors searched for everything Joe had left, but there never was much. I got what they found, as was my right as the widow."
Unlike me, who deserved nothing, the flash in her eyes said.
A bailiff and constable had accompanied the solicitor when he'd come to search my house for any goods Joe might have left behind, intent on carrying off whatever they could to give to Charlotte and her son. That was the day I'd learned about my husband's true wife.
"He never had any money when he was with me," I said.
"No, he went through it fast enough." Charlotte's expression told me she hated to agree with me. "But that was his pocket money. Seems that Joe had much more, stashed away, entrusted to someone, maybe, for the day he quit sailing and retired. This devoted assistant of his stole it—he must have done—and I think he killed Joe while he was at it." Charlotte's bosom, in its drab brown cotton, rose with determination. "If you help me find the money, I'll give you a portion of it."
I digested the story but did not give much credit to it. "I asked you before: Why on earth come to me? Why would you tell me these things and then offer me compensation for my assistance?"
Charlotte's scowl became fierce. "I've heard things, haven't I? On the street, like. I went to Bow Lane and asked about you, and everyone there told me that you were now a snooty cook in a grand house in Mayfair, and that you've helped the police find out a thing or two. I decided you'd be the one person who'd be interested in what happened to Joe's money. Working in a house like this ain't the same as living in it, is it?" Charlotte cast Number 43 Mount Street a disparaging glance.
"You went to Bow Lane?" A chill touched my heart. No one in my old street knew I'd been tricked into a bigamous marriage-they only knew I'd lost my husband and gone to work to support my child.
"That's where the bailiffs said you came from." Charlotte's stare held no remorse. "So that's where I went."
"You had no business doing so." My lips were stiff. "No business coming here."
Charlotte cocked her head. "You going to help me, or not? There's plenty in it for ya. Joe, they say, stashed away a good bit before he fell off his perch. Was pushed off, I think, by that rat."
So many emotions chased through me that I wondered how I could remain standing at all.
"Your husband never had money in his life," I said sharply. "Even if he had acquired some, it would have slipped through his fingers or been poured down his throat before long. I want nothing to do with him, or the few coins he might have found by the wayside. And I want nothing to do with you."
My jaw so rigid I feared it might break, I turned on my heel and made for the stairs to the kitchen.
"You're a frosty bitch, ain't ya?" Charlotte called to me. "Joe only wanted you on your back. But he came home to me."
I refused to listen any longer. I marched down the stairs, pretending dignity, but my heart pounded and bile roiled in my stomach.
Charlotte called me another unflattering name, then stomped away, her boots crunching on loose stones in the street, her footsteps fading into the rumbling of wheels.
I retained the proud lift of my head until I reached the bottom step, out of sight of the road. There, my legs gave way, and I collapsed to the stairs, my arms pressed tightly over my stomach as I gasped desperately for breath.

Latest posts by Anne - Books of My Heart
(see all)
Reading this book contributed to these challenges:
Related Posts