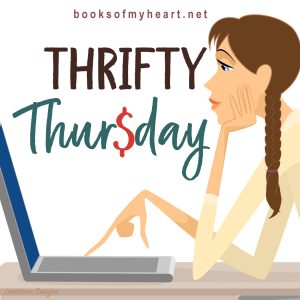 The purpose of Thrifty Thursday is to read a book which was free (at some point).
Kindle freebie on December 30, 2021  (currently $0.99 and in Kindle Unlimited as of writing this post)
Overall rating 3.91 with 185 ratings and 72 reviews
Knight of Runes
by
Ruth A. Casie
Series:
Druid Knights #1
Published by
Carina Press
on November 14, 2011
Genres:
Fantasy
Pages:
368
Format:
eBook
Source:
Purchased
Goodreads
Amazon




England, 1605

When Lord Arik, a druid knight, finds Rebeka Tyler wandering his lands without protection, he swears to keep her safe. But Rebeka can take care of herself. When Arik sees her clash with a group of attackers using a strange fighting style, he's intrigued.

Rebeka is no ordinary seventeenth-century woman—she's travelled back from the year 2011, and she desperately wants to return to her own time. She poses as a scholar sent by the king to find out what's killing Arik's land. But as she works to decode the ancient runes that are the key to solving this mystery and sending her home, she finds herself drawn to the charismatic and powerful Arik.

As Arik and Rebeka fall in love, someone in Arik's household schemes to keep them apart, and a dark druid with a grudge prepares his revenge. Soon Rebeka will have to decide whether to return to the future or trust Arik with the secret of her time travel and her heart.
A historical mystery, a fantastic trip through time, and intrigues in the past are all captivating reasons I was eager to pick up this tantalizing first in the Druid Knights series by a fairly new to me author and enjoy it for a buddy reading experience.
Knight of Runes begins when Dr. Rebeka Tyler journeys to England both for her university's new research project, but also a mysterious summons from a lawyer to transfer a medieval manor and it's archives to the next of kin. Rebeka's specialty is medieval history and documents so this inheritance seems too good to be true especially when she can't remember any connection to the family and that manor. But, if she thought that was an odd start, time traveling through the Avebury stones and ending up meeting the lord of that manor, thwarting a group of ruffians who attack her, and discovering a mysterious blight on the very land are enough to make her head spin. Slowly, Rebeka determines that it was no accident that she came back in time and it is her knowledge from the future and unique skill set that will save Lord Arik, Fayne Manor, and the people there that Rebeka has come to love.
Arik finds himself fighting a known enemy and figuring out the mysterious lightning and killed spots on his land. He does not need the sassy, suspicious woman who fights and speaks like a man and his equal and hunts through the manor archives supposedly at the king's orders. She stirs up his household, but her presence also seems to be a catalyst for Druidic magic and runes to play a strong role in discovering the truth behind everything before it is too late. He fights the attraction as long as he can, but will he sort out the truth and his feelings for Rebeka in time for his own happiness and the safety of all he loves.
Knight of Runes has an engaging time travel premise and the fascinating addition of a history mystery and tie to Druidic magic. The antagonistic attraction between the main pair is instant, but there are barriers to them easily falling into a relationship. The pair were in opposition for a lot of the story and Arik, especially, was resistant for a mysterious reason and his intuition that Beka is keeping secrets- which she is, just not the ones he thinks she's keeping.
The action scenes were well done and I loved that there were a few fight scenes with swords and staffs like a good medieval period rumble. There is also subtle intrigues and mysteries going on so I was busy pointing fingers and trying to work out exactly what was going on and who was behind it both the magical troubles and the business within the manor.
Rebeka was an expert with a staff that was her father's and she has martial arts and survival training to make her tough enough for the past and those fight scenes. She also has knowledge of herbs, music, runes, and all things medieval. She is kind and giving and wins over the whole village and almost everyone at the manor. In truth, she's a bit much to be believed, but I didn't care because I liked her and felt she needed all the help she could get since Arik was blind to what was going on right under his nose with his bitter, distant female relation and his own suspicion let alone the shadowy evil influence of a former Druid knight who is set on destroying Arik and taking what he has.
Now, Arik, he's not exactly my favorite person. He has the potential to be, but he really screwed up a few times. I didn't blame him for being a man of his times and frowning on Rebeka jumping into fights and all-male discussions. But, he has these moments when he's had plenty of time to see what her character is like and even that there is no real proof that she is acting with his enemy and plenty of proof that she's acting against his enemies, yet he doesn't hesitate to assume the worst and act on it. I didn't hate him and thought he was good as a protector and defender, taking duty and honor seriously, but as a romance partner, he needs to work at it.
Fortunately, this is only the first part of the story. It doesn't end on a cliffhanger and wraps up some threads while leaving others open for the next installment. I thought it did well to make me feel I got a good story, but left me wanting more. I loved the combo of time travel and magic with the mystery and historical setting, action, romance and characters all well-written. I can definitely recommend this book to those who love time travel romance.
I read this for COYER Community 'Read a book from a Friends' Shelf' as a buddy read with Nadene @ Totally Addicted to Reading. We both rated it 4-4.5 stars.
Related Posts