Review copy was received from NetGalley. This does not affect my opinion of the book or the content of my review.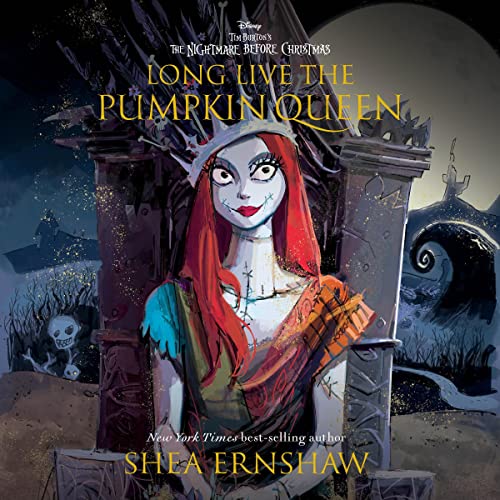 Long Live the Pumpkin Queen
by
Shea Ernshaw
Narrator:
Casey Jones
Published by
Disney Press
on August 2, 2022
Genres:
Fantasy
,
Young Adult
Length:
6 hours, 28 minutes
Format:
Audiobook
Source:
NetGalley
Goodreads
Amazon
, 
Audible
, 
Barnes & Noble
, 
Apple




Sally Skellington is the official, newly-minted Pumpkin Queen after a whirlwind courtship with her true love, Jack, who Sally adores with every inch of her fabric seams -- if only she could say the same for her new role as Queen of Halloween Town. Cast into the spotlight and tasked with all sorts of queenly duties, Sally can't help but wonder if all she's done is trade her captivity under Dr. FInkelstein for a different -- albeit gilded -- cage. But when Sally and Zero accidentally uncover a long-hidden doorway to an ancient realm called Dream Town in the forest Hinterlands, she'll unknowingly set into motion a chain of sinister events that put her future as Pumpkin Queen, and the future of Halloween Town itself, into jeopardy. Can Sally discover what it means to be true to herself and save the town she's learned to call home, or will her future turn into her worst... well, nightmare
I am a huge fan of the Nightmare Before Christmas and have seen it so many times that I was immediately interested in revisiting the characters of that story.  It is hard to recapture the brilliance and wonder that you felt the first time you see a show like that and Long Live the Pumpkin Queen had a lot to live up to.
Sally and Jack are now married and starting their new life together.  It is such a huge change for Sally.  She loves Jack, but how is she supposed to be a Queen.  She hates all the extra attention and how they want to dress her in different clothes and shoes, this isn't at all what she wanted.  When she finds a new door in the woods and is curious; she opens it and almost gets sucked in.  Sally gets away but leaves the door open and an ancient creature escapes into her home world.  Now everyone is asleep and Sally needs to find a way not only to save her holiday but all the other holidays too.
The thing Long Live the Pumpkin Queen is missing is the live action (yes I know it is a book) and the songs.  One of the best things about the Nightmare Before Christmas was all of the fantastic songs to go along with the live Claymation.  Because this is a book, it is all in your head and so we are missing  the magic that Claymation brings to the story along with so many great fun songs.  While the story is entertaining, with Sally finding her inner strength and going to all the known holidays as well as Dream Town, which is not only where the Sandman comes from but also where we learn more of Sally's true origin story, some of the magic was missing for me.  I had a good time in the story, I liked seeing all the holiday towns and learning that there are more doors out there.  It was really interesting going to Dream Town and seeing how life is lived there along with opening up other potential places for stories in other books.  I liked Sally's growth as a character as she finds her inner strength and her voice.
Really this is best imagined as a live action Claymation story and my mind just couldn't be inventive enough to get me there on my own, which is why most of this book fell a little flat.  Solid story, interesting characters, solid ending but missing something to make it live up to the original.
Narration:
Cissy Jones looks pretty new to narration.  She did really great and I have no complaints about her voice or performance.  She was wonderful with the voices and the story but like I said before some of the magic is missing and I don't think it is Cissy Jones' fault at all.  I was able to listen at my usual 1.5x spead
Listen to a clip:  HERE
Rating Breakdown
Plot
Writing
Characters
Dialogue
Narration (Audio)
Overall:
Related Posts