The Sunday Post is a weekly meme hosted by Kimberly  @ Caffeinated Reviewer. It's a chance to share news~ A post to recap the past week, and showcase books and things we have received.
---
Don't forget to look at my giveaways on the right sidebar.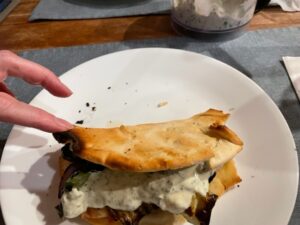 Sunday,  last night I made grilled chicken/veggie sandwiches. The recipe is from Bon Appetit and I always loved them but hadn't made them in many years.  It's a summer dish in my mind with the grilling of the chicken breast, zucchini and onions. Those go in a pita bread with basil aioli.  My daughter's reaction – "Mom, why did you stop making these? They're amazing." Because I didn't think you'd like them. To be fair, she's more recently liked more things. She's always liked vegetables but not all of them.  We found out she liked roasted asparagus now too.  It's the first time I made them gluten free. I grilled the pita bread on the grill briefly also. They are delicious.
So now I'm doing the usual Sunday visiting. The weather will be hot for a few days this week, back to 90s but more normal at the end of the week, not really any rain predicted so I'll be doing a bit of watering. I've been reading scifi books for a challenge. I always love them and need to read more in the genre.  Lulu and I did the longer route for our walk since it's going to heat up and we may walk less the next few days.
Monday, there was plenty of tasks with two giveaways to notify winners, blog visiting and writing some reviews.  I vacuumed the whole house. I worked a bit on planning for the 2023 Read-along – Iron Druid Chronicles.  I looked at some things I might want in the Audible sale.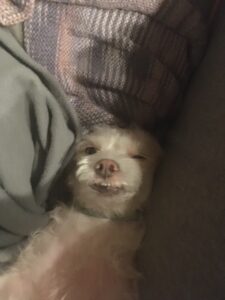 Tuesday, I did more menu planning and took a look at freezer inventory.  My daughter showed me the outline for her first paper for her English class.  She had to come up with 3 topics earlier and now choose one.  I mentioned Book Banning as a topic and she chose that one.  It's Banned Books week so it's timely.  Her outline is really excellent.  The paper needs to talk about both sides of the issue and then find the common ground.  My daughter and I went to Costco and got our flu shot and Covid booster. She was tired after a late lunch and took a nap.  I processed the 3 rotisseries chickens for making chicken soups and pot pies,  and the dark meat for Lulu's food. I made a batch of Lulu food. Then I cleaned up the kitchen.
Wednesday, I woke up really early.  We took Lulu for a quick check at the vet and then I picked up a couple things at Aldi. We ate a late lunch.  We talked about my daughter's rough draft for her paper.  I did some spot watering to prepare for the heat tomorrow.
Thursday, I finished a book before getting going for the day.  It's a hot humid one, but now it's clouding up to possibly rain. I got a farm box with fresh veggies and I also got a mini watermelon this time.  oh exciting I got an email from Schar. I filled out a Google form to become one of 200 to test their breads. Apparently I got picked since the email told me about the test box and instructions for testing.  I started working on my List for the COYER Fall reading challenge. When I got the mail, there was a box with 2 loaves of Schar bread to test.  We did that for dinner instead of the original plan.  Both loaves were very good.  I wish I knew if they were current or future products.  I think they were better because they were fresh, room temperature.  Once opened, the bread is good for 2-3 days in the fridge or it needs to be frozen.  We don't eat enough bread to finish it in 2-3 days so it will have to be frozen. I took Lulu out and it was brisk, windy and cool.
Friday,  I stayed up late reading until 1 am and then woke up just before 8.  I'm going to be tired today. The weather has dropped 25 degrees since yesterday.  I'll need to wear a long sleeve shirt or jacket when I walk Lulu today.   It's the last day so I need to finish deciding buys for the Audible sale. I kept it to 15 audiobooks for around $70.  They were finishing up series mostly.  I also sent emails to some publishers about the 2023 Read-along of Iron Druid Chronicles by Kevin Hearne.  My daughter walked with Lulu and me before dinner.
Saturday, I have a lot to do today, so I started by reading in bed until noon and finishing my book. Then I got to work on laundry,  going through my T-shirts to sort them.  I FINALLY wrote a couple reviews for this week, and visited some blogs.  I mowed the lawn. Lulu raced around the yard supervising.  It sprinkled a bit while I was mowing.  I showered, made the bed with fresh sheets and then got busy with dinner.
---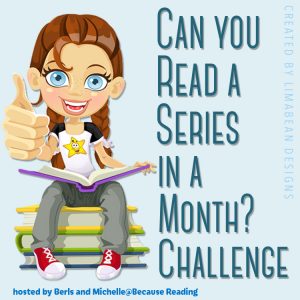 Berls and I chose the Will Robie Series by David Baldacci to buddy read for the challenge.  We have finished. The books ranged from 3.5 to 5 hearts.
* The Innocent
* The Hit
* Bullseye
* The Target
* The Guilty
* End Game
---
Of course, I'll be doing COYER Fall.  There are choices of doing The List, The Strict or the Twist.  I am working on putting together my List.  If you want to know the specifics, you can read about it HERE.
---

Stacking the Shelves is hosted by Marlene at  Reading Reality.  These are the exciting ARCs I received this week (If you click on the cover, it will take you to the Goodreads entry):
    NOTHING.                       
(If you click on the cover, it will take you to the Goodreads entry)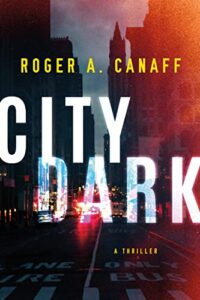 I got this "free" through my Prime First reads.   I also got 15 audiobooks at the Audible sale.  They mostly added to or finished series I am collecting.

Now the really scary one. This is all the Kindle and Audible freebies I grabbed this past week. You can see why I need to do Thrifty Thursday to be sure I read a few at least one each month.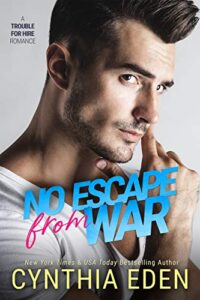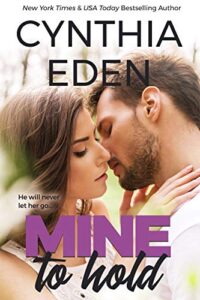 I really meant to cut back on freebies BUT  they are free so I guess that won't be happening.

I'm not including things like reviews posted or upcoming as they are always in the right sidebar. And, my challenge status is also there.
Anne
Latest posts by Anne - Books of My Heart
(see all)