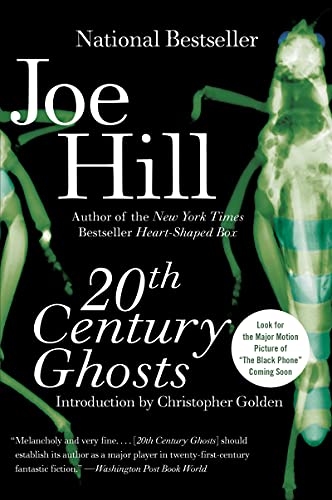 20th Century Ghosts
by
Joe HIll
Published by
William Morrow
on March 17, 2009
Genres:
Horror
Pages:
338
Format:
eBook
Source:
Library
Goodreads
Amazon
, 
Barnes & Noble
, 
Apple





Joe Hill's award-winning story collection, featuring "The Black Phone," soon to be a major motion picture from Universal Pictures and Blumhouse Productions

Imogene is young, beautiful... and dead, waiting in the Rosebud Theater one afternoon in 1945....

Francis was human once, but now he's an eight-foot-tall locust, and everyone in Calliphora will tremble when they hear him sing....

John is locked in a basement stained with the blood of half a dozen murdered children, and an antique telephone, long since disconnected, rings at night with calls from the dead....

Nolan knows but can never tell what really happened in the summer of '77, when his idiot savant younger brother built a vast cardboard fort with secret doors leading into other worlds....

The past isn't dead. It isn't even past....

The first collection from #1 New York Times bestselling author Joe Hill, 20th Century Ghosts is an inventive and chilling compendium that established this award-winning, critically acclaimed author as "a major player in 21st-century fantastic fiction" (Washington Post).


This is a collection of short stories by Joe Hill. I've read him before, but this is my first collection of shorts by him. I will admit I did pick this after seeing a trailer for The Black Phone. I didn't know much about this collection, but I've read Joe Hill in the past, so I didn't hesitate to pick up this collection. Also, if you didn't know, Joe Hill is Stephen King's son. While you can see King's influence, Hill is his own writer and has a different style than his father.
There are several different stories (a lot shorter than I'm used to, some even listed in my kindle at 1 minute to read. I don't think there was one longer than a half hour, if I remember correctly). I won't go into them all, but I will get a quick sentence on the stories the stood out to me.
Best New Horror – This is a great kickoff to this series. I really loved it. Probably my favorite in this collection. About an author of a horror novel.
20th Century Ghost – This was another good one. A ghost haunting a movie theater.
Pop Art – While I enjoyed this story, it was very weird. There are people who are basically balloons. Great story, but only if you're able to suspend your disbelief, it is a great story. The ending is really amazing and brought tears to my eyes.
The Black Phone – This wasn't a bad story, but not my favorite of the collection by far. I wasn't sure it was the best to make a movie. I haven't seen the movie yet, so maybe it will prove me wrong. Again, not a bad story, just not my favorite.
Last Breath – A great story about a museum of people's last breath. A bit disturbing, but a good story.
My Father's Mask – This story took me a while, there's all this talk with playing cards and masks. Took me a while to get into it, but still a good story.
This is only a small selection of the stories in this collection. There is even a story hidden in the acknowledgements.
Rating Breakdown
Plot
Writing
Characters
Dialogue
Overall:
Related Posts