Review copy was received from NetGalley. This does not affect my opinion of the book or the content of my review.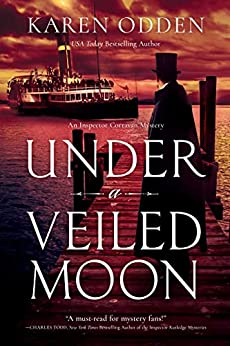 Under a Veiled Moon
by
Karen Odden
Series:
Inspector Corravan #2
Published by
Crooked Lane Books
on October 11, 2022
Genres:
Historical Mystery
Format:
eARC
Source:
NetGalley
Goodreads
Amazon
, 
Audible
, 
Audiobook
, 
Barnes & Noble
, 
Apple





September 1878. One night, as the pleasure boat the Princess Alice makes her daily trip up the Thames, she collides with the Bywell Castle, a huge iron-hulled collier. The Princess Alice shears apart, throwing all 600 passengers into the river; only 130 survive. It is the worst maritime disaster London has ever seen, and early clues point to sabotage by the Irish Republican Brotherhood, who believe violence is the path to restoring Irish Home Rule.

For Scotland Yard Inspector Michael Corravan, born in Ireland and adopted by the Irish Doyle family, the case presents a challenge. Accused by the Home Office of willfully disregarding the obvious conclusion, and berated by his Irish friends for bowing to prejudice, Corravan doggedly pursues the truth, knowing that if the Princess Alice disaster is pinned on the IRB, hopes for Home Rule could be dashed forever.

Corrovan's dilemma is compounded by Colin, the youngest Doyle, who has joined James McCabe's Irish gang. As violence in Whitechapel rises, Corravan strikes a deal with McCabe to get Colin out of harm's way. But unbeknownst to Corravan, Colin bears longstanding resentments against his adopted brother and scorns his help.
After already having read this author before, I was excited when I came across this latest historical mystery set in Victorian Era London with a lower class Irish police detective up against his shadowed past and investigating a horrific disaster on the Thames.  Blending real history and clever fiction and mystery, Karen Odden has released another winner.
Under a Veiled Moon is second of the Inspector Corravan series of historical mysteries that worked fine out of order, but I loved it so much that I will definitely be going back to the beginning.
After a scandal of corrupt police are exposed, Inspector Michael Corravan is temporarily promoted to head the police station on the river.  Many don't think a barely polished, working class Irishman should be in this position.  He's looking into the body of an unknown man found on the embankment when he is interrupted by the news that a full pleasure boat, Princess Alice and an iron hauler have rammed and the Princess Alice has gone down with five hundred victims and a few survivors.  It doesn't take long for the papers to whip up a frenzy of anti-Irish sentiment, especially after the train derailment just before, which may or may not have been an accident and recent horrific bombing claimed to be done by Irish extremists.
If that weren't enough, an Irish gang leader makes Corravan aware that someone is picking off his men and smashing up businesses in White Chapel and his past comes calling when he realizes the last living son in his adopted family is getting into trouble with the Irish criminal element.  Corravan has the case and must get to the truth before another disaster and London's East End erupts into worse violence.
Under a Veiled Moon balances an authentic and interesting colorful, historical backdrop with a clever mystery and an engaging detective figure.  All the elements in the story organically mesh and it is a wonderfully layered whole.  It had so much going for it; I simply want to gush.
I loved Michael Corravan of a main character and getting to know him and the world of this series.  I like that he came from nothing and both earned his way and met good people along the way that helped.  He gets knocked about and gets little respect outside a few colleagues and friends.  He's got a love interest and that too was something out of the ordinary as he has a genteel lady author from English London society who loves him as he is and her cleverness helps him with the case, even as she is a support when he feels very low.
Yes, the horrific boating disaster was thrilling as was the London gangs and the anti-Irish suspense happening, but it was the way the author made it all Corravan's story and how it all fit together with him at the center engaging emotions and tension so I was riveted. Okay and the mystery set against it all turned out to be enthralling and had to be tracked all the way to get to the solution.
All in all, I can't praise it enough and have a definite book date for the first in series and will impatiently await the next book.  Historical mystery fans who like the grittier, shadowy London backdrop, historical events and social issues present alongside complex characters and plot need to add this to the stack.
Related Posts