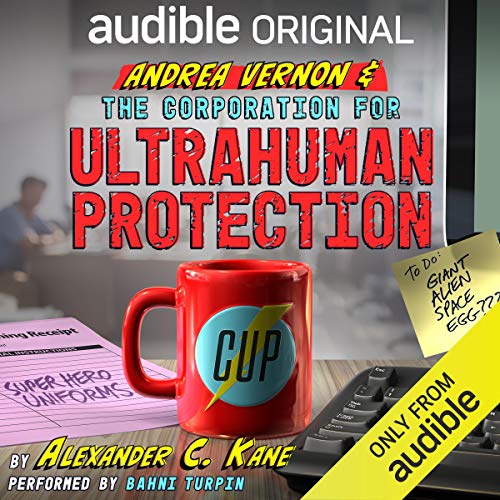 Andrea Vernon and the Corporation for UltraHuman Protection
by
Alexander C. Kane
Narrator:
Bahni Turpin
Series:
Andrea Vernon #1
Published by
Audible
on August 22, 2017
Genres:
Urban Fantasy
Length:
8 hours and 50 minutes
Format:
Audiobook
Source:
Purchased
Goodreads
Amazon
, 
Audible
, 
Barnes & Noble
, 
Apple





Think superheroes are tough? Try having one for a boss, or co-worker. That's the predicament Andrea Vernon finds herself in as the heroine of Alexander C. Kane's debut audiobook. Drowning in debt, and forced to move back into her parents' Queens apartment, Andrea starts looking for a job. Luckily for her, she finds herself recruited—well, really kidnapped—by the Corporation for UltraHuman Protection (C.U.P.), an organization that deploys superheroes. Suddenly Andrea must contend with co-workers who can shoot lightning from their fingertips, face the imminent destruction of humanity, and juggle a fledgling romance with a giant lumberjack. It's all in a day's work for the would-be novelist turned superstar secretary.

Audible Hall of Fame narrator Bahni Turpin is perfectly cast as a normal person finding herself in abnormal circumstances. Turpin brings to life an entire cast of quirky characters, along with their heroically funny antics in the cubicle next door. If you've ever wondered what a genetically altered rhinoceros sounds like, or needed to take a break from your own office drudgery, this is the comedy for you.

© 2017 Alexander C. Kane (P) 2017 Audible Originals, LLC.
I got this book as an Audible Daily Deal or credit sale years ago. It has sat on my iPhone doing nothing since then. I have no idea why.I didn't try it earlier.I do know that if my Audible app listed the narrators, I would've listened sooner. I know one of the things that drew my eye to the audiobook to begin with is Bahni Turpin.
So this story is about a corporation that manages super heroes (a silly version of The Boys from Amazon Video). Andrea Vernon is hired to be the administrative assistant to the president, Mrs Oh, a very southern lady (of Korean descent, and southern as in Georgia, not South Korea) of said corporation (Corporation for UltraHuman Protection, aka CUP). The previous assistant was killed on the job, so she now does the work (which feels very Starship Troopers to me). Oh, and she's not allowed to ask any questions about the job.
Andrea starts off trying to figure out what her boss wants without asking questions and the boss isn't providing any direction. Andrea starts some experiments about how the coffee is made, how long to make a person wait before she lets someone see Mrs Oh. I really enjoyed watching her work her way through the day to day life, but having to figure everything out on her own.
CUP is one of many superhero corporations that each get contracts for a territory from the local or state governments. The superheroes go between corporations just like anyone would, better pay, better benefits, better job conditions (I don't think being a superhero is a job where you want to have a lazy or incompetent coworker). The corporation also has to work to make sure they have a good mix of superheroes. We get to watch Mrs. Oh negotiate for the early release of a superhero in order to help with the current crisis because his power of ice was needed, and there was no one else that could help (he was also near the end of his sentence anyway).
Then there's the superheroes themselves. My love/hate relationship was with Inspector Well Actually. He can answer any question, but he has to do it in a way where he is correcting someone else. So pretty much everytime you speak to him, he responds with "Well, actually…" and has a better solution or answer to whatever you just said. I don't think I could've made it an hour with him before I would be punching him in the face.
I could go on and on about the things that made me laugh in this audiobook. Let's just say that if you like satire, this is a book you'll probably enjoy. I've been listening to a lot of satirical superhero/villain books over the years (check out C.T. Phipps or M.K. Gibson for more, their work is what really got me into this genre). It has become one of my favorite genres. They are a great way to check out the real world for a while.
Listen to a clip: HERE
Rating Breakdown
Narration (Audio)
Overall:
Related Posts