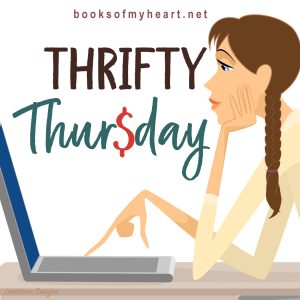 The purpose of Thrifty Thursday is to read a book which was free (at some point).
Kindle freebie on September 20, 2022  (currently free at Amazon and Barnes & Noble as of writing this post)
Overall rating 4.15 with 151 ratings and 27 reviews
Grim Girl
by
Nicky Graves
Series:
Reaper Files #1
on April 22, 2020
Genres:
Fantasy
,
Young Adult
Pages:
255
Format:
eBook
Source:
Purchased
Goodreads
Amazon
, 
Barnes & Noble




Life just became complicated . . . and deadly.
I never used to see ghosts, but life took a bizarre detour. Avoiding dead people and their reapers is now impossible.

Yes, reapers.

I found out they're real too. And, in an odd twist of fate, I'm destined to become one. However, not many in the reaper world want me in their ranks, including the Grim Reaper, aka the king of death and all things scary.

Now I must enter a terrifying new world and keep up normal appearances at school. It's becoming an increasingly difficult task, especially since my trainer has the initiative of an overfed hamster.

And that's not even the worst of it. To follow my destiny, I must die.
Grim Girl is a Young Adult story which is already not usually my favorite. The main character Riley is in high school and starts seeing dead people.  So then the reapers put her in training, which is stupid because she can't do anything but watch, until she dies when she can actually become a reaper.   The whole training period and Riley's getting in trouble for not being around with her friends or family isn't very exciting.
The setup of the world and how reapers work is kind of interesting.  oh yes and she is special as the only female reaper.   There is a reason, and also a reason the elders want her to be a reaper.  There is one supervisor who cares about her and helps her more, Lawson, and she has a crush on him.  The romance is only a brief idea here though.
I liked this alright and think since in future books Riley will be out of high school I would like them more.  There's a good blend of world-building, mystery, and a hint of romance.
---
Kindle freebie on July 21, 2020  (currently free at Amazon and Barnes & Noble as of writing this post)
Overall rating 3.76 with 7,884 ratings and 943 reviews
Graveyard Shift
by
Angela Roquet
Series:
Lana Harvey Reapers Inc #1
on January 2, 2014
Genres:
Urban Fantasy
Pages:
259
Format:
eBook
Source:
Purchased
Goodreads
Amazon
, 
Audible
, 
Audiobook
, 
Barnes & Noble
, 
Apple





Lana Harvey is a reaper, and a lousy one at that. She resides in Limbo City, the modern capital of the collective afterlives, where she likes to stick it to the man (the legendary Grim Reaper himself) by harvesting the bare minimum of souls required of her. She'd much rather be hanging out with Gabriel, her favorite archangel, at Purgatory Lounge. But when a shocking promotion falls in Lana's lap, she learns something that could unravel the very fabric of Eternity. If the job isn't completed, there could be some real hell to pay.
Lana is not the easiest character for me to like.  She's sort of lazy and skirts around the rules.  Although she is compassionate about the souls she is reaping.  Her roommate on the other hand, Josie, works very hard and takes extra classes and does everything to improve her position.
The world-building however, is very good.  The setup with the reapers and how they work is interesting. There are different faiths for the souls, along with demons, and angels.   Grim, the head reaper is the only one who can sense which souls are important.   He has an old soul working to handle the excess soul matter which keeps him in business.
Demons are trying to steal souls when they are ferried across the lake, attacking reapers to get the souls.  Lana ends up offered a promotion, because it turns out she can also sense the differences in souls.  She also gets two hellhounds to help her in protecting souls. Finding certain souls is the heart of they mystery here.
Lana also has some romantic interests.  Maalik wants to see her but she isn't interested. So initially she uses her friend, Gabriel to screen her from him.  But eventually she finds she actually likes Maalik and does start dating him.  Maalik is new on the council which means he will be living in Limbo City with the reapers for the next 100 years.  Maalik seems like a good guy and helps Lana get the information she needs to better understand things about her job, as it changes.
I think Lana has learned a lot and may have grown a bit throughout so I might like her more as the Lana Harvey Reapers Inc. series continues.
---
These are only Kindle freebies I get, or ones through author newsletters which anyone can sign up and get for free. I don't include things like Kindle Unlimited or Prime Free Reading (I do have it). Both Tantor and Audible have occasional free audios (to anyone) and I do include those.  Since I one-click on 1-2 freebies a day or probably at least 5 a week, I came up with this feature to make sure I start reading them.
So I have thought about doing a Thrifty Thursday Challenge someday. For now,  what I think would be fun is if you have read and reviewed  a freebie, link up to your review (Goodreads, blog, facebook or wherever) below.
---
Add your review link here: 
Mister Linky's Magical Widgets — Easy-Linky widget will appear right here!
This preview will disappear when the widget is displayed on your site.
If this widget does not appear,
click here
to display it.
Latest posts by Anne - Books of My Heart
(see all)
Reading this book contributed to these challenges:
Related Posts