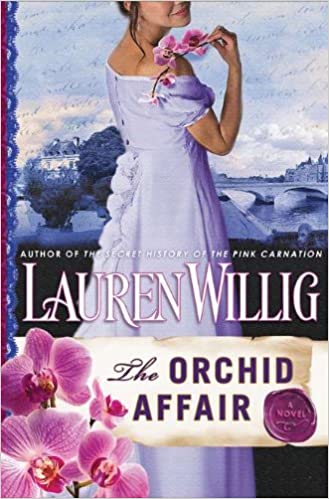 The Orchid Affair
by
Lauren Willig
Series:
Pink Carnation #8
Published by
Berkley
on January 20, 2011
Genres:
Historical Mystery
Pages:
405
Format:
Hardcover
Source:
Purchased
Goodreads
Amazon
, 
Audible
, 
Audiobook
, 
Barnes & Noble
, 
Apple





Laura Grey, a veteran governess, joins the Selwick Spy School expecting to find elaborate disguises and thrilling exploits in service to the spy known as the Pink Carnation. She hardly expects her first assignment to be serving as governess for the children of Andre Jaouen, right-hand man to Bonaparte's minister of police. Jaouen and his arch rival, Gaston Delaroche, are investigating a suspected Royalist plot to unseat Bonaparte, and Laura's mission is to report any suspicious findings.

At first the job is as lively as Latin textbooks and knitting, but Laura begins to notice strange behavior from Jaouen-secret meetings and odd comings and goings. As Laura edges herself closer to her employer, she makes a shocking discovery and is surprised to learn that she has far more in common with Jaouen than she originally thought...

As their plots begin to unravel, Laura and Jaouen are forced on the run with the children, and with the help of the Pink Carnation they escape to the countryside, traveling as husband and wife. But Delaroche will stop at nothing to take down his nemesis. With his men hot on their trail, can Laura and Jaouen seal the fate of Europe before it's too late?
Since the first book, the series has turned the focus from classic Scarlet Pimpernel territory of France for other locales, but after the brief and light distraction of the Mischief of the Mistletoe, The Orchid Affair plunges into a caper set right under the nose of Napoleon himself with the suspense taking up even more than the romance.  Never underestimate primness as a disguise.
The Orchid Affair is the eighth entry in the Pink Carnation series of mostly standalone romances and intrigues, but also moderately connected by series plot threads and world building.  While one could pick some of these up, including this one, and get away with reading them standalone, they do go best in order.
As with previous books, The Orchid Affair has split timelines.  In the contemporary line, Eloise and Colin are traveling over to Paris together with two-fold purpose:  to visit his mother and step-father in true awkward fashion and get a stunning, unwelcome surprise, and for Eloise to pursue her dissertation research into French records and pursue the exploits further of the Pink Carnation and debut spy, The Silver Orchid.
The Silver Orchid is governess turned spy, Laura Grey, who started as French artists' daughter, then orphan, long-time governess attending the spy school, and now a chance to live an adventure.  The Pink Carnation gets her into the household of the assistant to Napoleon's minister of police. Andre Jaouen has secrets, but they are not what she was expecting and they launch the whole family into grave danger.
The Orchid Affair isn't as frivolous as some of the earlier books much because of the personality of the main characters.  Laura has been going it alone for so long she has formed an armor of her prim, unflappable, and most capable governess persona that she hides behind not showing all of her true self.  Widower, Andre has been living a dangerous lie for so long that he, too, has walls about him.  They'd rather be lonely than vulnerable to another.  But, after skirmishing for a bit about each other, a tentative partnership forms in the household when the children, who barely know their father and the glaring nursemaid make settling into governessing and spying duties complicated.  Meanwhile, Royalist conspirators against Napoleon and their plot sink everyone into dire danger.  And, that was when the story kicked into high adventure and suspense, and I loved seeing the wary pair, Andre and Laura become something more together.
The Pink Carnation was a stronger presence and, as I said, this one was more serious in tone.  There was romance for Laura and Andre, but it was back burner and slow build.  I enjoyed that they were French and fighting Napoleon and that the post-revolutionary and Napoleonic Paris setting and situation was so well drawn.  Most of the time, Andre was the focus of Laura's efforts and the efforts of his nemesis.  It was fun that Andre didn't know what to make of Laura and suspected she was his rival's plant and never guessed she was a British spy.  Usually, I find these entertaining, but this one had my attention through some good suspenseful moments and I hope this trend in tone continues through the remainder of the series.  That bombshell surprise in the modern time thread was interesting and I think this was the first book that left me eager to see what comes next in the modern thread.
All in all, I was excited to be back in the world of spies and love, mischievous characters and the mayhem they create.  The Pink Carnation series just keeps offering me colorful and entertaining installments to enjoy.  Romantic suspense, historical romance, and historical mystery lovers who enjoy it on the lighter sexy side should give these a go.
Related Posts