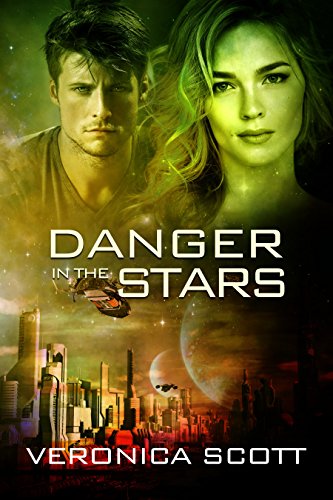 Danger in the Stars
by
Veronica Scott
Series:
The Sectors #9
on April 4, 2017
Genres:
Romance
,
Science Fiction
Pages:
182
Format:
eBook
Source:
Purchased
Goodreads
Amazon
, 
Barnes & Noble
, 
Apple





Miriell, a powerful empathic priestess, has been kidnapped from her own primitive planet along with a number of her people, and sold to the evil Amarotu Combine, largest organized crime syndicate in the Sectors. When she and her handler are sent to use her power to commit an assassination, she must leave behind her own sister as hostage to ensure her compliance. Miriell cannot ask for aid without endangering herself and others.

Despite his best efforts, Combine enforcer Conor Stewart is entranced by Miriell, and helps her evade the worst of brutal treatment from the rest of the mob. But Conor must keep his distance, before the lovely empath learns that he has secrets of his own–secrets that could get them both killed.
One of the golden elements of this series is the versatility of settings and situations the characters face in far future space.  In this case, there is a tension-wrought mafia-style sci-fi romance with enough twists and turns to keep the reader flipping pages right from beginning to end.
Danger in the Stars is the tenth entry in the series, but can be read standalone.  It has a strong connection with the earlier shorter piece (#8.1) Star Cruise: Stowaway which readers of that one will appreciate the tie-in, but a newbie won't feel like they're missing anything by jumping right into this one.
Danger in the Stars takes the reader into a criminal organization with the futuristic sci-fi touches to remind one this is set in The Sectors.  Introducing a non-human heroine with psychic talent, but a slave-captive of the organization and a hero who is the second in command and enforcer- body guard of the boss lady.
The danger for the heroine and feeling of despair in the heroine for her situation quickly drew me in and this became a one-sitting read because I couldn't put it down.  Miriell can see people's auras thus she can read their feelings and motivations and can manipulate them by connecting to their auras.  She was a priestess on her more primitive world until some aliens attacked and enslaved many from her race.  Now, she and a group of others from her world were sold to this crime syndicate and her sister and friends are held hostage to make Miriell the strongest psychic of them all, cooperate.
This time, her handler takes her to a leader within the organization who has paid for her talents and she encounters a man who actually sees her as a person and doesn't stand for her to be abused by her handler even though he will not let her escape when he catches her trying.  Despite her talent, Miriell can't get a read on Conor Stewart and can't figure out whether he is cold and cruel like the rest and just playing games with her or if something else is in play.  There comes a moment when she must make a decision and hope she placed her trust correctly.
Danger in the Stars had wonderful character and good relationship development even as it kept up the suspense and good action sequences right to the end.  Many who have followed my reviews of the series know that if I had one complaint, it is some of the abrupt endings.  But, this one hit the climax point and had a fabulous denouement and epilogue.  I was utterly satisfied, therefore, from cover to cover.  Sci-fi Romance lovers really need to consider this series 'must-reads'.
Related Posts