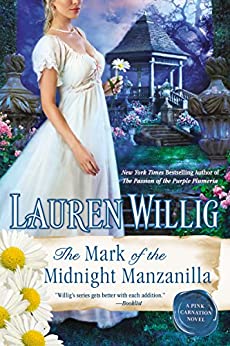 The Mark of the Midnight Manzanilla
by
Lauren Willig
Series:
Pink Carnation #11
Published by
Berkley
on August 5, 2014
Genres:
Historical Mystery
Pages:
481
Format:
Paperback
Source:
Purchased
Goodreads
Amazon
, 
Audible
, 
Audiobook
, 
Barnes & Noble
, 
Apple





In October of 1806, the Little Season is in full swing, and Sally Fitzhugh has had enough of the endless parties and balls. With a rampant vampire craze sparked by the novel The Convent of Orsino, it seems no one can speak of anything else. But when Sally hears a rumor that the reclusive Duke of Belliston is an actual vampire, she cannot resist the challenge of proving such nonsense false. At a ball in Belliston Square, she ventures across the gardens and encounters the mysterious Duke.

Lucien, Duke of Belliston, is well versed in the trouble gossip can bring. He's returned home to dispel the rumors of scandal surrounding his parents' deaths, which hint at everything from treason to dark sorcery. While he searches for the truth, he welcomes his fearsome reputation—until a woman is found dead in Richmond. Her blood drained from her throat.

Lucien and Sally join forces to stop the so-called vampire from killing again.
English society has turned Gwendolyn Reid's gothic story into a sensation and a new arrival has them whispering behind their fans that there is a vampire haunting the aristocracy.  When a dead body is found with puncture wounds in the neck, the latest Pink Carnation heroine finds herself solving a murder mystery next to the accused rather than gallivanting after spies.  What a perfect historical romantic fit for the spooky season.
The Mark of the Midnight Manzanilla is the eleventh in the Pink Carnation series loaded with romance and espionage.  While this could be read standalone in a pinch, the references to early scenes and the appearances of several familiar faces makes it read best in order- particularly for the shorter contemporary time line scenes.
Sally Fitzhugh, the younger sister to Turnip Fitzhugh is now going about London for the Season.  Unimpressed with the glitz and glitter of high society functions, she is more interested in satisfying her curiosity about the long-lost Duke of Elliston's return and the rumors that he had something to do with his parents' deaths and he is, in fact, a vampire.  Miss Gwen's book has caught on like wildfire and Sally is not impervious.  Instead of a romantic vampire, she uncovers an attractive man who needs her help, though he would never admit it, when he is framed for a lady's murder in a way that stirs the vampire fervor captivating all London with each succeeding 'vampire' murder.
With the assistance of other familiar faces including Lord and Lady Vaughn, Turnip, Miss Gwen, her school pals, Sally and Lucien turn the tables on the murderer and start the hunt that will connect back to the death of Lucien's parents.
I was not expecting a murder mystery nor a fun gothic-toned plot, but I was all on board once the story got under way.  Sally was a fabulous heroine and played a good foil to Lucien's personality that resonates as a gothic hero.  The murderer and motive were easy to spot, but that barely dented my enjoyment for the story because I enjoyed the characters and tracking along with them so much.  The repartee and humor kept this on the light side even with the murder count.
The modern plot line involved Colin coming to Cambridge, MA for Eloise's birthday right when she caught research fever after her teaching pal Megan mentioned Miss Gwen's book and the vampire crazy that sprung from it.  They both struggled with the long-distance relationship and now feel awkward and fearful.  I've felt their time line has gotten better over the course of the series, but confess I was so hooked into Sally and Lucien's adventures that I was impatient to get back to the past though the end was a surprise.
All in all, this was an entertaining and engaging installment in the series leading to the final book featuring the Pink Carnation herself.  This series blends historical mystery with romantic suspense and comedy in a successful way that I can definitely recommend to others.
Related Posts