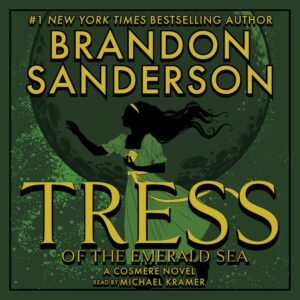 Tress of the Emerald Sea
by
Brandon Sanderson
Narrator:
Michael Kramer
on January 10, 2023
Genres:
Science Fiction Fantasy
Length:
12 hours, 26 minutes
Format:
Audiobook
Source:
Kickstarter
Goodreads
Amazon
, 
Audiobook
, 
Barnes & Noble
, 
Apple






The only life Tress has known on her island home in an emerald-green ocean has been a simple one, with the simple pleasures of collecting cups brought by sailors from faraway lands and listening to stories told by her friend Charlie. But when his father takes him on a voyage to find a bride and disaster strikes, Tress must stow away on a ship and seek the Sorceress of the deadly Midnight Sea. Amid the spore oceans where pirates abound, can Tress leave her simple life behind and make her own place sailing a sea where a single drop of water can mean instant death?
If you didn't hear, Brandon Sanderson secretly wrote four books in the Cosmere during the no traveling portion of Covid.  He then decided to publish them himself and announced it to the fans in the form of a kickstarter if you wanted in AND so many of us did.  It is the most successful kickstarter to date.  Tress of the Emerald Sea is the first book to be published out of the four stand alone novels set in the Cosmere.  Hoid is the narrator and sometimes star of the book which focuses on a the son of a Duke and the Girl that went off to save him from a Sorceress.
Let's just say I'm a huge Brandon Sanderson fan and I give fair warning that I'm probably not as impartial when it comes to his work. One day, Sanderson will write Hoid's origin story and this is a way to toy with his voice.  Let's talk about the world that Tress is in first because the one thing Sanderson does maybe better than anyone else is worldbuilding.  Tress lives on the planet with twelve moons that rain spores, each moon a different kind of spore and therefor there are twelve different seas of spores that ships can sail through.  You may be scratching your head on how that works but trust me it does and Sanderson explains how in his storytelling fashion.
The locals worshipped those twelve moons as gods, which we can all agree is far more ridiculous than whatever it is you worship.
Because this is told in Hoid's voice some of the time, we get the whimsical way he blends the talents of whit into the story. Tress is a window washer that befriended the Duke's son as he was pretending to be the gardener's son.  They tell stories to one another and have built something.  When his father discovers how close they are,  he and Charley head off on a tour of Islands to find him a wife.  Charley is determined to make it back to Tress and will sabotage all of the set ups with eligible maidens to get back to her.  That is until he is taken for ransom by the Sorceress of the black sea, the most dangerous of all the seas.  Not deterred, well maybe a little deterred at first, Tress will set off to save the man she loves.
I had so much fun with this book.  Tress is fantastic in the way she approaches almost everything.  She is clever, clear headed and sometimes even stops to think before doing something dangerous and ridiculous instead of running in headstrong with no plan whatsoever.
Even small actions have consequences. And while we can often choose our actions, we rarely get to choose our consequences.
This is a swashbuckling tale on the weirdest Oceans I've ever thought of.  There are pirates, a talking rat, a dragon, a witch and much more.  Not only is Hoid the narrator we even get to see him not at his best as he has been cursed.  It also wouldn't be a Sanderson tale if we didn't get a few cameos from other characters in the Cosmere.  One of our favorite body part buying Kandra's makes an appearance and there is even a reference to Death with nails in his eyes.  Which makes me wonder why in Harmony's sake are they on Tress's planet.
This is very much an adventure.  I would even say if you have never read a Sanderson book, this is a great stand alone story.  Sure you won't know some of the bigger picture implications Tress of the Emerald Sea has in the grand scheme of the Cosmere, but it will give you an idea of the interesting world building and magic systems Sanderson is capable of writing.
Narration:
Michael Kramer IS the narrator for the Cosmere and again he brings his fantastic voice to Sanderson's vision.  All I can say is he is one of the best narrators ever and I love the story he tells with Tress of the Emerald Sea.  I was able to listen at my usual 1.5x speed.  I would like to note that the audio for this will not be available through Audible (reasons).  But do not fear – if you didn't join the kickstarter it will be available through Speechify, Soundcloud and Spotify.
Listen to a clip HERE
Rating Breakdown
Plot
Writing
Characters
Dialogue
Narration (Audio)
Overall:
Related Posts