Review copy was received from NetGalley. This does not affect my opinion of the book or the content of my review.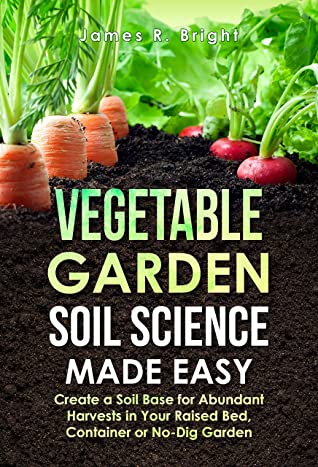 Vegetable Garden Soil Science Made Easy
by
James Bright
on September 28, 2022
Genres:
Non Fiction
Pages:
121
Format:
eARC
Source:
NetGalley
Goodreads
Amazon





In Vegetable Garden Soil Science Made Easy, garden fertility and soil science expert James R. Bright draws on many years of cultivating high-yield vegetable gardens to provide you with proven methods that anybody can use to easily set up your garden to grow healthy vegetable crops, even if you have never planted vegetables before, or have limited space and time to grow delicious vegetables, spices, and other gardens delights.

As Ms. Cron said in the 1930s, the key to growing a beautiful garden anywhere in the world is maintaining fertile soil, and in this easy-to-understand gardening book, James Bright teaches all gardeners how to understand soil composition, soil testing, PH levels and acidity, soil moisture and soil microbes - and how to manage these vital soil factors each year in your garden, without buying expensive fertilizers or garden tools.

In this straightforward and practical soil maintenance and gardening book, you will learn:

* In-depth explanations of all of the most important soil characteristics of high-yielding gardens… and how to optimize your home garden soil to produce the most vegetables with the fewest extra soil additives, fertilizers and chemicals.

* Easy step-by-step directions for setting up amazingly productive gardens whether you have a large yard or a limited space, including inexpensive hand-made raised bed gardens and container gardens, as well as how to plant no-dig gardens, the best option for in-ground home gardens.

* Seasonal soil maintenance – how to treat soil and your garden after harvest each year to improve soil conditions for the next growing season.

* The perfect soil mix for raised bed gardens and container gardens to get the ideal mixture of organic matter for nutrients, moisture retention, and aeration.

* Proven soil testing methods to determine the timing and amounts of organic fertilizers, lime, nitrogen, nutrients, or soil microbes to improve soil health and maximize fertility.

* How to protect beneficial soil microbes, understand your soil's ecosystem, and apply this knowledge for bountiful vegetable production.

If you have ever struggled to produce beautiful, healthy fruits and vegetables, the problem is not you – it's poor soil… and there is a solution. It's time to start setting up your home garden for success, and years of producing cheap, healthy vegetables, as well providing you with many hours of relaxing outdoor activity and a sense of individual accomplishment, when you save hundreds of dollars in grocery bills and grow your own organic food.
As a rookie gardener, I started out lucky.  I had plants grow from seed, survive, and produce.  But, admittedly, my focus was on the plants.  Later, I came to realize the other components of growing were important, too, like soil.  My knowledge of soil wouldn't fill up many pages so I was eager to augment what I knew (aka guessed from experience or learned from other gardeners).
Reading Vegetable Garden Soil Science Made Easy wasn't exactly an eye-opener for me so much as a series of gentle 'ah, that's why…'.  The author didn't shirk the details from what soil actually is to how it came about (the science part promised in the title), types of soil, and what is necessary for soil to be healthy for planting in the now and long-term.  Some details I let fly right past me, but others have given me, pardon the pun, food for thought.
I was pleased to see that I've not been doing badly in the area of keeping my soil healthy each year since I don't reach for the fertilizer and I do mix in compost and put mulch on top, but I need to do more work to keep the ph balance what it should be since I tend to plant the same crop in the same spot.  I need to do more rotating, soil resting, and pair-planting so that plants that compliment each other are grown together (one takes nitrogen while the other gives it, for example).
James Bright is big on the no-plant method as opposed to traditional gardening.  He argues that the garden and soil will do better long-term if gardeners leave the ground in its natural state rather than tilling it up each spring or meticulously remove all the leaves and clippings that actually make for good food for the soil.  It has the added benefit of requiring less weeding though, yes, one does need to sift compost into the surface soil.
I can't say I learned a vast amount and some was reinforcing what I have read or heard before, but where I learned anew was in many of the details about the 'why' behind the 'how's of soil work. I do like learning what others do to have a fruitful garden and there were many details about soil that were explained better than other gardening books.
All in all, this was science-y without being a confusing deep dive.  The 'easy' part will be subjective to where the gardener is at in their learning.  I thought the contents were just right with a balance between familiar and new detail.  It was both instructive and practical hitting on ground, raised bed, and container gardening methods.  I would definitely recommend it for those who want to understand the importance of soil for gardening.
Related Posts