Review copy was received from Purchased. This does not affect my opinion of the book or the content of my review.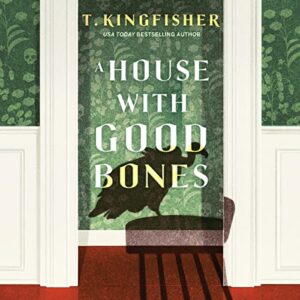 A House with Good Bones
by
T Kingfisher
Narrator:
Mary Robinette Kowal
Published by
MacMillan Audio
on March 28, 2023
Genres:
Fantasy
,
Horror
Length:
6 hours, 52 minutes
Format:
Audiobook
Source:
Purchased
Goodreads
Amazon
, 
Audible
, 
Audiobook
, 
Barnes & Noble
, 
Apple





A haunting Southern Gothic from an award-winning master of suspense, A House With Good Bones explores the dark, twisted roots lurking just beneath the veneer of a perfect home and family.
T. Kingfisher is a favorite author of mine, but I primarily read her fantasy.  A House With Good Bones is more horror-lite and southern gothic.  It was both funny and a little bit creepy, until it was a lot a bit creepy.  After this book, I will never look at vultures and roses in the same way.
Sam is by profession an archaeo-entomologist (looking for bugs of the past, kinda like Jurassic Park but not, also don't ask her about Jurassic park).  When the dig she was on finds human remains, it is postponed for awhile as that gets sorted out.  This is deemed a great time to go stay with her mother and hang out for awhile until she heads back to work.  Plus her brother thinks there is something wrong with their mom and wonders if Sam can help.
Sam finds right away that, yes, something is going on with her mother; no, she has no idea what it is or how to help.  I mean it isn't a red flag to repaint the house in beige and ecru but it should be.  And the picture that used to hang on the wall when her grandmother was alive and living in that house is back up and there are a lot of other little things that shouldn't mean anything, but altogether add up to everything feeling wrong in the house they grew up in.
There are vultures hanging out in the front yard watching the house, and no bugs in the garden.  Sam has so many questions and no answers.  She will get to the bottom of this, she has watched 200 episodes of a British crime drama so she is well on her way to being a master sleuth.
"(I am still not entirely sure what vicars are, since we don't have them over here. I think they're like cozy priests? As far as I can tell, they primarily exist in order to solve murders or be murdered on British crime shows.)"
The best thing about this book is the narrator.  Sam is great!  She is quirky, weirdly into bugs and has a great sense of humor.  I loved her interactions with her mom.  They were so close and you could tell how tight her entire family was.  She is horrible with men…I mean horrible and her interactions with master gardener Phil are odd and hilarious.
The story starts off slow in a sleepy little community until the creep factor builds and then the mad dash to the end.  Overall this was a great story for me that might have been just plausible enough for the most part.
"My phone informed me that it was absolutely talking to the internet, it was happy to talk to the internet, it loved talking to the internet, then as soon as I tried to check my email, it told me it had never heard of the internet and wasn't entirely sure it existed."
Narration:
Mary Robinette Kowal is pretty known to me as a narrator.  She narrates another series I've loved and does great with the gothic feel of the story.  She also has a great delivery for Sam's snark that really sells the story.  I had a great time during her performance.  I was able to listen at my usual 1.5x speed.
Listen to a clip:  HERE
Rating Breakdown
Plot
Writing
Characters
Dialogue
Narration (Audio)
Overall:
Related Posts