Review copy was received from Narrator. This does not affect my opinion of the book or the content of my review.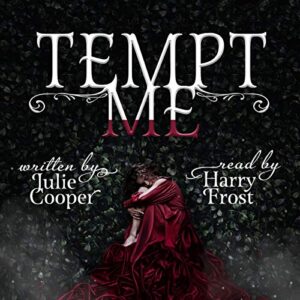 Tempt Me
by
Julie Cooper
Narrator:
Harry Frost
Series:
Tempt Me #1
Published by
Quills & Quartos Publishing
on January 9, 2021
Genres:
Paranormal
,
Historical Romance
Length:
18 hours, 15 minutes
Format:
Audiobook
Source:
Narrator
Goodreads
Amazon
, 
Audible




IT IS A TRUTH UNIVERSALLY ACKNOWLEDGED that a single vampyre must be in want of a wife. Someone biddable, her memories easily expunged to allow for strange, inexplicable deeds and baffling circumstances. A tractable creature, of average intelligence, willing to attend to the business of producing heirs and keep out of all else. A girl easily moulded, incurious, indifferent, and demanding nothing beyond access to his fortune.

FITZWILLIAM DARCY knows exactly who he needs. He can fix on the hour, the spot, the look, and the words which laid the foundation for an obsession he rejected. But ten years later, at an assembly in an obscure village in Hertfordshire, he finds himself in the middle once more.
Hidden in plain sight right alongside the human world of Regency England is a darker, edgier shadow world of powerful vampires and Jane Austen's classic gets a blood infusion.  A Pride & Prejudice Vampire Romance variation?  I'm game.
Tempt Me opens with Fitzwilliam Darcy, Master vampire on the hunt for a rogue vampire, Wickham, who happens to be his father's illegitimate son.  He is sidetracked, as Wickham intended, by rescuing a young human girl whose mind and emotions are blank to his powerful supernatural psychic senses.  A re-encounter, a decade later, when he is still hunting Wickham, has him as intrigued as ever in the woman she has become.
His family has a tragic past in connection to humans knowing vampire existence and since he can't fog her memories to keep her from learning about his true nature, he must leave her be and settle for a human woman who is already aware of vampires or one he can manipulate.  Then, an enemy vampire clan leader forces him to marry Elizabeth to protect her and the real adventure in romance, intrigue, and action begins.
Tempt Me has surface resemblance to a popular teenage vampire romance series involving vampires with great strength, senses, and psychic abilities and an attempt to keep the ignorant pretty human heroine in the dark, but, in truth, it has many other plot threads and villain actions that are the author's own.
I liked the set up and was fine with the author taking liberties with Austen's characters and plot to create something different.  I say this in warning to others that if you're looking for familiar P&P characters and scenes, they either won't be there much of the time.
I'm not a fan of secrets in a relationship and I did get impatient with Darcy making a big production of it for so long that Elizabeth was well aware of something strange and unusual even if she wasn't sure exactly what.  I get that he has hang-ups about humans knowing the truth and reacting badly- his own mother is a prime example.  But, after a time, I thought she'd proven herself.  Lizzy did a big girl hang-in-there and showed she was a strong woman.  There are more hurdles for their romance to surmount even after that one, but I didn't get as impatient with those because they were facing them together.
Meanwhile, the villains, who are numerous and vile, plot and slink to get the better of Darcy so there are plenty of opportunities to see his fighting prowess and vampiric gifts in action, but Lizzy is no helpless female and does her own action scenes a few times, too.  Most villains were easy to spot, but there were a few that came as a surprise to Darcy and his friends making it get intense at times.
It was romantic and intriguing.  A wonderful tribute to vampire romance and Jane Austen if a tad long at times.  Those who enjoy a sweet classic mixed with the supernatural should definitely give this a go.
Narration:
Harry Frost was a fabulous choice as narrator for this story.  He matched well with the tone and pacing and he did great with the large cast of characters.  I love how he brought more depth and made the story a richer experience to the listener.





Listen to a clip: HERE
Related Posts