Review copy was received from Publisher. This does not affect my opinion of the book or the content of my review.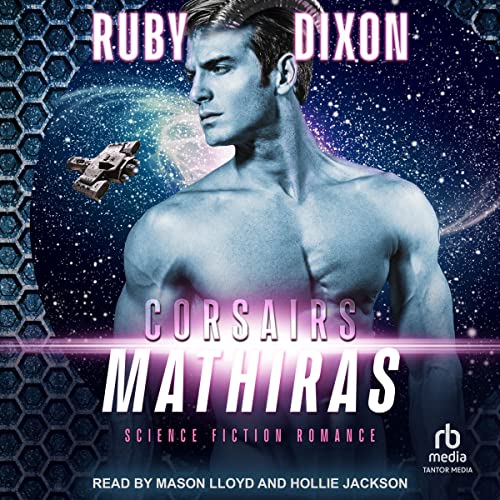 The Corsairs : Mathiras
by
Ruby Dixon
Narrator:
Hollie Jackson
,
Mason Lloyd
Series:
The Corsair Brothers #4
Published by
Tantor Audio
on July 18, 2023
Genres:
Romance
,
Science Fiction
Length:
15 hours, 15 minutes
Format:
Audiobook
Source:
Publisher
Goodreads
Amazon
, 
Audible
, 
Libro.fm





Someone is illegally stealing humans from their home world and cloning them.

For months, we've been hunting this ring of criminals and the end is in sight. I'm separating from my brothers and taking my ship to track down the bad guys. One small problem—Helen insists upon joining me on this dangerous mission.

Helen herself is a clone, created to be an object of beauty. She's not safe if she goes with me, as her kind are coveted all across the universe. But she's not interested in staying safe. She's interested in staying at my side . . . and tempting me to kiss her.

And kef me, is it ever a temptation.
The Corsairs: Matharis is the last book in the Corsair Brothers series following a group of privateering brothers who stumbled on a slaving operation and go out into space with their potential mates to get to the bottom of who is making clones and how to keep the women they found on the delivery ship full of clones safe.
Helen is adorable.  She has no filter and says just about anything that comes into her mind, whether it is appropriate to share or not.  Most of the time it is endearing, a few times it was a little too much over the top.  Helen has been the most sheltered of the women, due to her naiveté.  Rudy Dixon does a good job of why Helen's sheltered life makes her innocent but not young.
Mathiras is leader of the brothers.  He is always in charge and because of that is often very serious.  We get to see a softer side of Mathiras as he allows himself to explore the feelings he has for Helen when they embark on an information finding mission.  The thing is when you start asking questions about a powerful operation of people doing illegal things they start to send people after you.  Helen and Mathiras are now pretty big targets as the head of the operation wants Helen back to clone more of her and Mathiras dead.
Helen's PoVs were my favorites.  The way her mind works was a lot of fun and she says so many shocking things to her friends that I laughed more than once.  She is clever and proved she was an adult in the thought processes she has and how she planned for being clone traveling considering what kind of disguised was needed.  Helen is also just innocent as she has not seen much death or the greater bits of space out there.  It is mostly adorable throughout most of the story and at times it did get a little cringe.
Helen's book isn't one of a damsel in distress and I like what they were able to do with her character to make her more than just an innocent to protect.  It was a good way to show how the cloning operation were expanding and taking some 'special' orders.
"My purpose is to take down bad guys and kiss Mathiras, and I'm ready for both."
I am okay with the ending of this set in the series.  Overall I liked how all of the brothers and their mates have a way of sticking together to raise families.  I'm sure we will see a few of the other characters from this book again.  Especially the crazy cousin Bethiah as she searches for the 'boyfriend' that is running away from her and establishing more colonies for the saved human clones.  I look forward to them as this has been a really fun series overall.
Blue aliens in space, still my kink.
Narration:
Holly Jackson and Mason Lloyd are a stable to the Ice Planet Barbarian and Corsairs series.  They do a great job at capturing both the fun and the sexiness in their narrations.  I always like the dual PoVs in the story and how well these two blend their performances.  The words at clear, the emotions are conveyed and each story has something special added to it when narrated. I was able to listen at my usual 1.5x speed.
Listen to a clip HERE.
Rating Breakdown
Plot
Writing
Characters
Dialogue
Narration (Audio)
Overall:
Related Posts