Review copy was received from NetGalley. This does not affect my opinion of the book or the content of my review.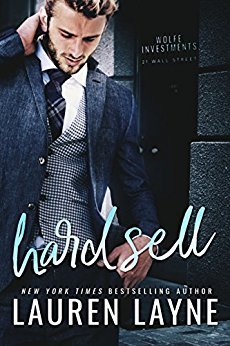 Hard Sell
by
Lauren Layne
Series:
21 Wall Street #2
Published by
Montlake Romance
on September 4, 2018
Genres:
Contemporary Romance
Pages:
247
Format:
eARC
Source:
NetGalley
Goodreads
Amazon
, 
Audible
, 
Audiobook





Twenty-eight and filthy rich, Matt Cannon is the youngest broker on Wall Street. He may be a "boy wonder," but he's every inch a man. Ask any woman—any night. But when Matt's latest fling makes scandalous headlines, his clients get anxious, and his bosses at Wolfe Investments level an ultimatum: keep his assets zipped, get a "real" girlfriend, and clean up his act. Only one woman can help Matt with something this hard.

For PR genius Sabrina Cross, the best fixer in Manhattan, playing Matt's steady is going to be a challenge, even if it's just for show. They already have an explosive history, she can't stand the cocky party boy, and worse—she can't stop thinking about him. So who'll dare to break her "no touching" rule first? Because when that happens, Matt and Sabrina's game of let's pretend will get so hot it could set both their reputations on fire.
Matt is a Wall Street wiz kid and he has just been caught in a precarious situation at a bachelor party by a reporter for the Wall Street Journal.  He needs to fix his reputation fast, before his clients start jumping ship and there is no better way to do that than to seem like he is in a committed relationship.
Sabrina is the best fixer in town.  If you have a problem she knows how to make it go away.  She has known Matt for a few years, they even seem to end up in bed together from time to time.  It's not friends with benefits by any means. Matt gets under her skin and it is more like enemies with benefits.  This makes her perfect for the role of fake girlfriend.
It is so simple or at least it should be there should be no way anything becomes of this.  But spending time together not fighting is making each see the other in a new light and they just might be more perfect for each other than either knew.
This a cute enemies to lovers tale and I liked getting into the history of both individuals to see why they have avoided each other until now.  Matt's reluctance for a relationship because of his childhood and current family situation completely made sense.
This is exactly the kind of story I expect for Lauren Layne and she is still my go to for contemporary romance since I know it will be a great blend of cute and funny.
I'm still waiting for Kennedy and Kate to figure out their situation, hopefully that book is next.
"And you think that's me? Your mortal enemy?"

"I want you because you're my mortal enemy, Sabrina."

"Why?" His eyes lock on mine. "Because of all the women in my life, you're the one I can count on to never fall in love with me."
Hell, to be completely honest, I don't know that he was ever my worst enemy, so much as my biggest threat. The person who I sensed, even from the very beginning, could destroy me. What I didn't see until recently was how the person with the power to destroy you can also be the one to lift you up.
Related Posts