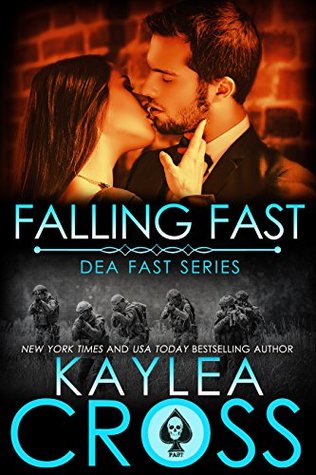 Falling Fast
by
Kaylea Cross
Series:
DEA FAST #1
on January 22, 2017
Genres:
Romantic Suspense
Pages:
199
Format:
eBook
Source:
Purchased
Goodreads
Amazon
, 
Libro.fm




She's putting herself in harm's way to make a difference.

Having grown up in a household of elite, overprotective male Marines, Charlie Colebrook is savoring her hard won independence and avoiding a serious relationship that could tie her down. As a computer forensics expert for the DEA she might be a civilian rather than an agent, but she's far from helpless, and she's hungry to prove herself. So when her boss asks her to take on a dangerous undercover assignment that could expose the key money launderer for the biggest, and most lethal drug cartel in the Western hemisphere, Charlie seizes her chance. There's just one catch: the man assigned as her partner is the only man she wants…and he won't settle for less than everything she has to give.

Now he's the only one who stands between her and a ruthless cartel.

DEA Special Agent Jamie Rodriguez has tried like hell to ignore the explosive chemistry he has with Charlie. Not simply because she's his best friend's sister—but because with her, he wants all or nothing. As a member of the agency's elite FAST Bravo unit, he's got the skill and experience to keep her safe. Now that he's assigned to protect her on this op, he'll do it at all costs, even if she tempts him as no other woman ever has. But the final op tests them both to the breaking point, and when things go to hell, it will take everything they've got to survive the deadly trap set for them.



The purpose of Thrifty Thursday is to read a book which was free (at some point).
Kindle freebie on September 7, 2017  (currently still free at Amazon and Barnes & Noble as of writing this post)
Overall rating 4.24 with 592 ratings and 47 reviews
I have enjoyed other series by this author and my freebies which are the first in the series are some of the best ones I get. They let me get a taste and figure out if I want to read the rest of the series. Plus this is a favorite genre, so this was easy to choose.
Falling Fast is fast. The action is steady and suspenseful, as expected.  The characters seemed likable enough but I really wish more time had been spent developing them and their connections. I suspect this is a spin-off series from another and we should already know them. Except I don't. It's short and just a bit more could have been focused on the character relationships. The romance happened very quickly with what seemed like a role reversal. The male is committed and the female isn't ready for it.
The main mystery is getting evidence on a guy believed to be laundering money for a drug cartel. The DEA plans an operation which makes some sense but the contingency plans are not adequate. The suspense of things going sideways is a major worry and suspense. Considering what a scumbag the guy is, it's hard to see how their plan would work. I do appreciate that Charlie (female agent) has some smarts and doesn't just expect to be rescued. But the fact she and her male partner, Jamie, went into the operation with such limited backup borders on TSTL. The action scenes are realistically brutal, as are the mixed results achieved.
I probably will read more in the DEA FAST series, after checking out any earlier books for more background.  There are already three more books available (which all seem to be about 30% longer than this first book). This was a fast read and I liked it. With extra length to develop things more, I think I would have loved it.
Latest posts by Anne - Books of My Heart
(see all)
Reading this book contributed to these challenges:
Anne: 2017 New Release Challenge
Related Posts