Review copy was received from Publisher. This does not affect my opinion of the book or the content of my review.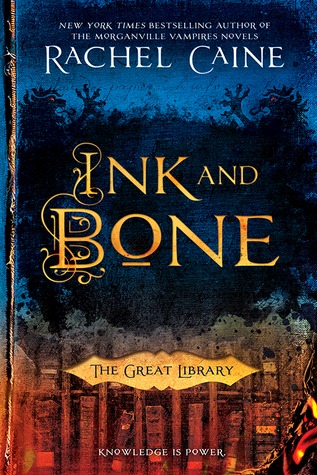 Ink and Bone
by
Rachel Caine
Series:
The Great Library #1
Published by
NAL
on July 7th 2015
Genres:
Young Adult
,
Science Fiction Fantasy
Pages:
352 pages
Format:
ARC
Source:
Publisher
Goodreads
Amazon
, 
Audiobook




Ruthless and supremely powerful, the Great Library is now a presence in every major city, governing the flow of knowledge to the masses. Alchemy allows the Library to deliver the content of the greatest works of history instantly—but the personal ownership of books is expressly forbidden.

Jess Brightwell believes in the value of the Library, but the majority of his knowledge comes from illegal books obtained by his family, who are involved in the thriving black market. Jess has been sent to be his family's spy, but his loyalties are tested in the final months of his training to enter the Library's service.

When he inadvertently commits heresy by creating a device that could change the world, Jess discovers that those who control the Great Library believe that knowledge is more valuable than any human life—and soon both heretics and books will burn.…
I was very excited to get Ink and Bone, the first in the new The Great Library series by Rachel Caine, She also wrote the Morganville Vampire series which I have enjoyed. I didn't know what to expect from Ink and Bone, except that it would be about books and what could be more exciting, right?
It was a slow start for me. Ink and Bone is set in a different time or the world has happened differently. The nuances of the world and the characters are interesting but it took a bit to settle in my mind. If you're like me, first books sometimes are hard, since you have to get the setup organized in your head. But once that happened, I really enjoyed Ink and Bone.
Jess is from a family of book smugglers. So he has access to real books, where most of the public does not. It is illegal to own books yourself; they are all stored in the library. Jess has a difficult position and has tough decisions to make. I think he does very well considering the circumstances. He loves books and does his best to find the high ground between his family of criminals and the power-hungry leadership of the Great library.
The characters are primarily young adults. They are making decisions about their education, careers and the person they will be. There is a brief bit of romance. I like romance but am pleased it was very limited.
The story kept me interested once I got into it. And I couldn't say what would happen. It ends at an appropriate point but it isn't finished. There is MUCH more I want to know. I'll definitely be reading the next book.
I'm invested in these people and what will happen to them. I do love the focus on books and enjoy the interesting "powers" some people have. That's my favorite kind of "supernatural" – ones that have powers like witches or telepathy or telekinesis or other special skills. This book has people with special skills.
The next book in the series, Paper and Fire, is not expected until 2016. I can't wait.
Latest posts by Anne - Books of My Heart
(see all)
Related Posts